Last of two parts
NORTH TOPSAIL BEACH – The U.S. Fish and Wildlife Service estimates that that the Coastal Barrier Resources Act, or CBRA, has saved taxpayers at least $1 billion since it was passed in 1982.
That's money that wasn't spent to subsidize flood insurance and development practices on storm-prone barrier islands covered by the law.
If North Topsail Beach is successful in its fight to remove itself from the law's restrictions, federal money will be spent for the first time for beach re-nourishment and to subsidize development on the island.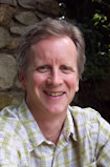 Dave Salvesen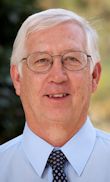 Dave Owens
David Salvesen, deputy director of the Center for Sustainable Community Design's Institute for the Environment at the University of North Carolina at Chapel Hill, is skeptical of the town's request to be removed from CBRA.
"If people want to build in a risky area, fine," he said. "CBRA didn't say you couldn't develop. CBRA said taxpayers aren't going to subsidize it. That's what North Topsail Beach is asking taxpayers to do. People who buy property along the coast know it's a big risk. I don't see why it should be taken out of a CBRA zone just because development has occurred."
In the early 2000s, Salvesen researched a handful of CBRA units in Alabama, Florida, South Carolina and North Carolina, including North Topsail Beach.
"All around theses areas was intense development pressure," Salvesen said. "CBRA areas tend to develop after everything else around them is developed. When there's hardly any land left on the beach, developers turn their eyes to other areas. If the land values are high enough and the markets are strong enough they're going to build. Developers are creative people and when they see a demand they find ways to meet that demand."
Builders Roger Page and Marlow Bostic are considered North Topsail Beach's original developers and were known for taking big risks to profit from people's desire to live at the beach.
Page, an Winston-Salem oil distributer, signed an agreement in 1987 with the state to move about four miles of Secondary Road 1586, now known as New River Inlet Drive, away from the ocean.
The deal was that he would pay to move the road and the state would give him the abandoned roadbed, thus opening up miles of oceanfront property. The move allowed him enough beach frontage to develop Villa Capriani, a condominium complex of private, one- to three-bedroom units overlooking the Atlantic.
Page only moved 2.7 miles of the road, which extended from N.C. 210 to the northern edge of Villa Capriani. He said relocating the remaining 1.3 miles would bankrupt him.
The state eventually agreed to move the remainder of the road and sued Page to recoup the cost.
Once one of the most penalized developers in North Carolina, Bostic earned a reputation among state environmental officials and lawmakers as a shrewd businessman who thumbed his nose at coastal development rules.
The N.C. General Assembly in 1989 enacted a new law allowing agencies to consider the past performance of developers before granting or denying permits. Lawmakers in Raleigh referred to it as the "Bostic law."
To Bostic, fines associated with breaking those rules were just a cost of doing business, state officials would later say.
David Owens, a public law and government professor at UNC-Chapel Hill's School of Government, worked for the state Division of Coastal Management from 1978 to 1988.
"Some of the earliest CAMA violations came from [North Topsail Beach]," he said. "There were a number of violations there in the early 80s. They were pushing the edges of the rules to do things that were more risky. They knew the risks they were taking when they were doing it, but they thought the land could be sold."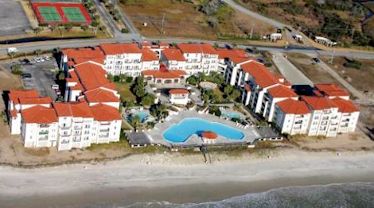 Developers moved what is now New River Inlet Drive in order to gain access to miles of beachfront property in North Topsail Beach. The Villa Capriani is one of the results.
Some of the state fines were fairly modest at the time. In the late '80s, for example, the maximum fine for breaking the state's Coastal Area Management Act was $2,500. But there were larger fines, Owens said, some upwards of $10,000.
"Just looking at the amount of the fines doesn't tell the whole story," he said.
Developers were forced to go back and mitigate the damage they caused by breaking state rules.
Dave Godschalk, planning professor emeritus in the Department of City and Regional Planning at UNC-Chapel Hill also studied CBRA, said that the law makes a lot sense, "but is liable to be overridden if the local governments don't go along with what the federal government has designated."
"You've got a developer who managed to get sewer and water," he said. "You had a county that didn't stand behind the CBRA legislation. They just kind of plowed ahead in spite of clear warning. By all rights, they should have said you can build a house here, but you're not going to get federal flood insurance. Responsible government should have done that. The people who bought in there had no way of knowing about CBRA without deep research. They thought they were acting in good faith."
In an effort to educate land and homebuyers along the coast in the early 1980s, the N.C. Coastal Resources Commission endorsed a rule that would require realtors to disclose information such as the long-term erosion rate and flood insurance status on a piece of property.
"The real estate industry adamantly opposed it," Owens said. "They did not want those disclosures required. We could not get it introduced much less adopted. There is some real interest in not providing all that information."
Hurricanes in the late 1990s illustrated why much of the narrow, flat portion of northern Topsail Island was added to the CBRA zone in the first place. First, there was Hurricane Bertha in July 1996, followed two months later by Hurricane Fran, a category 3 storm that rivaled the fabled Hurricane Hazel of a quarter century earlier. Storm surge during Fran exceeded 10 feet along most of North Topsail's beaches. Almost 90 percent of its houses were destroyed or significantly damaged. Numerous small inlets cut through N.C. 210.
Damage was so extensive, in fact, that some geologists said North Topsail was the most hazardous place on the East Coast. There was even talk after Fran of not allowing the town to rebuild.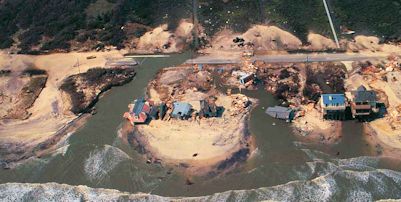 With its 10-foot storm surge, Hurricane Fran gouged numerous chunks out of N.C. 210. Photo: ECU
But, of course, it did.
Richard Peters bought land on the sound side of N.C. 210 in North Topsail Beach in 2000. He was about six months into construction of his home in 2003 when he started researching his flood insurance options. Homeowners who mortgage their houses are required to purchase flood insurance.
Peters found out his land and the home he was having built was in a CBRA zone and that he could not receive Federal flood insurance.
At the time, he would have paid an estimated $700 annually for flood insurance under the Federal program. Instead, he had to shell out about $7,300 a year.
"That's a huge difference," Peters said.
He eventually became an active party in the town's efforts to change the CBRA zone in North Topsail Beach.
Whatever the results are in this fight, Godschalk said, lawmakers need to consider what may lie ahead for coastal property owners.
"Clearly the whole coastal development issue is not over with yet," he said. "What we really need to do is some serious research that backs up the fact that we should be changing development regulations all up and down the coast. I think CBRA was good for it's time, but it didn't assume a lot of sea level rise. We know that's going to be a serious issue in the future. This is like a rehearsal for that. If we don't do something significant now, we're going to have an even bigger issue."