BUXTON — A would-be beach access that Dare County has eyed since the Coast Guard abandoned its oceanfront base near the Cape Hatteras Lighthouse eight years ago is apparently still a distant dream, as environmental cleanup of contaminated soil has yet to begin.
The Coast Guard is seeking money this year to clean the site, but between cuts in its environmental remediation budget and the federal budget sequestration, it is anything but certain that the money will be available.
The Navy Facilities station near Buxton opened in 1956 as part of secret program that used underwater listening devices to track Soviet submarines. Note the Cape Hatteras Lighthouse in the upper right. Photo:U.S. Navy
Beachgoers, meanwhile, will continue to change in their cars, park along the street and sneak into bathrooms at nearby eateries and convenience stores.
"There's no bathhouse," Carol Busbey, an owner of nearby Natural Art Surf Shop, said about the popular surfing and swimming beaches just north of the lighthouse.  "There are no bathrooms. Nothing."
Busbey said that a few portable toilets are provided by the National Park Service in the parking lot at the old site of the lighthouse, known by surfers as "first jetty" or "lighthouse beach," but people avoid using them. The beach is one of the three within Cape Hatteras National Seashore that has a lifeguard.
In the heart of Buxton, the land at the former Group Cape Hatteras was once the location of a Navy base that conducted secret monitoring of submarines. The Coast Guard, which relocated to Fort Macon in Carteret County in 2005, has demolished its 12 base buildings and plans to turn the property over to the Park Service, which in turn has tentatively agreed to work with the county to build a public recreation facility.
But the agency has no intention of taking back the 40 acres of property until its condition is returned to acceptable environmental standards. Depending on the budget, that could be five or more years down the road.
"We don't want to take on the environmental liability associated with that," said Darrell Echols, deputy superintendent of the National Park Service Outer Banks Group. "While they have removed all the above-ground stuff, they have not cleaned the soil."
Contamination is mostly in the area of two leach fields for the wastewater treatment facility that had been on the grounds, said Leilani Woods, Coast Guard environmental engineer.
Preliminary testing has revealed evidence of contamination by benzanthracene, benzopyrene and other types of chemical compounds that are produced by the incomplete burning of organic material. Many are known to cause cancer. Chemicals, such as chlordane, dieldrin and endrin, that were commonly used in pesticides decades ago were also found. All have been banned in much of the world because of their dangerous effects on human health and the environment.
Traces of heavy metals – arsenic, chromium and mercury – were also detected.
"They are not at terribly high levels, nor are they expected to migrate offsite," Woods said in an e-mail, "but they do exceed some regulatory limits for residential soil and/or groundwater standards."
Woods said that with the uneven distribution of the components in the soil, it is likely that the contamination was mostly caused by a pesticide spill, not just the wastewater plant leachate. She said that it is also feasible that the arsenic in the soil is at natural background levels. Sources for the other heavy metals could be related to such items as fire detection devices, thermometers or photo laboratories, she said.
Depending on the when money is provided, she said, further horizontal and vertical testing of the 20-acre site will be done next to determine the extent of contamination.
"We just know we have stuff," she said. "Part of our mandate is we have to (remediate) in an economically responsible way."
Although the Coast Guard's environmental clean-up budget has been cut, Woods said, there is still money available for sites like Buxton. Projects are prioritized by the "safety and regulatory drivers," she said.
"There are a lot of projects competing for environmental restoration funds," she said.
Woods said she has "at least 20 projects" under in her District 5, encompassing North Carolina, Virginia, Maryland, New Jersey and Delaware.
A request has been submitted for about $200,000 for the Buxton remediation, including the costs for investigation and project design. Woods said she expects to know by September whether it is approved.
Once funding is provided, the project, which will most likely involve removal of the contaminated soil, can be expected to take a minimum of three years.  The goal, Woods said, is to restore the property to acceptable residential standards.
"Basically, our objective is human health and safety," she said. "We just want to make sure that this site is clean and usable before we turn it over."
Operated as a Navy base from 1956 until 1982, the site was used as a top-secret submarine monitoring station.
Several fuel storage tanks and an oil change rack that were at the station are long gone, but groundwater contamination left in their wake was an issue until this year. Petroleum contamination in the groundwater has been monitored for the Navy since 2005 by the Army Corps of Engineers, the agency charged with environmental restoration at former defense sites, said project manager Ray Livermore.
Contaminants detected in the groundwater included naphthalene and chlorobenzene.
In the last sampling taken in March, he said, all levels in the 11 monitoring wells were below state groundwater quality standards.
Livermore said that over time, hydrocarbons naturally degrade. Three more tests will be taken, each nine months apart. If those samples are also below the standard, he said, in about 1.5 years the site would be considered clear.
Such hydrocarbon contamination is not uncommon at the closed military facilities, he said.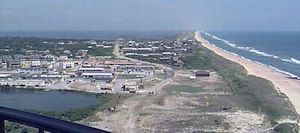 The Coast Guard station as seen from the Cape Hatteras Lighthouse in the 1970s. Photo: National Park Service
When the Buxton Navy base was operating, it was part of an array of sonar locations along the East Coast known as SOSUS – Sound Surveillance System – that was intended as an early warning to protect the U.S. from hostile ballistic submarines, according to an article on the Navy web site Undersea Warfare.
In June 1962, the Cape Hatteras Navy base achieved the first SOSUS contact on a Soviet diesel submarine, Whitman wrote.
The system was declassified in 1991.
The site became Group Cape Hatteras in 1981, but has been vacant since 2005.
Whatever beach access that currently exists on Hatteras Island is provided by the Park Service, including bathhouses located between Avon and Buxton on the soundside, and east of Hatteras village on the ocean side. Parking is also available at numerous beach access ramps up and down the seashore.
"We have no county-owned access on Hatteras Island. Zero," said County Manager Bobby Outten.
Plans are underway, however, for the county to build a bathhouse and parking area in Rodanthe, near the renowned surfing spot "S-turns" at Mirlo Beach, he said. The project is expected to be completed by next summer.
Outten said that the former Coast Guard property would be a great place for a beach recreation facility, but it's too nebulous of a prospect at this stage of the game to predict what arrangement the county anticipates to have with the Park Service, or how ambitious of a project it may be.
"I don't think we're that far along in our planning," he said. "It is just a matter that nobody knows what we can do, because we don't have a clue when it will happen."