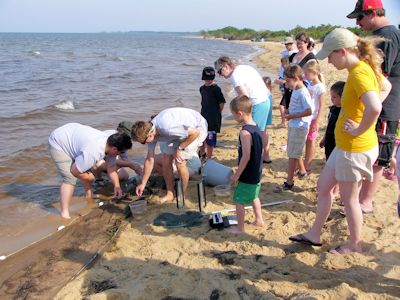 The group looks on as creatures are pulled from a seine net during Seine the Sound at Jockey's Ridge State Park. Photo: Corinne Saunders
NAGS HEAD — About 30 people gathered last week for the free, family-friendly Seine the Sound program that the N.C. Coastal Federation is sponsoring every Thursday this summer at Jockey's Ridge State Park.
"Our goal is to explore what might be living in this environment," announced Sara Hallas, the coastal education coordinator for the federation's Manteo office.
The nonprofit group's slogan, "No wetlands, no seafood," provides a good summary of the program, where participants learn that the majority of seafood – before hitting their plate – grows to maturity in the safer waters of the state's coastal estuaries.
"An estuary is defined as where the freshwater meets the sea," Hallas said.
As two little boys were able to explain, the sound is a mix of freshwater and saltwater, and is called brackish.
Hallas explained that this body of water is Roanoke Sound and that the Roanoke Island tree line is visible to the west. The sound is part of the larger Pamlico Sound, she noted, and connects to the ocean about 20 miles south, at Oregon Inlet.
"The stronger southwest wind today is blowing the water in," Hallas said.
Pamlico Sound, she said, is the second-largest estuary in the whole United States. The largest, as a boy correctly responded, is the Chesapeake Bay.
Hallas then inquired, "Do you guys think we're going to catch super-size, large fish today?"
Several kids responded, "No."
Hallas told them they were correct. The sound is nicknamed "the nursery of the sea" because so many babies live in it, she explained.
Dragging a seine (pronounced "sane") net through the water, Hallas explained, will catch a variety of fish.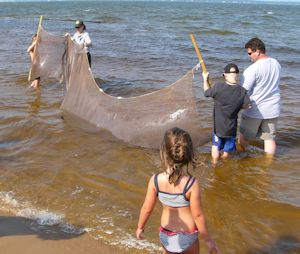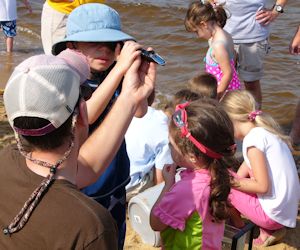 A boy studies the refractometer as his father helps him hold it steady. Photos: Corinne Saunders

While Kandi Zinn, a park ranger for Jockey's Ridge State Park, and Scott Crocker, northern sites manager for the N.C. Coastal Reserve, along with an intern, took a seine net out in the sound, Hallas took a water sample.
"This is a refractometer," she said. "It refracts light through and tells how salty the water is."
On a scale of zero to 100, freshwater is zero and ocean water is usually 30 to 35.
When asked what the salinity of the sound would be, several kids responded, "somewhere in-between."
The refractometer was passed around, and participants of all ages eagerly studied it. A little boy squinted in the sunlight, trying to read the number.
The salinity was determined to be 10, which is 10 parts per 1,000.
This is the lowest salinity in which oysters can survive, Hallas said. She explained that sometimes they grow to tolerate it, but North Carolina has increasing salinity the farther south you go, and therefore more oysters as you go south—where they also grow faster.
"In order for a live oyster to grow, it must attach itself to something, usually another oyster shell," Hallas said.
She encouraged participants to visit the northern end of the park, to see a wetland restoration project where several groups, including the federation, built an oyster reef and planted marsh grass.
Zinn and Crocker brought the seine net to shore and placed it on the sand. They scooped sound water into several clear buckets and small aquariums, and participants helped place creatures into them.
Kids watched raptly as they inspected the findings.
Hallas pointed out anchovies, crabs, croaker—a fish that earned its name because it actually croaks—and pipefish, which are relatives with and have the same animal classification as the seahorse. Small spot were also found.
"These can get up to a pound," Crocker said. "Three-quarters of a pound would be a pretty good size. You can see the spot right behind the gill plate."
Crocker said that when they get bigger, spot travel in the ocean in schools and make runs in fall, when pier and surf fishermen sometimes catch two at a time.
Holding up a blue crab and gesturing across the widest part of its shell, Hallas added, "If you were fishing, the length of the carapace must be 5 inches across to keep a blue crab."
She explained that blue crabs molt, coming out of their shells, and have a soft exoskeleton for 24 hours, during which time they are called soft shells. The crabs hide under rocks and sand until their shells harden.
Crocker held up two juvenile crabs – one male and one female. He noted that the shell on males' bellies is shaped like the Washington Monument, while females have a dome shape.
"Females will always have red-tipped claws because ladies paint their fingernails," he added; males are all blue when mature.
A few kids volunteered to help with the second seining. When they brought the net back, a few new species were identified:  Silversides – similar to bay anchovies – and a spadefish, which is the logo of N.C. Aquariums.
Last week, comb jellies, which have teeth folded inside so they can't sting, were caught and released as well, Hallas said. Jellyfish are seasonal, usually found in the sound in large numbers in the summer and fall, and are a food source for sea turtles.
"The diamondback terrapin is really the only brackish water turtle common in North Carolina," Hallas said. The more familiar loggerheads prefer the ocean.
She advised that if participants do a catch-and-release on their own, to look in marsh grasses, where many fish are camouflaged.
Many are counter-shaded, she said, with darker backs and lighter bellies. Sharks and orcas are counter-shaded for the same reason: In the water, "looking up gets lighter and brighter, looking down gets darker."
Bob and Nancy Wall of Pennsylvania brought their 8-year-old grandson to the program after seeing it on the online calendar for Jockey's Ridge State Park.
"He had a good time," Nancy indicated with a smile, as the boy splashed in the sound.
The couple said they did not know pipefish lived here. As scuba divers for 21 years, they traveled all over the world and saw pipefish in Micronesia, but didn't expect the species here.
The couple also expressed new knowledge of the blue crab. They previously thought blue crabs and softshell crabs were two different species.
"We didn't know about them shedding their shells," Nancy said.
You, too, can learn some interesting things about our coastal waters. Just show up at the park 9 a.m. today and each Thursday through August.