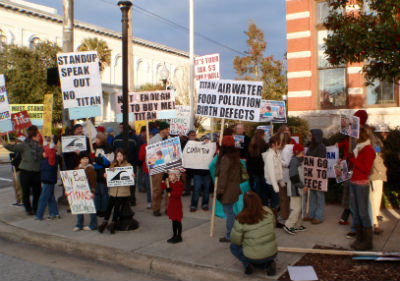 Opponents of the proposed Titan cement protest out the courthouse in Wilmington.
WILMINGTON — Five years have passed since a handful of residents and environmentalists sat in the New Hanover County Board of Commissioners' chambers to learn more about a company's plans to build a cement plant just outside of Wilmington.
That April 21, 2008 meeting, when commissioners passed a resolution to grant a $4.2 million economic incentive package to Titan America, set the stage for a campaign by locals and environmental groups to keep the cement plant out of coastal North Carolina.
Lawsuits and permit requirements have stalled the company's plans to build a plant off the banks of the Northeast Cape Fear River in Castle Hayne.
Titan America, which is based in Norfolk, Va., is pushing forward with the proposed plant that a company officials say will create more than 150 permanent, full-time jobs and bring in an estimated annual fiscal impact in excess of $120 million.
Opponents include residents, small businesses and groups like the N.C. Coastal Federation, Cape Fear River Watch, Penderwatch & Conservancy and the N.C. Sierra Club. They formed the Stop Titan Action Network, or STAN, to fight the project. They worry about the plant's effect on the environment and human health.
As STAN gets ready to host a five-year anniversary celebration through a series of week-long events in and around Wilmington beginning Saturday, lawyers representing both sides are preparing to go another round in court.
The case stems from an April 2012 challenge of Titan's state air permit filed by the Southern Environmental Law Center on behalf of most of the STAN groups. They argue state regulators did not follow the law when issuing the permit the previous February.
In July 2012, a judge dropped some of the environmental groups' claims, including allegations that the state Division of Air Quality based its decision to approve a permit on outdated quarry plans.
The primary focus of the appeal case now is on emissions data and allegations that the state violated federal law because it did not consider the effect to public health when it issued the air permit.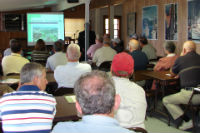 Titan activists are trained in Brunswick County.
Geoff Gisler, an attorney with the law center, said a hearing has been set for the week of Sept. 30, but it's possible the judge could make a decision as early as this summer.
"That later hearing would be only on those issues where witnesses would be involved," Gisler said.
Kate McClain, Titan America's director of corporate communications, said the company is "very interested in participating with enthusiasm as the suit progresses."
"There's not too much we can do with this looming over us," she said. "We knew that we couldn't begin construction until we got all of the permits. The earliest we can begin construction would be 2015. We would have loved to have started before now, but we'll do whatever we need to do to meet the regulations. Whatever it takes, we will meet the requirements."
The proposed cement plant would be the first Titan has built from the ground up. The company owns two other cement plants – one in Roanoke, Va., and the other in Pennsuco, Fla.
"We have an excellent reputation in all of the communities in which we operate," McClain said. "We participate in the community. We bring the jobs. We provide an excellent tax base. We'll follow all the regulations to the letter of the law. They're really, really quite stringent. [The plant] is going to be an excellent addition to the greater Wilmington area and I know that from the bottom of my heart."
Opponents of the plant beg to differ, citing a host of concerns about the potential harmful impacts to human health, water and air quality. Comprising a cement kiln and an expanded rock quarry, the plant would require the destruction of some 1,000 acres of wetlands. They plant, opponents say, would be a major new source of mercury pollution in the river, which is already impaired by the dangerous neurotoxin. The plant would also emit significant quantities of other pollutants, including carbon monoxide, lead, benzene, and hydrochloric acid, as well as heat-trapping carbon dioxide.
Those were the issues that initially prompted residents to urge New Hanover commissioners to get answers to before offering the corporation a tax break to locate in the area.
Activist Kelly Stryker was among a small band of locals who came together over pizza and beer to form Friends of the Lower Cape Fear, an organization that has since folded into STAN.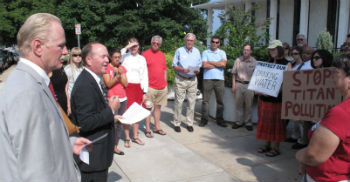 Mike Giles, center left, talks to activists outside the Legislative Building in Raleigh.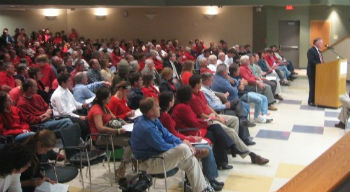 A public hearing on Titan air permit drew a packed audience in Wilmington.
"We didn't really feel like the community was learning everything there was to know about the plant," Stryker said. "The momentum just kind of took off. For me, these past five years – it's amazing that it has lasted as long as it has."
The mother of three whose home sits about seven miles away from the proposed plant site in Castle Hayne has devoted countless nights and weekends researching everything from the effects of mercury emissions on humans to potentially irreversible impacts a quarry would have on wetlands and aquifers in the area.
Stryker's husband, Joel Bourne, an environmental writer, has made several public speeches regarding the proposed plant. The process, Stryker admits, has at times been a little overwhelming.
"I try to focus on how far we've come," she said. "To me there seems to be an awakening in the community. I do think that the community is receptive and engaged in a way that they were not five years ago. I think our effort right now is to continue the fight and make sure we continue to make the community aware."
More than 15,500 people have signed Stop Titan's online petition, according to the group's Web site.
Organizers of anniversary celebration, which will end April 28 with a rally in Wilmington, hope to reinvigorate the community's involvement.
Sarah Gilliam, Stop Titan coordinator, said it's important to keep residents engaged in the debate against the cement plant.
"The reality is we don't want this thing to come here," she said. "People have asked for the facts. We have provided gobs and gobs and gobs of information and I think we've done a pretty dang good job. It's really impressive that citizens from all walks of life, all sides of the aisles, have stayed on message and remained vigilant."
Their persistence, Gilliam said, has paid off in a number of successes during the past five years.
Titan eventually declined the county's incentive package, as well as $300,000 offered from the state Department of Commerce.
"The judge ruled in our favor because the law states that public funding must be "involved" in order for the State Environmental Policy Act to kick in," Mike Giles, a coastal advocate with the federation, explained in an email. "That would have delayed any permits until the comprehensive review in which all impacts are looked at cumulatively, which is what should be done for a project of this scope and potential effects on a community."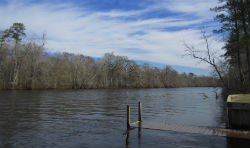 Opponents fear the plant's effects on the Northeast Cape Fear River.
Residents convinced the county to enact a special use permit for all heavy to light industry requests, essentially adding an extra layer of review.
Another milestone, Gilliam points out, is that in March 2010 the medical community, at their own accord, came together to formally oppose the plant on the basis of public health.
"They added a lot of credibility to our messaging," she said.
Titan eventually dropped its slander suit about a year ago against one of those doctors, Wilmington pediatrician Dr. David Hill, and Castle Hayne resident Kayne Darrell. The company alleged the pair made defamatory and false statements about the proposed cement plant.
Legal battles have not only pushed back Titan's plans to build, they've provided more information to activists, Gilliam said.
"It has to keep going," she said. "We really need for the community to continue to open the door for conversation. What we've been asking people to do is educate your friends and family and neighbors. That has been our strongest point. In the end that's what it's all going to come down to. People power, it's an undeniable force. It will keep Titan out of here. I'm confident of that."
For a complete list of anniversary events visit the Stop Titan Web site.