Something old. Something new. Something borrowed and something – green?
Couples preparing their nuptials can spend countless hours planning for their big day.  Invitations, a venue, reception, caterer, flowers, and favors – the devil really is in the details.
For the bride and groom-to-be who want to celebrate their nuptials in an eco-friendly way, professionals say even the most minute choices can make a difference.
Kate Harrison, founder and CEO of Green Bride Guide, an online eco-friendly wedding resource, said going green can be as simple as looking at the details of the wedding and finding ways to generally cut down on waste.
"There's still this idea that going green means that you somehow have to sacrifice style," Harrison said. "That's not true. Green is not the theme. Green is the approach. It's really just about keeping one eye on what's the environmental impact of this and is it something that matches the décor and look of my wedding."
Her Web site features weekly a eco-friendly wedding. Some of the ceremonies featured have been a gala at New York's Metropolitan Museum of Art and a simple backyard wedding.
Green choices can be everything from making the conscientious decision to get married during the day, saving electricity, to buying locally grown flowers.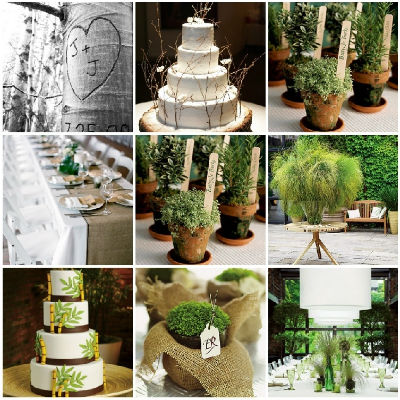 "The biggest environmental footprint component of a wedding are food and flowers," Harrison said. "It makes up more than half of the wedding budget. There is a huge carbon footprint. Even if it's not organic, but local, it reduces the carbon footprint of the wedding."
Here's a fact, she said: if every wedding in the United States this year used an aisle runner it would circle the globe twice.
"Just skipping those little items makes a huge difference," Harrison said.
There are a host of green choices, such as buying a pre-owned wedding gown and shoes, renting tea light holders, placing the bridal and bridesmaids bouquets in vases at the wedding reception as décor, and holding the ceremony and reception at the same venue.
Companies now offer biodegradable confetti. There's even a nonprofit organization, Greener Photography, whose members try to mitigate the impact of the photography industry on the environment.
"I always mention gifts, too, because it's something that most couples don't think about," Harrison said. "We spend $20 billion a year on wedding gifts."
By adding eco-friendly items to a gift registry, such as organic towels, couples help support green companies. It's a nice way to give back to the green community, Harrison said.
One environmentally friendly trend that has caught on quickly is wedding web sites, where couples can update their intended guests on everything from directions to the venue to a gift registry list.
These web sites save paper and postage.
Another trend wedding planners say they're seeing more of is couples choosing eco-friendly wedding favors.
"I feel like at so many weddings I see the favors get left behind," said Rebecca Stoddard, owner of Shade of Green Events in Charlotte. "Lots of weddings now, couples are donating to their favorite charities in lieu of favors or skipping the favors altogether."
She started her business in June 2010 after working for a local special events rental company, where she saw firsthand just how much waste was generated in the industry.
"Going green really has to start with the client so I try as best I can to weave that into the conversation," Stoddard said.
Some of her eco-friendly suggestions include using real china and flat wear as opposed to disposable dinner wear and utensils. Couples who want to keep things a bit more traditional and less cyber can cut back by using recycled invitations and post cards, which do not require envelopes for guests to RSVP.
"I do think that, as a whole, this generation that is starting to get married now, they seem to be more aware and educated and knowledgeable about the environmental impacts," Stoddard said.
Results from The David's Bridal Survey, conducted by an independent research firm and released in 2011, revealed that a majority of the 501 women interviewed – 78 percent – stated they would take steps to make their weddings more environmentally-conscious.
Thirty-seven percent of respondents, women ages 18 and older who were engaged or married within the past two months, also stated that they donated leftover food from their receptions and 35 percent said they planned to serve locally sourced dishes and decorate with locally sourced flowers.
North Carolina weddings are still a little behind the green trend, wedding planners say.
"We're about three to five years behind," said Rachel Deere, owner of Bridal By the Sea and Tildy Design Co., a business she started in Morehead City nearly nine years ago after moving from California.
A majority of the 50 to 55 weddings she helps plan and design each year are with destination brides attracted to the natural coastal landscape in the area.
She encourages her clients to use local vendors to reduce the carbon footprint and helps them coordinate day or weekend trips where they can do everything from cake tasting to venue shopping at one time rather than making repeated trips.
"A lot of bakers I work with will mail samples so the bride doesn't have to make a trip overnight," Deere said. "It's less stress on the environment."
She also offers brides the ability to donate the flowers they use to places like hospitals, nursing homes and schools in the community. She's had clients who ask their guests to place their wedding programs in a basket following the ceremony so the paper can be recycled.
Area caterers she works with prefer to use local fishermen, something she shares with her clients.  She also works with bakers who are trending toward using ingredients natural to the area.
"Even those little things can help," Deere said.
Industry professionals including Stoddard and Harrison say they hope more couples will make decisions to go green.
"In 10 years I hope I have to change my business name because going green is how it's done," Stoddard said.
Harrison, who created the country's first online green wedding professional certification course in 2010, said when she planned her wedding in 2007 choosing eco-friendly options added a layer of meaning to her wedding day.
"A wedding is really about the future and sustainability," she said. "It's a long term commitment just like the commitment to protect our environment."