A version of this story first ran in the Outer Banks Voice, an online newspaper in Nags Head.
NAGS HEAD — Emergency legislation before Congress that is intended to provide relief to victims of Hurricane Sandy would also send $11 million to the Outer Banks to dredge clogged Oregon Inlet and the Hatteras ferry channels, Sen. Kay Hagan, D-N.C., said yesterday.
The $60.4 billion relief bill would also provide money to dredge the Morehead City harbor, the Intracoastal Waterway, Beaufort harbor, Wainwright Slough, Carolina Beach Inlet and Lockwoods Folly Inlet.
The Senate is scheduled to consider the bill this week, but conservative advocacy groups have urged Republicans to vote against it or pare it down because it pays for billions of dollars in projects, such as dredging inlets in North Carolina, that aren't related to the hurricane.

Sen. Kay Hagan
A prominent geologist at Duke University also has complained to the Senate's majority leader that the bill gives too much leeway to the Army Corps of Engineers to choose projects that aren't hurricane related and allows the Corps to sidestep regulations and rebuild disaster-prone beaches.
Of the $1.8 billion in disaster recovery funds that the Hurricane Sandy Relief Bill sets aside for the Corps, $9 million would go toward dredging at Oregon Inlet and $2 million to clear the ferry channel between Hatteras and Ocracoke, Hagan said.
"What the Hurricane Sandy relief bill does, it ensures that North Carolina will have adequate funding to keep our inlets open to commercial fishing and the shipping vessels and to ensure that our ferries can navigate our channels and carry residents and visitors on and off the barrier islands," Hagan said in an interview with the Outer Banks Voice, an online newspaper.
In her conversations with the Corps, Hagan said, $6 million was identified for work on the outer channel at Oregon Inlet if the bill passes. Shoaling under the Bonner Bridge navigation span has left the channel virtually impassable. Another $3 million would pay for dredging the inner channels.
Those numbers far exceed the $1.3 million in President Obama's 2013 budget proposal and are about equal to funding the Corps had received annually before the federal government put shallow-draft inlets on a back burner.
Hagan also said she was told today that the side-cast dredge Merritt was able to make its way through the navigation span of the bridge at high tide. The corps said last week that dredging would not be possible because depths were as little as 2 feet in that area.
"I think it's too early to tell whether the inlet's going to stay deep enough for the Merritt dredge to start dredging, but I think this is obviously welcome news," she said.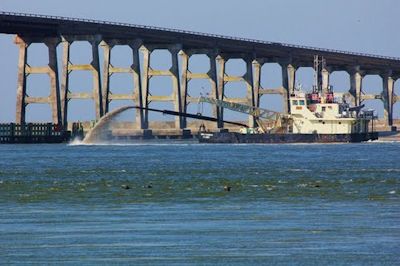 The Sandy relief bill contains money to continue the dredging of Oregon Inlet. Photo: Army Corps of Engineers.
A Corps survey Monday showed some improvement but depths still at 4 to 6 feet, not enough for oceangoing trawlers requiring at last 8 feet.
Overall, the Corps has identified about $30 million in recovery work for the North Carolina coast, Hagan said. The projects include $600,000 for the ferry channel from Ocracoke to Cedar Island and $150,000 for the emergency ferry channel between Rodanthe and Stumpy Point.
The bill includes money to reimburse states for repairs on damage attributed to Hurricane Sandy, which passed the Outer Banks offshore Oct. 31 and created high surf, wind and rain for almost a week.
State highway crews are still working to get N.C. 12 north of Rodanthe open for traffic. Hagan said the state or local governments might qualify for reimbursement for adding sand to the beach.
The bill has met with stiff criticism from Republicans for including money for projects and programs not related to Hurricane Sandy.
"You're at the end of the Congress, and there's always an interest in attaching anything you can to bills that are going through the Capitol Hill station," Steve Ellis told the Web site Business Insider. He's the vice president of Taxpayers for Common Sense, a nonpartisan watchdog group. "This is one of the last trains going through the station."
According to an analysis by Ellis, the Sandy emergency spending package includes $150 million for fishery disaster areas in Mississippi and Alaska; $20,000 for a new car for the Inspector General of the Justice Department; $10.8 billion for the Federal Transportation Administration; and cancellation of loans related to Hurricane Katrina. It also contains $4 million for repairs at the Kennedy Space Center and $3.3 million for the Plum Island Animal Disease Center.
Club for Growth, a conservative advocacy group, is urging Republicans to vote against the relief package, according to a statement on its web site.
Hagan said, however, that based on passage of similar bills after hurricanes Katrina and Irene, she was optimistic of approval by the end of the year. She noted that about 300,000 people had been displaced in New York and New Jersey.
"I think people need to realize that this has had a devastating impact on people who have lost their homes," she said. "And, you know, these are working-class people. These are not second beachfront homes that we're talking about."
Orrin Pilkey, a marine geologist and professor emeritus at Duke University, has for decades advocated for sane development of  the country's beaches. He worries that the bill will unleash the Corps to rebuild beaches that will just get destroyed again in the next storm.
"I believe the bill is a recipe for a major loss of the quality of our East Coast shorelines and beaches and will only encourage further development in dangerous areas," Pilkey wrote in a letter Monday to Sen. Harry Reid, D-Nev., and the Senate's majority leader.
The bill, Pilkey wrote, gives the Corps almost $3.5 billion to spend on almost any non-relief project and exempts those projects from public participation and laws that regulate development in flood zones and hazardous areas.
"To make a long story short, the bill gives the Corps the freedom to choose its own projects and requires recovery of shorelines back to where they were pre-storm," Pilkey wrote. "If the shoreline is moved back to where it was pre-storm, the next storm, either large or small, may do the same amount of or more damage in the same places."
Pilkey urges Reid to rewrite the bill.