BATH — Solar energy production has become a hot industry in Eastern North Carolina, pumping revenue and jobs into some of the poorest communities in the state.
The newest commercial-scale project in Beaufort County, scheduled to open by year's end, is Duke Energy Renewables' largest solar project so far. Built on 88 acres of farmland just outside Bath, the $40 million Washington White Post Solar Farm will have about 56,000 solar panels that can generate enough electricity to power about 2,000 homes.

Tammie McGee

Kenny Habul
The power will be purchased from Duke Renewables, a non-regulated commercial unit of Duke Energy, by the N.C. Eastern Municipal Power Agency through a renewable 15-year agreement, said Duke spokeswoman Tammie McGee. The 12.5-megawatt project could potentially expand, she said, but it has not been decided to what extent.
With the nearby city of Washington — often called "Little Washington" —- suffering a poverty rate of 30 to 40 percent and unemployment hovering around 11 percent, the jobs and tax revenue created by the project are likely more welcome than the clean energy.
"Everyone is thankful we're here," said Kenny Habul, chief executive of SunEnergy1, the Mooresville-based contractor. "We're very well supported. Most people should be fans of clean power — unless you're a fan of coal."
There has been no public outcry about the aesthetics of the blue-grey solar panels spread over acres of former farmland, said Catherine Glover, executive director of the Washington-Beaufort County Chamber of Commerce.
"I have not heard objections from anyone," she said. "If anything, it's just providing the economic impact we need right now."
Glover said that between construction jobs and increased business at area retailers, motels and eateries, the project will bring about $20.1 million into the local economy.
And when the Bath project is completed, SunEnergy1 is onboard to build a proposed 20-megawatt solar farm on public land near the local Washington airport, pending Federal Aviation Administration approval, said Shawn Lemond, CEO of Sustainable Energy Community Development Co. in Davidson and the facilitator of both projects.
After the second project, Lemond said, Washington will be at capacity for utility-scale solar power, based on the system demands. But he emphasized that the limitation has no effect on small-scale solar power used at homes and businesses.
North Carolina law requires municipal or co-op utility companies to provide 10 percent of its power from renewable sources by 2018; for investor-owned power companies like Duke the standard is 12.5 percent by 2021.
Lemond, who started his company in 2010, said the growing demand for solar power in Eastern North Carolina is a reflection of the state's friendly policies and tax incentives for renewable energy businesses. Overall, jobs in renewable energy have expanded from about 4,000 statewide in 2007 to about 15,200 statewide in 2011, he said.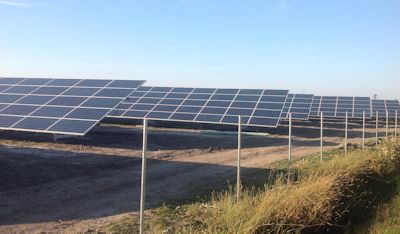 The White Post Road project will use about 53,000 solar panels and include 60 miles of cable, 25 inverters and 300 combiner boxes. Photo: Duke Energy Renewables.

In addition to a 5-megawatt project in Murfreesboro completed in Dec. 2011, Duke Renewables has six 1-megawatt projects in the western part of the state.

But Lemond said he sees the most opportunity in the solar energy field in the eastern and northeastern parts of the state, where there is an abundance of rural flat land and sunshine and a profound need for jobs.
"We've definitely seen an increase in the number of solar projects being proposed in Eastern North Carolina, both in terms of the number of projects and an increase in the size," said Julie Robinson, director of government affairs for the N.C. Sustainable Energy Association. "It's definitely an area of high interest."
Robinson said that jobs in the solar industry, many of which entail training and certification, can be compared to the construction industry in that skilled workers go from jobsite to jobsite. For that reason, the solar industry is starting to cluster projects, and manufacturers of solar parts are opening or relocating in North Carolina to meet the industry demand.
Robinson said that with its clean energy policies and job creation, North Carolina is a leader in the Southeast, especially in solar power, and is in the top 10 nationwide.
"I think the goal is to have a more diverse energy mix," she said. "But renewable energy will never replace all traditional energy like nuclear and coal that our state has relied on for generations."
For the Bath project, 150 workers have been hired, many of them unemployed construction workers from the local community, Lemond said. That translates to 294,000 wage hours. The project, he said, is also expected to bring an additional $600,000 of sales tax revenue and $209,000 in annual property tax revenue, equal to ½ cent of the county tax rate.
"It allows the very people who were hit the hardest out in Eastern North Carolina to benefit," he said. "It's a perfect fit."
Typically, farmers can lease all or part of their land for about $300 to $400 per acre per year for 15 years, Lemond said.  If the fixed lease is renewed for another 15 years, the price goes up to $450 to $500 per acre per year. Leases adjusted annually usually start at about $125 per acre per year.

Shawn Lemond
Lemond said that there are also benefits beyond direct pay: Line loss — electrical power lost in transmission — is reduced 7 percent. And the infusion of money in worker's pockets trickles down into the community.
"This has really helped a lot in my county," Gopher Vaughan, owner of Vaughan Septic & Well Service in Washington, said in a video about the project, "because every cent I make I spend in the county."
Bosch Solar Energy, a German company providing most of the solar modules at the Bath project, recently opened a second U.S. location in Mooresville, outside of Charlotte, which has become a hub of energy innovators. The company also has an office in San Mateo, Calif.
"North Carolina has a fairly strong program to encourage the use and deployment of solar," said Eric Daniels, Bosch regional president. "It's a wonderful place to do business and it's got the advantage of having a significant amount of sun."
Daniels said that solar technology has become much more efficient and less expensive; four years ago solar cells cost twice what they cost now. And he said that there is a lot of work being done to continue improvements in the industry.
Solar systems are designed to withstand winds in excess of 125 mph, he said. Even the glass surrounding the silicon solar cells — there are 72 in each module — is made strong enough to take the direct force of a golf ball strike. The systems automatically cut off in hurricane, and all cabling is underground.
Daetwyler Clean Energy in Huntersville has been contracted to build the ground racks that support the 12- to 14-foot wide panels, which are placed in east–to-west lines. The south-facing panels, standing 12 feet off the ground, are noiseless and produce less glare than sun reflecting off water.
The project is expected to eventually produce 23 megawatts of power, Lemond said, based on its sunny southern location.
Lemond said that his company is looking at more projects at locations east of I-95 in North Carolina, including Edenton, Farmville and Elizabeth City, that will add a total of 400 megawatts of solar power to the region.
"It's an impressive industry," he said. "It is no longer a fad. It's got real legs and the ability to really change the economics in Eastern North Carolina for the foreseeable future."