HATTERAS — As folks were beginning to gather at the docks in Hatteras village Saturday afternoon for the Albatross Fleet's 75th anniversary party, an uninvited guest blew in from across the Pamlico Sound.
It was a really impressive Hatteras squall with buckets of great big rain drops that brought visibility down to about nothing, strong winds, thunder and lightning.
However, the islanders and guests at the party were not deterred but carried on as they always do in foul weather. They waited out the squall in their vehicles or delayed their arrival, but they came anyway.
The festivities got under way after about an hour's delay under a big tent in the parking lot next to the Albatross docks.
The thunder and lightning had moved out to sea, but the sky was still steely gray and a drizzle continued to fall as guests in boots, rain slickers and other foul-weather gear gathered to hear Ernie Foster open the ceremonies honoring 75 years of the charter fishing fleet launched by his father, the late Capt. Ernal Foster, in 1937.
"Like much of life in Hatteras, you need to be able to improvise," Foster said.  "It is part of what has made the Albatross Fleet successful, so why should our 75th be any different?"
When he came back home to Hatteras Island during the Great Depression, young Ernal Foster needed to make a living, and the primary way folks did that in Hatteras village at that time was commercial fishing.
There were plenty of fish in the water around Hatteras, but catching them for any purpose other than sending them to market or for the family dinner was unheard of.
Ernal Foster had a better idea – catching fish for fun and sport.  Tourists, especially sportsmen, were starting to come to Hatteras Island, and Foster figured that these mostly well-heeled visitors would pay to go fishing.
He purchased some wood, cured the juniper planks for a year, and then took the wood to Marshallberg, in "Down East" Carteret County, where the Albatross was built by Milton Willis in the Willis Boat Yard. The total cost to build the boat was $550.
Albatross was launched in the spring of 1937 and over the summer, Capt. Ernal and his younger brother, Bill, ran four charters at $25 per trip.
It was the beginning of charter fishing in Hatteras, and over the next few decades, Hatteras earned its reputation as the "blue marlin capital of the world."
In 1948, Capt. Ernal added the Albatross II to the fleet, and the Albatross III was launched in 1953.
At Saturday night's celebration, Ernie Foster paid tribute to his father, his Uncle Bill and Capt. Oliver O'Neal, the early pioneers of charter fishing.
Foster went to work as a mate for his father when he was 13, but his uncle quickly saw that wasn't going to work and he took the boy under his wing.
Foster said he learned to fish from Capt. Bill, who, he said, was "the best intuitive fisherman I was ever around."
Capt. Oliver, Foster said, was "the most dependable, hardworking and determined man imaginable."  He fished nets into his 90s.
About his father, Foster said: "For years, I wondered about his visionary idea of charter fishing in Hatteras. What time impressed on me, is that under his quiet exterior was an iron will that would not break."
Foster mentioned three other captains who had been important to the Albatross Fleet over the years – Willy Foster, Capt. Bill's son; Tall Bill Van Druten; and Bill Coyle, who was never a full-time captain but was always ready to fill in.
And he recognized the present crew members.
Capt. Bryan Mattingly worked for Foster as a mate when he was in high school and is now captain of the Albatross II.  For the past two summers, his son, Sumner, now in high school, has been his mate.
Capt. Mike Scott was described as the "nearshore specialist." A boat builder himself and former owner of Scott Boatyard in Buxton, Foster says Scott keeps the old Albatross in top shape.
Capt. Andy Trant of the Albatross III began as a mate.  His father, Reuben, was a mate on the Albatross boats years ago.
Also at the party were Sam Robinson and Bill Austin, who worked as mates on the boats when they were in high school.
Indeed, when Foster  asked those who had worked even one day on the Albatross boats to raise their hands, arms were raised all over under the tent.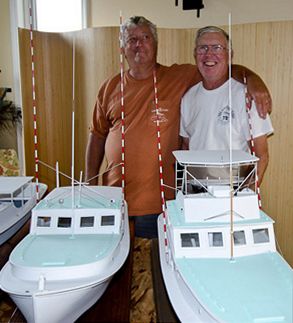 J
And four former mates traveled to Hatteras for the celebration. They are Rich and Starkey DeSoto, who now live in Charlotte and Palm Beach respectively, and Justin and Karen Buxton. Justin became a mate when his service in the Coast Guard ended and he wasn't ready to leave Hatteras. Karen met him when her family chartered the Albatross III. She returned the next summer to mate on Albatross II.  They were married and now live in Panama City, Fla.
Other honored guests at the party were some long-time customers – Milton Hudgins, who began fishing with the fleet in 1968; Rodger Moore, who has fished several times a year since the '80s; and Tom Wilkins, who fished with Capt. Ernal before Ernie did and who brought his son, John.
After Ernie Foster opened the celebration, his wife, Lynne, spoke and showed off a "birthday card," a drawing of the boat by Clara Oden.
Karen Willis Amspacher of Marshallberg talked about her first meeting with Ernie and Lynne Foster and the Albatross.
"You could just tell that somebody who knew the water, built it," she said.
And, finally, Dwight Burrus spoke about his memories of Capt. Ernal and other pioneering captains. He said the headgear he was wearing was in honor of Capt. Ernal, whose trademark was a long-billed hat with a green visor.
Burrus gave a prayer and a blessing, thanking the Lord for "Mr. Ernal who lives on in Ernie" and for "all of the young men who have taken the helm and gone to sea."
Then the guests lined up for a dinner of North Carolina barbecue, slaw and all the fixings, prepared and served by Crazy Johnny Conner and the Conner family.
Guests stepped around puddles to make their way around the tent to visit with friends, and once the rain stopped, some folks milled around the three Albatross boats, decked out for the occasion with wreaths of red and white carnations, teal flags flying from the outriggers, strings of red and white pennants and tiny white lights.
The children were as careful as the adults, and several of them were having a terrific time walking back and forth in the larger puddles.
When the rain stopped, the highlight of the evening arrived in the back of a vehicle – three beautiful models of the Albatross Fleet.  The three large models took their place on a table in the middle of the tent that was cordoned off with fishing net.
These models are not toys.  They are works of art by Jimmy Amspacher of Marshallberg, Karen's husband, who is a builder of boats and models and a commercial fisherman.
He built a model of the Albatross I for Lynne and Ernie Foster several years ago and made models of the Albatross II and Albatross III for the 75th anniversary.
They are amazingly accurate replicas of the three distinctive round-stern boats right down to the tiny outriggers, the captain's chair, the helm, and other minute details.
And Karen announced a surprise for the Fosters when she spoke – each model also includes a tiny wooden sliver of the stern of the Albatross I.
Lynne and Ernie Foster hope to eventually arrange for the models to be on display somewhere in Hatteras village.
As the evening wound down, Banjo Island – Wes Lassiter, Rhonda Bates and Stash Lawrence – played their trademark bluegrass music.
One casualty of the stormy weather was the special 75th anniversary Albatross T-shirts. Not too many of them were sold, but they are still available at the Albatross Docks.  Sales of the shirts will benefit the "get pinked" campaign that raises money to treat breast cancer patients and honors breast cancer survivors.
At the end of his speechmaking at the celebration, Ernie Foster said that people often ask him why he fishes.
"When I think of fishing," he said, "it is not about scattered grass, not rough days or slow fishing.  It is the sights I have seen and the people I have met.  The sunrise as we head out, the sweep of the gulls, the leaps of the porpoises, the perfect line, the marlin and the tuna and the kings in magnificent fighting form.  And … what I will catch tomorrow."