WILMINGTON — It was Aug. 28, 1998. On that night, the one following our latest hurricane, my then14-year-old daughter announced a sleepover at her best friend's house. "It's a tradition," Catherine reminded me, simultaneously asking permission and packing her bag. "Remember," she said, "I spent the night at Jill's after Hurricane Bertha, and after Hurricane Fran, too."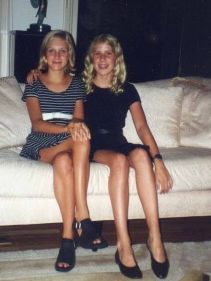 Jill, left and Catherine were so inseparable they were called "Foot-for-Foot." Photo: Susan T. Block.
Being a native of Wilmington, I knew well that traditions are part of mammoth storms. Only on Christmas Eve is there such a feeling of family as there is when a hurricane nears the doorstep. On that uncertain Night of the Different, even Catherine and Jill knew not to mention spending it somewhere other than home – nor would they want to. But let the clouds clear the next day, and teenagers wanted to gather with their own friends.
Other traditions or simple chores included filling a bathtub with water, in case the usual supply was cut off or compromised; taping large windows, a chore that must be done early-on, lest person and plywood turn into a sail powered by early gusts; and, for me, picking up our large orange tabby cat, walking him over to the window, and whispering, "Kato, there's gonna' be storm." I'm pretty sure Kato knew long before I told him.
Bonnie hit Wilmington, North Carolina on Aug. 27, 1998. My parents like most residents of nearby Wrightsville Beach, evacuated and came to stay with us in comparative safety, since we lived on the mainland. Their visit reminded me of Robert Frost's poem, "The Death of the Hired Man."  "Home is the place where, when you have to go here, and they have to take you in." Though a fiercely private and independent couple, they seemed truly happy and relaxed there on that dangerous night and we were pleased to give them safe harbor.
The wonder of the wind kept everyone spellbound until it reached a speed that frightened us away from the sliding glass doors. Still, we watched the shadows from across the room as an invisible and mighty power battered large oaks in our backyard like mastiffs shaking kittens. Smaller fruit trees and gardenia bushes looked like mixed greens in a Cuisinart.
The noise of it went from howl to roar and back to howl, over and over again. During Bonnie, we only lost branches and limbs, but often, as we discovered after Hurricane Fran departed in 1996, the wrenching sound of grand old trees splitting and falling on a thick bed of wet leaves is lost in the deafening din of a hurricane.
The electricity went out early. Justified by a cold stove, we ate sandwiches, snack food and a large loaf of homemade bread Mother had baked that morning. Long before dark, I lit scented candles all around the house, just as my grandmother lit a large old, and not so aromatic, kerosene lamp the night in 1960 when Hurricane Donna hit Wilmington. I feel sure Nana lit the same lamp Oct. 15, 1954 when Hurricane Hazel battered Wilmington. I don't remember the storm, but I do remember my parents pointing to downed trees and talking about Hazel the next day, and I remember thinking that Hazel must be a very strong and mean woman.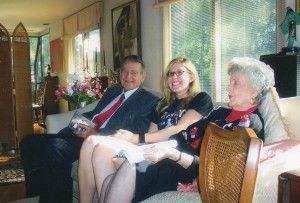 A visit from Daddy and Mother on a sunnier day in 2004. Photo: Susan T. Block.
In 1998, the eye of Bonnie brought a lightened sky and a low steady moan. A couple jogged by our house wearing brightly colored clothing and sheepish grins. A relative who lives nearby sprung for a generator and dropped by to borrow some fresh videos. We all made furtive trips outside to check the damage and to feel daring. But the storm barely moved and the eye elongated, turning what usually is a brief respite into a long and boring wait.
We passed the time listening to television reports on a FM battery-powered radio. Though locally generated stories, delivered by Frances Weller and other members of the veteran hurricane team at WECT-TV, sounded accurate, a national newscast exaggerated a bit. Eventually, we all headed for bed as the tail end of Bonnie, or Pokey as we called her, brought more high wind.
After the storm moved away, weeks of debris removal work began. Bright blue tarps waved over many houses until roofing contractors could patch their way across town. Natives knew that patience pays, because we had seen prices go down by the week after other storms when both seasoned and instant tree workers arrived from neighboring states. Some slept in trucks and traveled in packs until the high-paying work was over. Whole trees, neatly chopped in six-foot lengths crowded the edges of our streets until debris removal trucks lumbered their way through New Hanover County.
Wild animal carnage and mold made pockets of unpleasantness that lasted for months. After hurricanes Bertha and Fran hit Wilmington in 1996, there were many places in town that called for new road signs: ones with a slash across a nose. Soap, bleach and gallons of water were used indoors to combat the combined effects of heat and the sort of humidity that swells doors shut.
Hurricanes follow their own schedules and paths. Sometimes they avoid a locale for years, then Bam-Bam-Bam, you get hit multiple times within a decade. Sometimes a predicted hit turns into a brush-by and a field of beautiful whole conchs shows up on shore. And sometimes, even inland, wind takes a back seat to flooding.
Hurricane flooding takes many forms, the most famous being ocean storm surge, but rainwater holds many surprises. Some of my friends went to Raleigh to escape the effects of Hurricane Fran in 1996, only to be stranded there by floods after the storm blew inland. With power gone, they lived off vending machine food until they finally made it to a grocery store to buy enough food and wine to get them through.
Hurricane Fran played a water trick on our Turtle Hall neighborhood. Two days after she hit, pipe damage and clogged drains pooled three feet of water into the main street. Catherine, Jill, Freddy and I returned from a one-night trip to Charlotte to find that we had to abandon our car three blocks from the house and wade through murky water. Thoughts of snakes, eels, snapping turtles and errant electrical power dogged me all the way home.
Hurricane Floyd in 1999 was a good example of unpredicted storm flooding. Such rain I have never heard. It sounded like water from a hundred fire hoses aimed down at our roof. After our yard flooded, it just kept raining, but finally stopped before damaging our house. Most Wilmingtonians were fortunate that way, but an hour's drive inland, folks weren't so lucky. Lives and homes were lost.
Closing in on the active hurricane season, we always double-check our homeowners' policies, think about stocking up on batteries and hope to heck Jim Cantore will visit us this year for sentimental reasons only.
So, why do we live in a city perched between the Atlantic Ocean and a river called Cape Fear? We live here because we are perched between the Atlantic Ocean and a river called Cape Fear.
It is the compass point of breathtaking arcs. The beauty and opportunities afforded by Wilmington's location made it a seductive city 272 years ago, and make it so today.
The danger of Hurricanes Past, whose names become bold marks on our personal timelines, is tinged with curious excitement because we have weathered them. That a new one could hit us at high tide as a Category 5, or some new global-warmed number, is a thought devoid of excitement and something most of us choose not to consider. We just enjoy seeing sunlight's diamonds dancing on the waters.