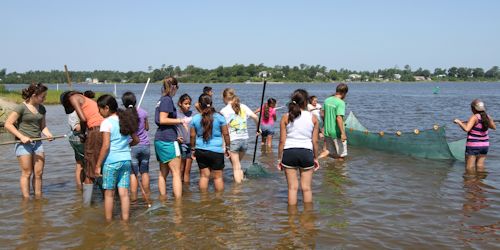 Hispanic students from Durham sample marine life around Jones Island in the White Oak River. Photo by Sam Bland.
SWANSBORO – It was one of those sweltering July days when the temperature approached triple digits and the White Oak River was more like a hot tub.
Luis Hernandez didn't seem to mind. The14-year-old held one end of a tape measure as part of a team of students measuring a plot of marsh grass on Jones Island.  "This is cool," he said, obviously not about the weather. "We're seeing a lot of things and we're learning a lot."
Hernandez was one of 26 middle-school students who spent the day on the island in the White Oak to help the N.C. Coastal Federation monitor recently planted marsh grasses and new oyster reefs.
The federation has put a lot of kids to work on Jones Island over the years. But these kids were different. All were Hispanic from inner city neighborhoods in Durham. None had ever been to the coast before.
They were chosen to make the trip because they are among the top science students at their schools, said Rafael Mendoza, a middle-school teacher and one of the chaperones. "They are among the best students in their schools. They were chosen because they've shown an aptitude for science," he said. "And it's good to get them out of the neighborhoods."
The N.C. Society of Hispanic Professionals paid their way to the island. The nonprofit in Chapel Hill promotes the education of Hispanic students at all scholastic levels. It offers kids guidance, provides them with tutors and mentors. Its Good Stewards of the Environment Program tries to peak their interest in science.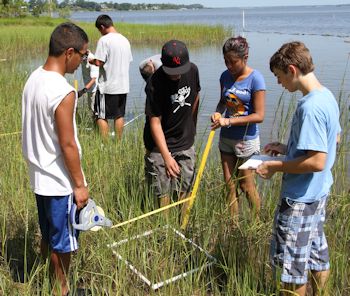 Students measure the density and height of marsh grass. Photo by Sam Bland.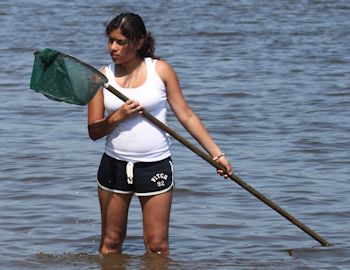 Created in 2008, the program chooses as many as 30 rising seventh, eighth and ninth graders in five counties in the Triangle who have shown an aptitude for science. The kids learn about research and experimentation, explained Ana Bolchalk, the program's director, and take part in discussions about current environmental issues.
"This coastal trip teaches them that it's important that they understand what they do at home," she said. "It all flows here."
Lexia Weaver, a federation scientist, explained to the kids the importance of precision. She showed them how to measure the density and height of marsh grass. By taking annual measurements, the federation can judge the health of the marshes it creates on the island.
Armed with tape measures and clip boards, the kids set off in teams into the marsh. "It's nice to know that we're helping," Hernandez said.
Mendoza hopes the experience on the island will have a long-lasting effect on the kids. "We want to instill in them that there is a future in getting an education," he said.