"
And those who were seen dancing, were thought to be insane by those who could not hear the music" – Friedrich Wilhelm Nietzsche
SUNSET HARBOR — Meet N.C. Coastal Federation volunteers Kevin Talon and Phyllis Evans, members of what's become known as the Lockwood Army, so-called because of their united, disciplined and tireless contributions to the environmental health of Brunswick County's Lockwood Folly River and Inlet.
Early on, this army might well have been perceived as "insane" dancers by those who could not hear the music of threats being posed to this river's environment. Today, thanks, in part, to a $309,000 grant awarded to the federation in 2007 by the N.C. Division of Water Quality, Talon and Evans continue their environmental activist dance. Only now, it's to music that, thanks to them and other members of the Lockwood Army, the river community can actually hear.
Appropriately enough, Talon and Evans, from disparate and geographically distant backgrounds, met 24 years ago, on a Ramada Inn dance floor in Maine. Today, when occasions arise, they still get out there and (literally) dance, as well.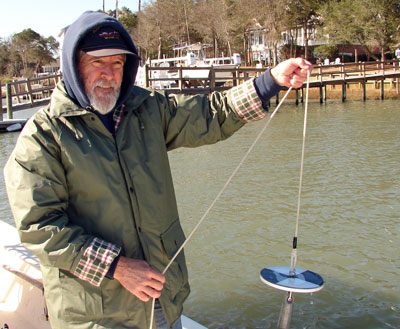 Talon is the Maine connection. Born and raised in Lewiston, ME, he spent the first 23 years of his post-high school life working for the Midas Muffler Corp. and raising a son with his first wife. A self-proclaimed "country girl" from Stanley, N.C., Evans spent most of her post-high school years as an accountant for a manufacturing firm in the Charlotte area, while raising three children with her first husband. In 1988, by then single, Evans travelled to Lewiston to be with one of her daughters for the birth of a second grandson. It was there, on what she described as her "first outing" since she'd arrived, that she went to a local restaurant in a Ramada Inn, which featured music and a dance floor. Talon, also single, just happened to be there and asked her to dance.
"I made some kind of remark in our initial conversation that I loved the state and wanted to visit a lighthouse," she said. "He (subsequently) took me to the Cape Elizabeth (Two Lights) Lighthouse."
They've been together ever since, four years beyond a time frame for permanence declared by Evans at the outset.
"I made it pretty clear," she said. "I was married the first time for 19 1/2 years, and I would not declare him a 'keeper' until we'd passed 20 years."
For a while, the romance endured a separation of more than 1,000 miles, with Talon paying visits to North Carolina and Evans trekking up to Maine, before they decided that one of them was going to have to make a career change. Evans resettled in Maine, where she was able to find work as a corporate accountant. After three winters in Maine, she returned with Talon to North Carolina in 1991. Tallon transferred to a Midas plant in Gastonia and Evans went back to work for the company she'd been working for in Charlotte before she left.
"I loved Maine," she said. "I'm an outdoors kind of person, and I loved the ice fishing and the snowmobiling, but my youngest daughter was still in high school, and my mom was getting on in years."
Three years later, Talon quit Midas. From a new home in Pitt County surrounded by  about 15 small ponds, he and Evans went into raising catfish.
"Phyllis was an accountant for Carolina Classic Catfish," he said, "and with the ponds, we just continued from there and made a business out of it."
"That's where I got my first inkling of things needing to be done," Evans said, ""and I became conscious of the environment."
Hurricane Floyd put an end to their catfish business in September 1999. It flooded their home with four feet of water, and all of their catfish swam away. Federal regulations would have required them to re-line the ponds and install irrigation systems, and it was more of a financial burden than they were willing to undertake. They were both also employed elsewhere at the time. In the fall of 2004, they made the decision to sell the farm and began looking for a new home.
"I had always, always wanted to live at the beach," she said, "and we looked (at property) on the Outer Banks. We were both still working, not ready to retire yet, and there were just more jobs with better pay in the Wilmington area."
Talon found a job with Rampage Yacht in the Leland area, and Evans went to work as an accounting manager for Oak Island Accommodations. They settled in Brunswick County, in Sunset Harbor. It was there that they first encountered the Lockwood Folly River, and the federation's call for volunteers to conduct water quality studies. The grant also included provisions for the development of methods to control the stormwater and educate the community about the environmental threat, which over the years had shut down 55 percent of the river to shellfishing.
They were involved in the original studies and participated in the sampling, which really got them connected to the river," said Mike Giles, a federation coastal advocate and the coordinator of the Lockwood project. "They're a part of that river community. It's a part of their everyday lives.
"These people were more than just volunteers," Giles added. "A friendship developed among these people, who all became advocates, very vocal advocates of the river."
"We really became involved when we got down here," Evans said. "I'd been aware of the effects of stormwater, but hadn't realized it was the major culprit."
While the Lockwood Army has no more official tasks at this point, Talon and Evans, now retired, continue to volunteer to, among other things, bag oysters that become part of artificial reefs being built on the Intracoastal Waterway near Oak Island.
"They attend county commission meetings throughout the whole area," said Giles of their continuing work, "and they're involved in the implementation plan (for improving water quality). It's not just about that initial study anymore. They're committed to whatever the river needs."
"Kevin and Phyllis love to eat oysters," he added, "and they definitely hear the music."