MANNS HARBOR — The caravan of vehicles slowly snakes along, traveling five miles down a dusty gravel road to way down yonder in the woods.
Pickup trucks, sports cars, SUVs, station wagons and a Tioga RV camper with three bicycles strapped to its bumper carry mostly Outer Banks vacationers on a twilight excursion to hear red wolves howl in the Alligator River Wildlife Refuge in Dare County.
The Alligator River National Wildlife Refuge was established in 1984 to protect and preserve unique wetland habitat and associated wildlife species, including the red wolf.
The refuge, off U.S. 64, is part of the Southeastern Region of the U.S. Fish and Wildlife Service. Open to the public year round, the refuge covers 54,000 acres on the mainland portions of Dare and Hyde counties.
During the summer, the staff offers guided tours, giving adventurous visitors an up close look at resident bears and other wildlife and a chance to hear red wolves howl at sunset.
On a recent humid Wednesday night in mid-July, 50 nature lovers are gathered for the regular Wednesday night wolf howling.  They have traveled to this spot from Austin, Texas; Danbury Conn.; Raleigh; New Bern; and other places.
Richard Peterson and his family were on the way home to New Bern from their Outer Banks vacation and noticed a gathering of cars and people at the refuge entrance about 20 miles outside of Manteo.
Despite the kids' pleas to keep heading home, Peterson decided to pull over to see what the fuss was about. A few minutes later, his recreation vehicle, fully packed and loaded, was making its way past canals, fields and woods on a tour to look for bears.
Peterson's daughter Elizabeth is excited. "We saw five bears and some cubs," she said. "We saw them out in a field, and one of them stood up."
After seeing bears, the kids gave up their quest to hurry home and decided to stick around to hear the red wolves howl.
Kyla Brick, a rising senior studying wildlife science at the State University of New York College of Environmental Science and Forestry, is interning as a red wolf caretaker at the Alligator River refuge this summer.
She arrives at the park entrance a half hour before the red wolf howling event and sets up her display. She drops her truck's tailgate and positions a framed photo of a red wolf, a couple of pelts and skulls, a trap and a tracking collar.
As visitors begin to gather, Brick starts her program, tailoring her remarks to nearly two dozen kids and teenagers in the audience.
"Red wolves once roamed the Southeast, but by the 1980s, most of them had been wiped out through eradication, loss of habitat and interbreeding with coyotes," she said.
By 1980, the U.S. Fish and Wildlife Service had declared red wolves extinct in the wild, although captive breeding programs had been in place for nearly a decade, according to information on the Fish and Wildlife Service website.
"The U.S. Fish and Wildlife Service began an aggressive attempt to reintroduce the purebred red wolf into the wild, here at the Alligator River Wildlife Refuge," Brick said.
In 1987, The Red Wolf Recovery Program placed its first group of red wolves into the wilds of the Alligator River refuge, and a year later, the first litter of red wolf pups was born in the wild.
Captive breeding is still in place, and in a secluded area on the refuge, two pairs of adult wolves and four other females live and breed. After giving birth, their pups are introduced to free roaming wolves and grow up in the wild.
Brick estimates 75-100 wild red wolves live and roam over a five county area in northeastern North Carolina and Virginia.
The howling events attract hundreds of visitors.
"Wolves howl for a number of reasons, but they primarily do it to communicate," Brick said.
Sophia and Haley Whitley, sisters visiting from Raleigh, have traveled from Ocracoke Island with their parents and little brother to hear the wolves howl.
Sophia loves wolves and points to a picture of one printed on her tee shirt. "I think they are graceful and very cool," she said.
"We took Haley to a wolf howling when she was four," said her mom, Christine Whitley. "She's 10 now, and we wanted to bring her back so she'd remember it."
Maria and Tom Smith are local residents who live nearby in Southern Shores. They are at the howling with their daughter, Jenn, a photographer who is visiting from Danbury, Conn.
"I have always loved wolves. I had a mini-obsession with them when I was a teenager," she said. "I love all animals, but wolves are the most misunderstood."
As daylight fades, it is time to visit the wolves. Up the road, a black bear lumbers out of a field and heads toward the forest area.
More Info

The wolf howlings at the Alligator River National Wildlife Refuge will be held on Wednesdays through August. The cost is $7 a person, but there is no charge for children under 12.
Free howlings are scheduled for some Saturdays in October and December.
For a complete schedule see the refuge web site.
Vehicles line up and slowly make their way deep into the refuge.
Tree frogs, bull frogs, crickets, cicadas and other critters sing their night songs loud enough to raise the dead on an otherwise silent night.
Dragon flies as big as sparrows dive bomb the parade of cars making their way past woods and fields, and past a sign that says "no vehicles beyond this point," until they finally stop next to a path that leads into darkness.
Brick and two other guides have instructed this group of explorers to turn off their phones and to avoid slamming car doors so the wolves in their breeding pens won't be alarmed.
Everyone lowers their voices to whispers for good measure.
The guides walk into the woods until their shapes melt into the shadows.
Then it starts.
First the sound of humans howling hangs in the air as the guides call out to the wolves.
The wolves respond in a chorus of high pitched soprano voices harmonizing with an odd baritone.  They yip. They yap. They moan and howl for a couple of minutes before the woods fall silent again.
Now it is the visitors' turn to howl.  Brick gives a quick lesson, counts to three, and the entire crowd stands with their heads thrown back. Hands cupping their mouths, they howl into the black, moonless night.
They are met with silence. They try a few more times, but the wolves are done.
The thrilled adventurers return to their vehicles to begin the slow journey back to civilization.
A youthful voice breaks the silence in the darkness.
"That was so cool. It was like a symphony."
Related Story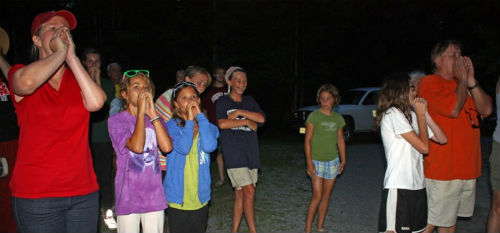 The group howls in the direction of the wolves, hoping they will howl back. Photo: Teri Saylor.