WILMINGTON — Rich farmland lies just inland of the N.C. coast. Along the coast and in adjacent areas live hundreds of people eager for the fresh, local produce grown on that land.
Recently, several groups of small farmers and gardeners, assisted by grants, have turned to the Internet to connect to that vast potential market.
In the process, they're changing not only food buying, but food growing, local economics, even social relations between farmers and consumers.
They're also introducing foods nontraditional to Eastern North Carolina and lending a hand to both new and recycled farmers.
In the past year, four groups have sold some $100,000 worth of berries, beans, pork – even homemade cheesecake – through their communal, nonprofit Web sites. Growers share the cost of quick, often same-day-as-harvest, delivery.
"The ones that are buying are thrilled with the product," says Lynn Davis, director of one of them, Eastern Carolina Food Ventures. "They feel like it's more nutritious because it's local. It's just out of the field."
The groups include three modeled after long-established Farmers Fresh Market in Rutherfordton   and another, www.feastdowneast.org, that's linked to the University of North Carolina at Wilmington.
The number of growers changes seasonally, but the Farmers Fresh Market clones and their Web sites are:
Down East Connect, about 25 sellers in Columbus, Pender,  Brunswick , New Hanover, and Bladen counties in North Carolina and Horry in South Carolina delivering to pick-up points in New Hanover,  Brunswick, Pender and Columbus counties.
Kenansville-based Eastern Carolina Food Ventures, with 20 growers from Duplin, Sampson, Pender and Lenoir counties delivering to individuals and pickup points in Lenoir and Duplin counties.
Williamston-based Eastern Local Food, a small number of growers near the central and northern coast selling to five Outer Banks restaurants and some individuals.
Feast Down East, a multifaceted economic development initiative in Burgaw, promotes farmers markets, virtual and otherwise, farmer/grower co-ops known as Community Supported Agriculture and the purchase of local produce by schools, restaurants, groceries and food-service buyers as well as individuals.
Feast Down East's 30 growers are in an eight-county east of I-95. Some 30 wholesale and 200 individual buying-club members order online, and delivery is to wholesale sites and buying-club drop-off points in Wilmington and Burgaw.
After its debut in spring of 2011, "It took off," says Director Jane Steigerwald. First-year sales were $40,000, and, in keeping with Feast Down East's goal of getting more fresh produce into school cafeterias, farmers sold to schools in Brunswick, New Hanover and Onslow counties and Camp Lejeune.
Handy and Healthful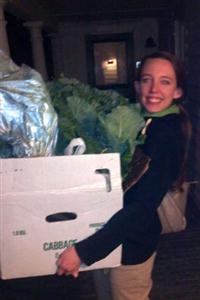 A Down East Connect customer, loaded down with produce,
leaves a pickup spot. Photo courtesy of Down East Connect.
Allison Ballard, who blogs about food in the Wilmington Star-News, buys from both Feast Down East and Down East Connect.
She's a big local-food fan, and while it's available in the grocery store, "Having another way to buy that fits your schedule better, or your budget, is a good idea," she says. "It's good to have a lot of choices.
"Sometimes, you don't expect what you see. I'll click on veggies and think, "I didn't know they grew that here!"
"We have such a nice warm and moderate climate here we can grow things outside what's traditionally grown," says Martha Campagna, project manager for Down East Connect. "I've been excited to see a lot of different kinds of salad mixes, things like arugula, microgreens, also some of the Asian greens. And we do have a huge variety of peppers, chili, cayenne, habanero, bishop's cap, jalapenos and pimiento."
Down East Connect's growers include at least one high school student and some former tobacco and corn farmers who're making a move into produce.  The area used to have a lot of produce farms, Campagna says, but when supermarkets took over most food sales, "You basically had to switch to row crops to keep your farm alive."
Most farm-to-customer sales of produce in the Eastern Carolina Food Ventures area have traditionally been by large growers who operate their own roadside stands, says Davis. She manages the online market in her role as director of James Sprunt Community College's Small Business Center.
But now that the Internet brings the small grower into the mix, other avenues are opening up.
Eastern Carolina Food Ventures, begun last spring, not only sold $6,000 worth of home-raised produce, meats, desserts and specialty items in 2011, it was approached to start a roadside farmers market near Wallace and the intersection of N.C. 41 and I-40.
"We used a combination of farmers attending our sustainable farming classes and producers selling on Farmers Fresh Market/Eastern Carolina Food Ventures," Davis says.
Though there's no requirement that online farms be certified organic, many growers have taken courses in sustainable agriculture, which de-emphasizes synthetic chemicals.
Hoping to recover from Hurricane Irene's devastation of crops and its customer base last year, Williamston-based Eastern Local Food sought to add to its pool of growers by joining several community colleges in seeking grant support for such classes.
That grant was not forthcoming, but a core group of growers hasn't given up, says Director Jeff Ivey, who manages the organization as an outgrowth of Martin County's Economic Development Corp. They're maintaining a reduced level of sales while they seek other sources of operating and training funds.
Sharing the Wealth
Since money usually moves from disadvantaged areas into wealthier ones, Down East Connect's growers were heartened last year when 80 percent of their $52,107 in sales was in Wilmington, says Executive Director Joshua Heinberg.
New Hanover, home to Wilmington, is in the top rank of N.C. counties economically, as determined by the state Department of Commerce. Columbus County, where most of the produce is grown, is in the lowest.
Growers had a term for it, saying the money had "gone west." The year's sales to Down East's 850 registered customers were five times more than the $10,000 originally projected.
The co-op is also working with The Full Belly project in developing a solar-powered system for small-scale irrigation. Full Belly tries to solve farming problems in developing countries. Since the water table near the coast is relatively close to the surface, the hope is that inexpensive shallow wells powered by solar pumps would give farmers sufficient water for fields and greenhouse-type operations.
That affinity for experimentation is mirrored in the co-ops' customers.
When customer Ballard checks online offerings, "If there's something unusual, I'll try it," she says.