The unaltered marshes of Bear Island teem with wildlife and are one of the few reminders of what barrier island ecosystems are supposed to look like. Photo: Sam Bland.
Almost any time of year, one of my favorite places to be is on Bear Island. But my dedication to the place pales in comparison to that of Sam Bland, my coworker here at the federation. I haven't been able to get out there yet this year, so I decided to pick his brain (and swipe some of his fantastic photos).
Sam is built for speed; there's not an extra ounce on his spare frame. He sits in the lumpy chair across from me, speaking in quiet tones about the place he spent more than 20 years protecting in his prior career as the superintend and ranger at Hammocks Beach State Park and still spends as much time as possible, just visiting. His face lights up as he talks; it's a pleasure to listen.
Between us, we've been to Bear Island thousands of times. By that, I mean I've been there maybe a dozen and he accounts for the rest, but who's counting?
First, the basics: Bear Island is part of Hammocks Beach, which is off N.C. 24 in Swansboro, on the central part of the coast. The 892-acre, undeveloped barrier island has more than three miles of oceanfront, and backs up to a wonderland of marsh and tidal creeks. It's a prime example of what a barrier island should be. In other words, Emerald Isle, it ain't.
The island played starring roles in Indian culture, pirate lore and the Civil War, before becoming a beach for African Americans during segregation. The park has a good accounting of the rich history of the island here.
The island has primitive camping all year and water and restrooms open March through October. You reserve and pay for your campsite online—the website was down for a while this winter, but it's active again now. If you don't book online, you will likely be out of luck. There are 14 camping sites that will hold up to six people each. Three are on the marsh side, the rest on the ocean, tucked in the first line of dunes and they're all $13 a night.
There are no roads to the island, so you have to get there by water, either on the park ferry or your own personal water craft.  This limits the number of people out there—a huge bonus in my book.
The ferry begins to run again Friday. It's first-come, first-served, so even though you reserve your campsite online, you still need to go into the visitor center, register and buy a ferry ticket ($5 for adults, $3 for children and people over 62). Come early, or you may be waiting around.
Pack lightly if going by ferry—you will need to schlep your belongings anywhere from a half to a little over a mile along the trail to your
When I go, we paddle, and most of the time when Sam goes now, he paddles, so I'll focus on that.
If you're kayaking, you still need to park and register, show them ID and your reservation and give them your car tag number. They have a cart, if you need help hauling your boat down to the dock. They also have a nifty launching tube on the dock. Once you're in it, you can slide yourself right on into the water, very smoothly.
Check the tides before you go. Low tide is very low, and when it's down you will not make it to the lagoon at the end of the trail; you will find yourself stuck until the water comes back in.
Once you cut across the Intracoastal Waterway, the Bear Island paddle trail is clearly defined with orange markers. Don't follow the yellow ones unless you want to circle nearby Huggins Island.  It's gorgeous, but takes you through six miles of meandering marsh. Very impressive, granted, but if you're headed for the campsite, you're better off meandering on the orange path.
The trail takes you along tidal creeks through the marsh, with crabs skittering and birds calling throughout the trip. The trail ends at a lagoon. Pull out by the park sign. Campsites 7, 8 and 9 are just a short haul through a cut in the dune after you land. For this reason, they're also the first to be reserved.
The inland landscape contains both maritime forest and sand dunes. While the shore is the right place for sunset and moon rise, the high (well, high for the coast) inland dunes are the place to take a blanket and sky watch. While full moon nights are popular, Sam prefers the new moon; the lack of light pollution almost guarantees that you'll see shooting stars, even if you're not there for the Perseids.
Sam has a warning, though—two, actually. First, there are cacti on the island that will laugh at your flip flops as they stab their way to your feet. Bring sturdy shoes or you'll sport puncture holes on the way home.
Also, there is almost always a breeze on the island, which feels great. Occasionally, however, there is not. If you're stretched out stargazing when the wind dies down, bloodthirsty bugs of all descriptions will descend upon you, so bring bug spray, the tough stuff.  Sam tells a fine tale of being driven so crazy by mosquitoes and no see 'ems that he had to jump up and run into the ocean at 3 a.m. one night in his PJs.
Of course, Sam being Sam, this led to him discovering the joys of bioluminescence, which peaks in the shallow waters off Bear Island in late spring and early summer. The small sea creatures light up when they brush by. I've seen it, and it's magical. The bioluminescence, I mean, not Sam in PJs.
Through the marshes, birds abound. Egrets stalk elegantly, poised to strike their prey if only we would paddle on by. An osprey takes a dive into the water and emerges with half a fish sticking out of its beak. Terns do the same, though with more frequency and less success. Also smaller splashes. In the spring, migratory colonial shore birds will show up to nest on the exposed beaches at the point, including hundreds of least terns, Wilson's plovers and others. Sam says the flocks, which nest together on the flat sand at the point of the island, make great photo subjects.
If you watch the water as you paddle the marshes, you may see a cow-nosed ray—they hide in the creek bottoms, coming in on the tides. Shrimp and various fish are also plentiful.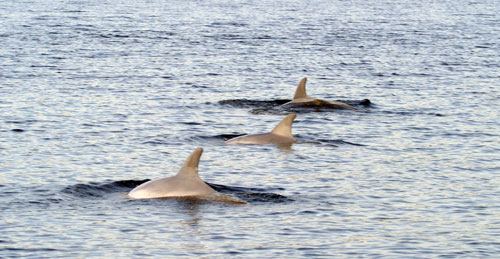 Bottlenose dolphins are always good for a show. Photo: Sam Bland
And charismatic mega-fauna—Bear Island's got 'em.  I've seen bottlenose dolphins most of the times I've visited, and Sam has not only seen them, but taken some striking pictures. We've put one on this page. The dolphins cruise the ocean shoreline, and there are few beach sites that generate such excitement for visitors.
And turtles. Bear Island hosts between 20 and 30 loggerhead sea turtle nests each year. The mama turtles lay their eggs in mid-to late-May, and the hatchlings emerge and make a run for the sea August to October. Rangers mark and watch the sites, and volunteers come to watch over the nests and to try to protect the tiny turtles from those that want to snack upon them, such as ghost crabs, raccoons and foxes.
No fires are allowed on the island. I like a good campfire as much as most, but in this case, it makes good sense. If a fire starts, there is no way to put it out, so, in Sam's words, "the whole thing would go up." That's what happened in 1945, when the maritime forest was destroyed. The park learned the lesson.
While I'm at it, there is also no alcohol allowed in the park, and Sam says to tell you that big scary rangers will find you and take it away if you bring it.
By the time we're done talking, I'm itching to look at the weather and the site reservations to see if I can get myself out there this weekend.  I think he is, too. He looks off into the middle distance. "When I'm there, I'm home," he says. "It brings me joy."
The joy part: Me, too, Sam—me, too.

The tracks of baby turtles in the sand on Bear Island. Photo: Sam Bland