LELAND — It took a long time for Leland's Veronica Carter to become an environmental activist and volunteer for the N.C. Coastal Federation, but in a way, it was a role she'd been preparing for most of her life, without knowing it.
Born and raised in Brooklyn, N.Y., she began her pursuit of a career at Fordham University in the Bronx, as a political science major. Now, some 35 years later, she is finally putting some of that particular aspect of her education to practical use in her multiple roles as a federation board member, volunteer, Coastal Resources Commission member and an ambassador for a safer environment, especially in Eastern North Carolina's poorer communities.
"She's one of our most active board members," said Mike Giles, "and one of our best ambassadors in the Southeast region, getting people involved in our coast."
Beginning in college, however, Carter's life had moved in a different direction. She joined Fordham University's ROTC program, where she earned a commission as a second lieutenant in the Army and began a 20-year career that ended in retirement in 2001. She became an ordnance officer ("not ammunition, but maintenance," she said) at a time when the Army was looking to develop the concept of a "multi-functional logistician."
"They decided at the time that rather than have folks (focused) in transportation, or supplies or maintenance," she said, "they needed to know a little bit about everything."
She became that logistician, which led to tours throughout the United States, Europe and Korea (twice). Eventually, she returned to New York, where she became a professor of military science, in charge of the Army ROTC program at her alma mater, Fordham. She also signed on as an adjunct professor at New York University, where in 2000, she met a student who worked for the United Nations. She was told that there were "lots of logistics jobs" at the United Nations, and with retirement from the Army about a year away, she began the application process.
"It was a good thing I did," she said, "because the process took about a year."
In 2001, now retired as a major, she went to work for the Department of Peacekeeping Operations at UN headquarters in New York, where her Army experience was put to good use as a logistics desk clerk in the Africa unit. In many cases, the job required significant amounts of time away from a desk in New York, and Carter found herself on planes, heading to (among other places) Sierra Leone, Guinea and the Democratic Republic of the Congo, where her expertise helped the organization assure that any given peacekeeping mission was properly planned and executed with all of the support services such a mission required, from medical facilities, paymasters, transportation, and of course, the actual personnel.
During her two-year stint with the UN, Carter's mother died, which led to a major shift in her priorities. Her father was now a widower, after 46 years of marriage, and Carter's worldwide travel to coordinate UN missions became problematic.
"My father was back in Brooklyn by himself for the first time, and when you're in places like Bangladesh, it's not like you can get back from there in a few hours," she said. "I realized that I needed to be in a different profession; one where I could get back on a plane in a matter of hours, not days."
Carter had an aunt, uncle and cousin who had moved to North Carolina in the 1990s, which had led to numerous family visits to the Whiteville area. During those visits, Carter "fell in love with the city of Wilmington."
"This led me saying to my father, 'We've been in North Carolina a lot, so how about we go down and see if it's someplace we'd like to settle?'" she said. "He told me he wanted to be wherever I was, so that's what we did."
In December of 2003, after purchasing the land in Leland and building a house on it, she moved her father here. She joined him two months later.
"I stayed retired for about six months," she said. "My father hadn't moved in over 40 years. I knew beforehand that it was going to be an emotional experience for him, so I stayed with him for that six months, before starting to work at Fort Bragg as a civilian contractor doing logistics."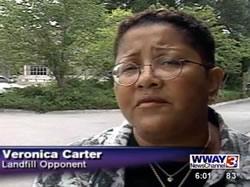 Veronica Carter often found herself in the spotlight as the leader of the opposition to a huge landfill.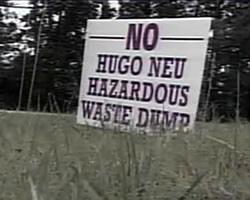 The Hugo Neu dump would have been built in a poor community on the edge of the Green Swamp.
Within the first six months of her residence here, her father handed her a leaflet, inviting area residents to an organizational grassroots meeting, designed to stop a proposal to build a 750-acre landfill in the area on the edge of the Green Swamp, five miles from where they lived.
"He showed me that leaflet and I thought, 'This doesn't sound good,'" she said.
Carter attended the meeting of the Brunswick Citizens for a Safe Environment meeting and didn't like what she heard.
"That same week, a representative from the company (proposing the landfill) was on the radio, answering questions and I liked it even less," she remembered.
It was at this point, that all of her background began to coalesce — her educational background in political science, her Army and UN experience with logistics and perhaps, most importantly, her personal experience as an African-American. It was more than just the idea that Hugo Neu,  later to become Simms-Hugo Neu, was proposing an environmentally dangerous idea. It was also the fact that this landfill, and others being proposed throughout North Carolina at the time, happened to be next to African-American, Latino or predominantly poor neighborhoods.
Veronica Carter's private, environmental justice train had, after many years, finally left the station. She went on to become president of the Brunswick Citizens for a Safe Environment, later re-namedThe Cape Fear Citizens for a Safe Environment, and was at the forefront of the logistical, political, scientific and personal campaign that led to the passage in 2007 of Senate Bill 1492, North Carolina Solid Waste Management Act, which was the first overhaul of the state's solid waste laws in two decades.
The bill's siting requirements for new landfills made it impossible to build the Hugo Neu landfill.
Among the people instrumental in championing this particular cause were Giles, Tracy Skrabel and the late Jim Stephenson of the N.C. Coastal Federation. Shortly after the passage of the bill, they asked Carter to become a member of their board of directors.
"I'd been so impressed with the way that (the Federation) had worked at getting this law passed," she said, "that I accepted."
She's been on the board ever since, continuing to disseminate the environmental message. Gov. Mike Easley appointed Carter to the N.C. Coastal Resources Commission, which sets development policies in the 20 coastal counties. Gov. Beverly Perdue re-appointed her. Thinking back to her early days at Fordham University, Carter noted that it had taken her all of those intervening years to finally make use of her political science degree
She brings to the commission her activist agenda and a great deal of passion about environmental justice, particularly as it relates to poor, often minority communities.
"There are companies out there that continue to target poor, usually minority communities that more often than not, rely on their environment," she said. "They hunt, they fish, they dig their own wells. These companies count on these people not to fight.
"I want them to learn that they can fight," she said, adding that she might not have been able to "connect the dots" of this issue without the federation.
While so much of what led to her work with the federation was based on educational and vocational experiences, the history of what brought her to this space and time goes back even further. In discussions with her father, during the early days of her environmental activism here in North Carolina, they talked of the troublesome "minority" angle of the environmental threats; of the ways that companies targeted and potentially exposed minority and poor communities. These discussions harkened back to an earlier time, when Carter was growing up, and her parents laid the foundation for all that was to come.
"Both my mother and father," she said, "always taught me to do the right thing."