OCEAN — Warning: May cause toe tapping.
A coastal high school jazz band is joining the ranks of a group of internationally acclaimed, award-winning musicians for a concert that is sure to be an audience pleaser.
North Carolina's own legendary The Red Clay Ramblers are making a special appearance with the Croatan High School Band jazz ensemble Saturday, March 17, at the school in Carteret County.
"The idea of being able to get involved in such a community-oriented performance on our fortieth anniversary is exciting," said Bland Simpson, the Rambler pianist and a member of the N.C. Coastal Federation's board of directors.
This is a rare collaboration for the Tony Award-winning string group, hailed for incorporating theatrical elements in their music.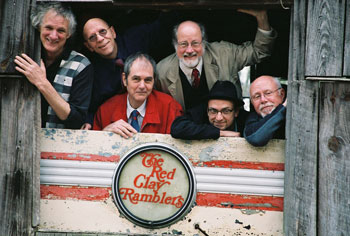 "We don't have a long history of performing with high schools," Simpson said. "This is really exciting. This is something we'd like to do more of around the state. Since we haven't done a lot of performing that involves high school performers we truly appreciate the effort the high school has given and we are really looking forward to putting on a good show."
Last spring, the Ramblers played a series of numbers with Chapel Hill High School's string ensemble, a concert Simpson said was, "a ton of fun."
"This will be a little bit more elaborate than what we did with the string ensemble," he said.
The family-oriented event will include a lot of novelty tunes offering a "pretty good variety show," he said.
Audience members will enjoy a short-set performance by the jazz band – about 25 minutes long – followed by a short intermission. The Ramblers will then perform a long set between 75 and 90 minutes long, Simpson said.
"Sometime in there, we'll bring the [high school] chorus up," he said. "We've got a pretty strong variety of instrumentation. It's a very strong but very simple blue grass tune we do as a finale."
The Ramblers include Simpson; Jack Herrick on bass, trumpet, guitar, bouzouki and whistles; Clay Buckner on fiddle, mandolin and harmonica; Chris Frank on guitar, accordion, tuba, trombone and ukulele; and Rick Good on banjo. Good plays clawhammer style, a highly rhythmic style where the musician picks downward as opposed to upward, which is the traditional picking method.
They will be paired with the eight-member jazz band for the first time on the day of the concert following a performance at N.C. Wesleyan College in Rocky Mount the night prior.
Simpson said the group has sent some arrangements it performed with the North Carolina Symphony in 2009 to the jazz band, which has been preparing for the performance, said band director David Parker.
"We're just honored to be a part of this performance," he said.
Since forming in 1972, the Ramblers have entertained audiences across the country and Europe with their eclectic style that incorporates old-time mountain music, bluegrass, country, rock, gospel and Zydeco music. They've entertained audiences on Broadway and made several national television appearances, including Jay Leno's "Tonight" show, CBS-TV's "This Morning" and ABC's Candice Bergen(cqtt) "AM-America."
The band's latest CD, Old North State, was released in 2009.
Their numerous accolades include composing and performing scores for two ballets with the Atlanta Ballet in 2003 and North Carolina Ballet in 2004 and 2008.
Such performances aside, the March 17 concert will be a first for the Ramblers. They've never played with a high school jazz band.
"I have a long and strong and very deep relationship with the [federation] and the other fellas in the band know that and they're coastal types too," said Simpson, who joined the board of directors in 2001 and is a professor in the creative writing program at the University of North Carolina at Chapel Hill.Simpson said the band is looking forward to the opportunity, adding that he's pleased to help promote the N.C. Coastal Federation.
The March 17 concert will be one of numerous fundraisers and benefits the Ramblers have enjoyed performing over the years. Simpson is also affiliated with another band, the Coastal Cohorts, which has performed the musical King Mackerel and the Blues are Running several times in the coastal region to benefit the federation.
"The fund raising aspect and performing with the school band, these are things that are meaningful," he said.
Concert proceeds will be used to support the school's band booster program. Ticket prices begin at $15 for rows A-H. Open seating is $10 and $7 for students in grades K-12.
The Federation, which is co-sponsoring the event, will sell raffle tickets and offer discounted rates on membership. Membership applications will be on the back of tickets. The concert will begin at 7:30 p.m. at the high school's auditorium, 3355 N.C. 24 in Ocean.
Tickets may be purchased by calling 252-393-8185 or by visiting clicking here.