MOREHEAD CITY — Coming up with a catchy slogan has been the easy part.
Fishing families in North Carolina have faced plenty of challenges in the past few decades — from adapting to tighter regulations to heavy competition by foreign fishing fleets and farmed products. For leaders in the state's growing local-catch movement, which aims to keep North Carolina's fishing traditions alive, the big challenge ahead is getting the rest of us to remember that "buy local" applies to seafood, too.
Last month, local-catch leaders gathered here in Carteret County to look at ways to spread the word about N.C. seafood.
The Feb. 22 Local Catch Summit, sponsored by North Carolina Sea Grant and Saltwater Connections, drew about 25 representatives from North Carolina's four local-catch groups — Carteret Catch, Brunswick Catch, Ocracoke Fresh and Outer Banks Catch — and North Carolina Catch, a newly formed umbrella organization.
The main aim of the conference was to assist the groups with the nuts and bolts of messaging, branding and using the internet and social networks to reach out to new customers and better connect with their regulars. The gathering was also a first in that it gave local organizers from up and down the coast a chance to meet and swap ideas.
Since the first local-catch group, Carteret Catch, debuted at the N.C. Seafood Festival in 2005, the groups have focused on getting more local seafood in restaurants and on kitchen tables on the coast.
Connie Mason, one of Carteret Catch's founders, pointed out at the conference that surveys of coastal visitors show not just a strong preference for local seafood, but an expectation that when they order something in a restaurant that's what they're getting.
Carteret's campaign to encourage customers to ask for local seafood, which employs everything from billboards to Facebook and YouTube, has helped convince more places to add local items to their menus.
"When they have more of their clientele asking, it puts more pressure on them to serve local seafood," she said.
As the local-catch groups look beyond their communities, Mason and others say consumer demand will play an important role in expanding into the state's larger markets.
Jon Haag, a fisherman who operates a wholesale and retail business on Oak Island in Brunswick County and a board member of the recently formed Brunswick Catch, is convinced that for fishing communities to survive they'll have to work together to promote local seafood beyond their borders.
"I grew up on the water. Everybody who grew up on the water is trying to figure out how to make it," Haag said. "Everybody's scrambling to shift gears."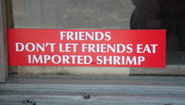 Fishing used to be all about volume and wholesale markets, but now, Haag said, the economic model he and others are trying to perfect borrows from the successes of local agriculture efforts, working more closely with restaurants and retail outlets and putting a special emphasis on educating consumers.
More and more people want to know where their food comes from, Haag says, and he does everything he can to teach customers about different species and let them know where and when the fish in the shop were caught.
"The truth is critical," he said. "It's also the commercial fisherman's best selling point to customers willing to put a premium on quality. We have to get the message out there. The fact is that this is as wholesome and natural a product as there is on the planet."
Bill Rice is owner of Fishtowne in Beaufort and founder of Walking Fish, the state's first community-supported fishery. The program attempts to connect local fishermen to a local market. Members pre-pay for a "season" of fresh, locally caught seafood, and in turn fishermen provide a weekly share of premium fish or shellfish. The goal, according to the Walking Fish Web site, is to "reconnect communities with their food system, encourage low-impact fishing practices and build relationships between fishermen and community members."
Walking Fish, now in its fourth year, distributes weekly in the Durham area during fall, winter and spring and, depending on the season, has between 300 to 600 subscribers.
Educating customers about lesser known species like jumping mullet and trigger fish has helped make Walking Fish a success, Rice said.  "We're doing everything we can to educate customers," he noted. "It's all about direct marketing."
That includes helping customers learn how to prepare various species. Members of Carteret Catch, Rice and Fishtowne have been featured on the group's YouTube channel offering tips like filleting techniques.
For Dorothy Killingsworth, Dare County's public information officer and the new board president of North Carolina Catch, raising public interest in the rest of the state about locally caught seafood will be the key in expanding the work of the state's catch organizations and seeing enterprises like Walking Fish move into other cities and towns.
The umbrella organization was set up last year to tie the work of the local-catch groups together and develop an overall brand that can open up bigger markets.
Although each group represents a unique fishing community, Killingsworth said there's an understanding that getting the message and, eventually, the products out to the rest of the state and beyond will require a larger, coordinated effort.
Killingsworth said the addition of volunteers with Brunswick Catch means that the group now has representation in the south, north and central regions of the coast.
"The energy is incredible," she said.
This year, the new organization will focus on gathering sponsorships and trying to secure funding to launch a marketing campaign. The long-term goal is to build infrastructure and distribution in the state and then expand regionally.
Mike Johnson, a Dare County commissioner who worked with Killingsworth to set up Outer Banks Catch, said he's convinced that there's a strong demand in places like Charlotte and the Triad for locally caught seafood. It's just waiting to be tapped.
At the Morehead summit he recounted a conversation with the CEO and top executives of Harris-Teeter about the logistics of getting fish into their stores. Major chains are following consumer preferences, he said, and adding their local offerings. The executives' enthusiasm and willingness to adapt gave Johnson some hope that new outlets could open up quickly.
"Maybe we don't need them as much as they need us," he said.