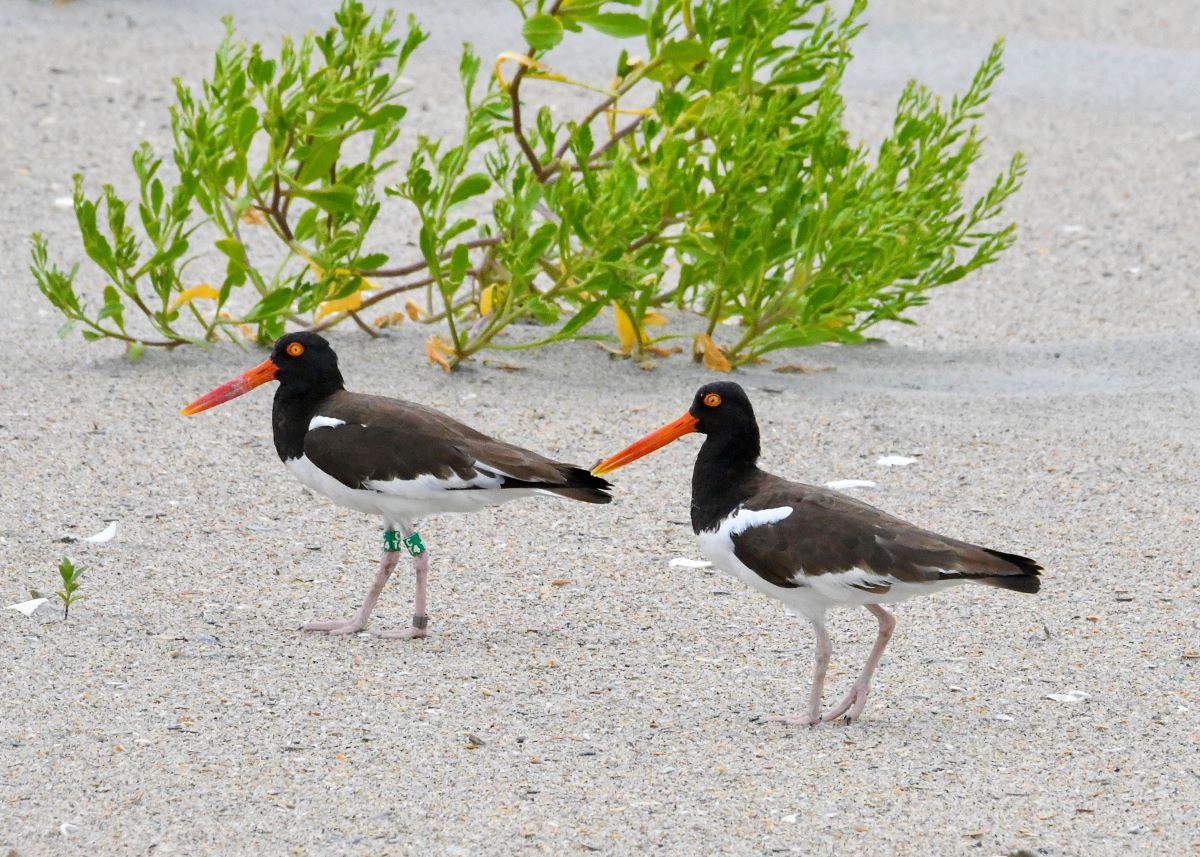 During the North Carolina Coastal Federation's Pelican Awards ceremony Saturday, conservation partners, environmental educators, outstanding volunteers, oyster farmers, businesses and state environmental quality leaders will be recognized for their above-and-beyond efforts to protect the state's coast.
This is the 20th year the volunteer-supported nonprofit organization has honored individuals and organizations that have made significant conservation efforts.
"Each of these award winners found meaningful ways to make the North Carolina coast an even better place to live, visit, work and play. Their accomplishments are impressive, and we want to tell their stories to inspire many more people to also become champions for our coast," Coastal Federation Executive Director Todd Miller told Coastal Review.
In years past, the organization's Taste of the Coast celebration has followed the Pelican Awards ceremony. This year, organizers have made the ceremony and the celebration separate events.
While there are no seats left to attend the ceremony in Joslyn Hall at Carteret Community College, there are a limited number of tickets for purchase at the door for the Taste of the Coast celebration. Beginning at 7 p.m. in the Crystal Coast Civic Center, tickets are $50 for Coastal Federation members or $60 for nonmembers.
There will be wine and food pairings, live music by the duo Relay Relay, a live and silent auction, and fresh North Carolina oysters at the coastal casual fête.
The Coastal Federation, which publishes Coastal Review, provided the following information about award recipients and comments from the staff who nominated them:
Coastwide Winners
Kenneth S. Chestnut Sr. is being recognized for a "Lifetime of Dedicated Leadership and Community Service."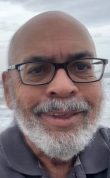 Chestnut is the retired president and chief executive officer of IBG Construction Services LLC based in Atlanta, Georgia, which he founded in 1998.
As the vice president of the Coastal Federation, Chestnut has assisted with the preconstruction process for the new Center for Coastal Protection and Restoration.
"With his wealth of knowledge and experience, he has provided invaluable guidance during the architect and general contractor selection process, ensuring that we made informed decisions and secured solid contracts. His meticulous attention to detail has enabled us to act as responsible stewards for the Federation and the coast as we embark on this ambitious endeavor," staff said.
A Vietnam War veteran, he is active in his church, several nonprofits, and the Ocean City community that his family helped establish in 1949 as the first residential beach community with Black homeownership in the state. Chestnut was recently honored as a Distinguished Alumni of the Duke University Engineering Council. He grew up in Wilmington and is a graduate of Williston Senior High School.
"I have been involved in many organizations over my long career and lifetime and I have to say, without any hesitation, that the North Carolina Coastal Federation is the best that I have ever experienced. This includes the leadership, the staff, and the Board. The importance and impact of the work speaks for itself. So, this recognition from the Coastal Federation means more to me than I can adequately express," Chestnut told Coastal Review.
John Griffin and Bill Husted are being recognized "For Outstanding Volunteer Efforts to Advance the NC Oyster Trail."
Griffin and Husted have been dedicated leaders in promoting the NC Oyster Trail since it launched in 2020. The two helped develop the trail, an effort of the Coastal Federation and N.C. Sea Grant, recruit businesses to join, coordinate a dozen volunteers to keep it running, and host informational booths and educational displays.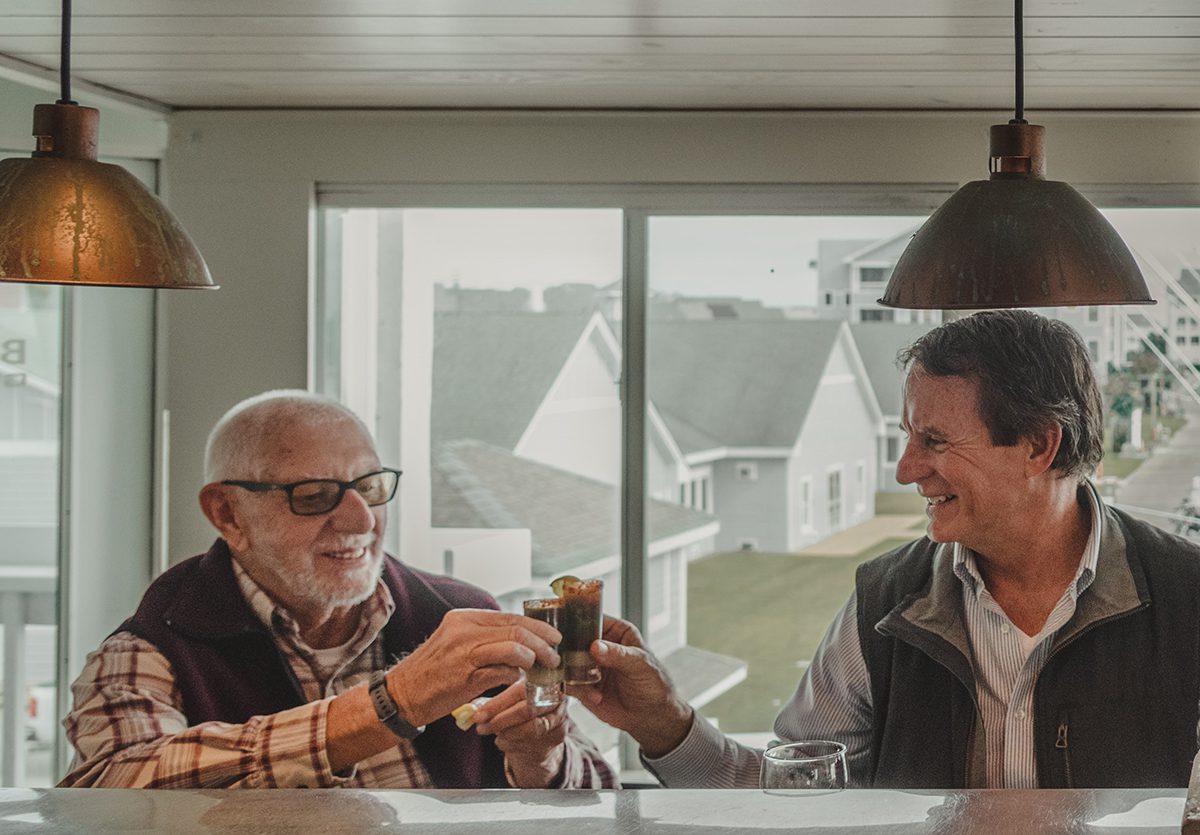 "John and Bill are dynamic volunteers who have helped shape the success of the NC Oyster Trail leading to statewide recognition of all things oysters," staff members said.
Griffin told Coastal Review that helping establish and grow the oyster trail "was an opportunity to work with some really, really bright people committed to the project."
He said he moved to North Carolina around 2006, getting involved with fishing issues around 2008. Six or seven years ago, he attended a presentation about the Virginia oyster trail and the notion to establish a North Carolina trail was born. Initially, it was going to be a pilot project and Griffin would serve as Hatteras Island liaison. "But the project grew very quickly, became statewide, and I became one of the people involved in putting it together."
He had no idea that anyone would think he deserved an award, he added.
Husted said that it is a pleasure working on the NC Oyster Trail. "We have a great committee that guides the trail and dedicated volunteers that work with our members. Our members grow, sell, or provide education about the best oysters in the world. It is an honor to receive the Pelican Award from the N.C. Coastal Federation," he added.
Jimmy Johnson and Anne Deaton are being recognized "For Being Enduring Champions of Coastal Habitat Protection and Restoration."
Johnson served as chair of the North Carolina Marine Fisheries Commission from 1998 to 2005 when the Fisheries Reform Act was enacted and first implemented. Deaton joined the state in 2000 soon after the act became law, when she did much of the initial staff work to draft the first Coastal Habitat Protection Plan, or CHPP.
Johnson, after stepping down from the commission and selling his Washington-based seafood business, was hired by the state Department of Environmental Quality. He supports the work of the Albemarle-Pamlico National Estuary Partnership. He and Deaton, the habitat assessment program supervisor for the Department of Environmental Quality's Division of Marine Fisheries, have been working together since 2006 on implementing the Coastal Habitat Protection Plan.
"Their sincere personal commitments to protect and restore fish habitats is truly inspirational. Jimmy and Anne are model public servants that make us proud of our state government," staff members said.
Deaton told Coastal Review that she was very surprised to be selected for a Pelican Award.
"I am appreciative of the recognition, and I enjoy collaborating with the Coastal Federation because they are very innovative and effective at protecting and restoring coastal North Carolina, a shared goal with DEQ. Together, it's a complementary partnership."
Deaton explained that while working for the division's shellfish sanitation section right out of college, she saw how a small change in land use can close waters to shellfish harvest.
"That made me more concerned about protecting habitat and water quality, before it gets too bad," Deaton said.
She decided to go back to school, and worked in Florida doing wetlands and seagrass restoration, and monitoring projects, where she saw that one can make a positive difference. She later came home to North Carolina to do what she could to protect the coast.
Johnson, who began working with the state in January 2006, said the Coastal Federation has always been a wonderful partner, explaining that the organization has been engaged since the first Coastal Habitat Protection Plan.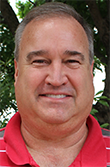 For the most recent amendment, Johnson said the Coastal Federation "came to the table and asked us if we would consider a public-private partnership to include that in the recommendations, and see if there would be some benefit to that. And quite frankly, there was more public awareness and public participation in the 2021 amendment than we have had ever before. It's really gratifying after all these years to see something really come to fruition like you had really hoped it would some to 18 or 19 years ago."
Johnson said he never envisioned being recognized. "I can't tell you how gratifying it is to know that the work that you've done really is appreciated. We've had some wonderful people that we have worked with that really get an awful lot of that credit," he said. DEQ staff "put in innumerable hours implementing it and helping us to write the documents and rewrite them, and we wouldn't be able to receive this recognition if it wasn't for them."
Richard Cecelski is being recognized "For Providing Decades of Impactful Coastal Educational Experiences for Students and Teachers
Richard Cecelski has been at the helm for 30 years of the Carolina Beach-based Carolina Ocean Studies.
His environmental education nonprofit has introduced more than a half-million school children who reflect the ethnic and racial diversity of the state's population, and hundreds of environmental educators. Carolina Ocean Studies has provided hands-on work to train hundreds of marine science graduates as they launch their professional careers. He grew up in Harlowe in Carteret County where at an early age the coast shaped his environmental interests and ethics.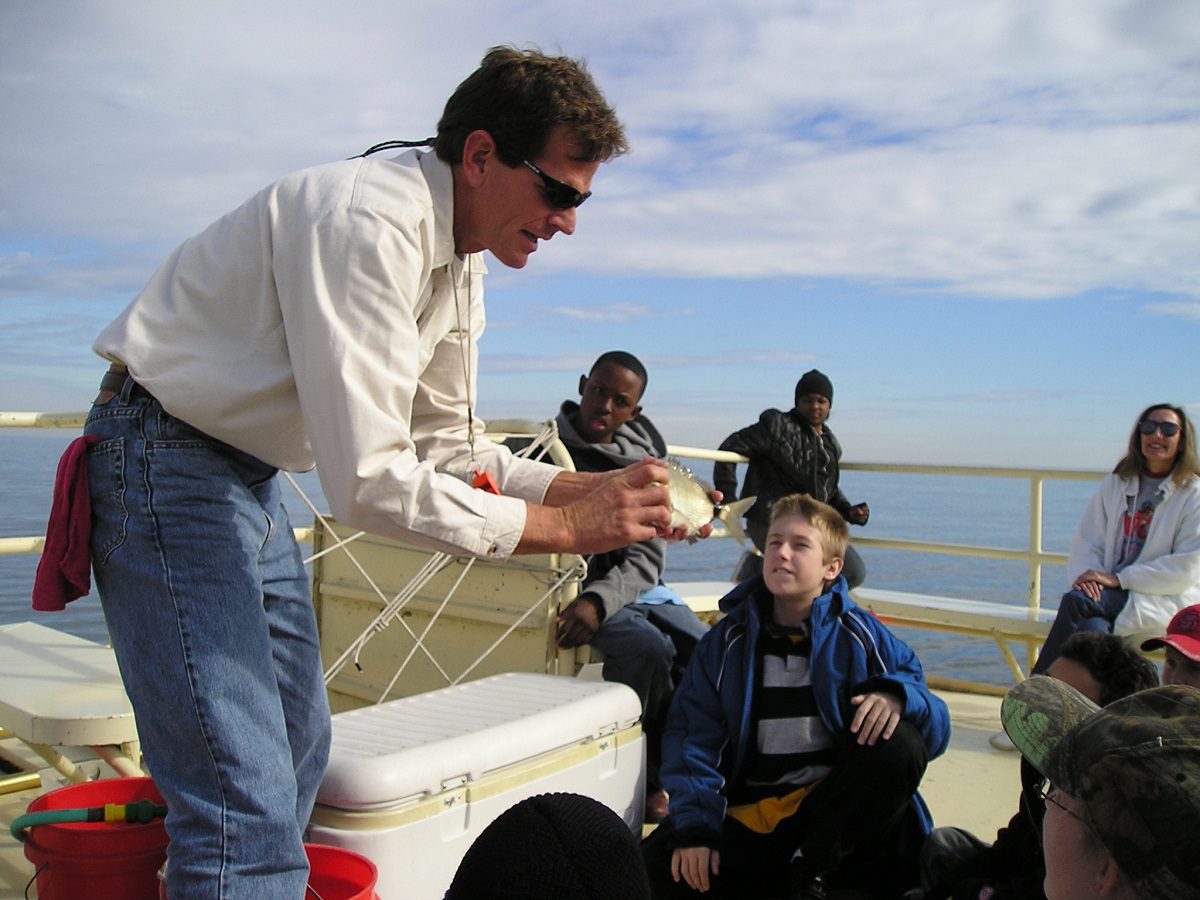 "The Federation is very pleased to recognize Richard and his hard-working staff for engaging and enlightening everyone who has had the pleasure of participating in his programs," staff members said.
Richard Cecelski told Coastal Review that he's been a proud supporter of the Coastal Federation for over 30 years.
"I cannot imagine our coast without the good works of the Federation. I think that we would all agree that the Coastal Federation is more essential now than ever," he said.
"I am very grateful to have a career where I'm around children who are thrilled to be exploring our magnificent coast. It lifts up my heart to work with teachers from across North Carolina who dedicate their lives to children and to making for a better tomorrow. It is a very special experience to be with children when they are catching crabs and fish for the first time in their lives, to witness the wonder they have when they first see our great waters," he continued. "It always makes me feel good to be part of what the Federation does, knowing that the (Coastal Federation) is making a better future for us all. And when I see a child catch their first fish, I am confident that the achievements of the Federation helped to make that incredible experience possible."
David Cecelski is being recognized for "Inspired Community Service Guided by a Lifetime of Sharing Our Coast's History and Traditions."
David Cecelski was the Coastal Federation's first volunteer. In 1983 when the organization objected to a project to strip mine nearly 120,000 acres of peat lands in northeastern North Carolina, he spent weeks in Hyde County reaching out to area fishers, residents and leaders about objecting to the proposed project that would have been financed with $500,000 in federal subsidies.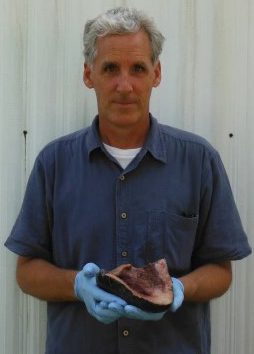 His community outreach generated public support and traction to eventually stop the massive wetland drainage and land-clearing project, and set the stage for the creation of the Alligator River and Pocosin Lakes National wildlife refuges. He is a distinguished coastal historian, who has written several award-winning books and hundreds of articles about the coast's history, culture, and politics. His work frequently appears in Coastal Review.
"His quiet and persistent manner, perhaps shaped by growing up in the rural community of Harlowe in Carteret County, has significantly propelled the work of the Federation forward since day one of our existence," staff said.
David Cecelski, said in an interview that there aren't "many people who have been involved in the Coastal Federation longer than I have."
He and Miller "conspired together" in the early 1980s to reach the residents of northeastern North Carolina about the proposed strip-mine project.
He said he spent about 10 months in the Swan Quarter area spreading the word in mostly fishing communities about the consequences of the proposed strip-mining project that was going to be in Dare Beaufort Hyde Tyrrell and Washington counties. He served on the Coastal Federation Board of Directors in the mid-1980s, as well.
"To me, that activism around the coast helped me see communities and histories that I was not aware of. My first book was about the Civil Rights Movement in Hyde County," he said, which he learned about while speaking to locals about the proposed strip-mine project.
While he was staying in Swan Quarter, his neighbor invited him and his roommate to an African American school reunion. There were thousands of people there, he said, coming in by bus from places like New York, Philadelphia and Delaware.
"Not only did it show how proud they were of African American schools there, which was not really the story that I was familiar with, but they talked about a yearlong civil rights protest," he said, adding he had never heard of the protest, though it was an important national event.
About being selected for a Pelican Award, he said he is deeply honored to be recognized "because I do have such a long history and such deep respect for the North Carolina Coastal Federation. I don't think anybody's doing more important work. And for me, it's doubly special because my brother has been recognized as well." Adding, "Richard and I are very close, and it makes it really special for me to be able to share the day with him."
Chris Matteo is being recognized for "Unwavering Dedication to Growing NC's Mariculture Industry."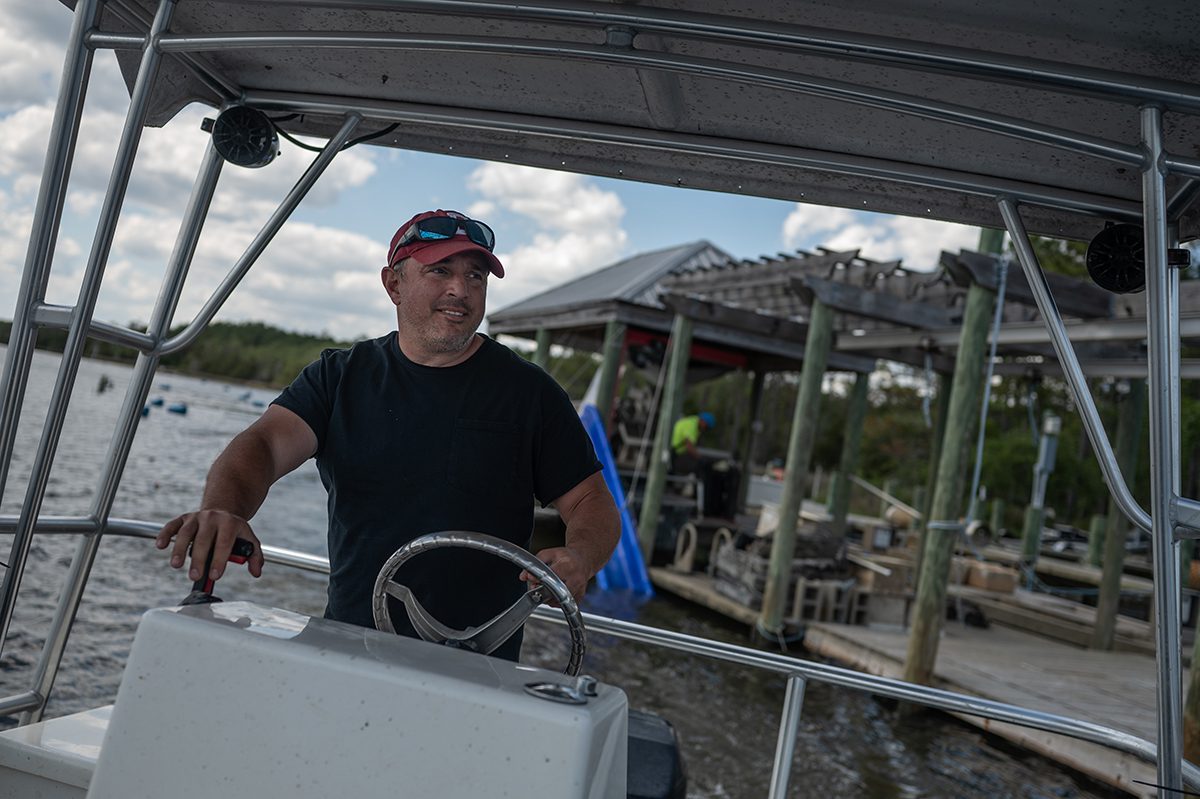 Matteo relocated from Connecticut to Chapel Hill in 2008, and then decided to move to the coast in 2013, when he established his first oyster aquaculture farm.
Over the past decade, Matteo has helped promote shellfish aquaculture, including significant contributions to the development of the North Carolina Shellfish Mariculture Strategic Plan.
Matteo now serves as president of the N.C. Shellfish Growers Association, and helped forge a partnership between the Coastal Federation and local shellfish growers.
"Through his tireless efforts and dedication, Chris has become an inspiring force driving the advancement of North Carolina's mariculture industry, earning him the well-deserved honor of this award," staff said.
Matteo told Coastal Review in an email that he is honored that the Coastal Federation has recognized him with a Coastwide Pelican Award.
"I've enjoyed working alongside the Coastal Federation for the past ten years. The shellfish mariculture industry in North Carolina is committed to improving the water quality of our estuaries, and the Coastal Federation is a wonderful partner in this critical effort," he said.
"Water quality doesn't just impact marine life. It impacts important industries that sustain coastal living including commercial and recreational fishing, tourism, mariculture, and real estate. Currently, shellfish growers in North Carolina filter over 1 billion gallons of estuarine water a day for free. We are eager to expand this effort to over 5 billion gallons a day," he continued. "I am happy to do my part by supplying oyster seed to North Carolina's oyster growers, by growing oysters in Pamlico, Carteret, and Hyde counties, and to represent and advocate for shellfish growers on the state and federal level."
Brian Rubino is being recognized for "Leadership in Living Shoreline Design, Permitting and Implementation."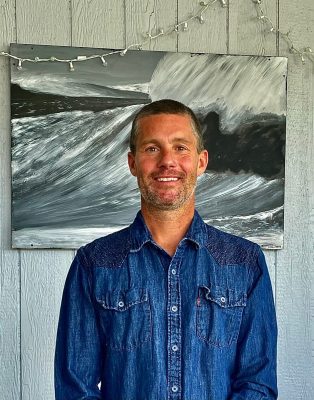 The first living shorelines project for Rubino and his team at Quible & Associates was for the town of Manteo's waterfront.
Since then, they have promoted, researched, designed, permitted, and built an ever-expanding number of living shorelines along the coast.
Recently, Rubino has worked with the Coastal Federation to implement living shoreline projects at the field office in Wanchese, Jockey's Ridge State Park, Whittaker Pointe in Oriental, Sugarloaf Island, and Fort Macon State Park.
"Partnering with Brian is a pleasure, and he is committed to providing outstanding environmental consulting and engineering services along our coast," staff said.
Northeast Winners
Blue Water Grill & Raw Bar is being recognized for "Dedicated Partnership to Recycle Oyster Shells for Coastal Restoration."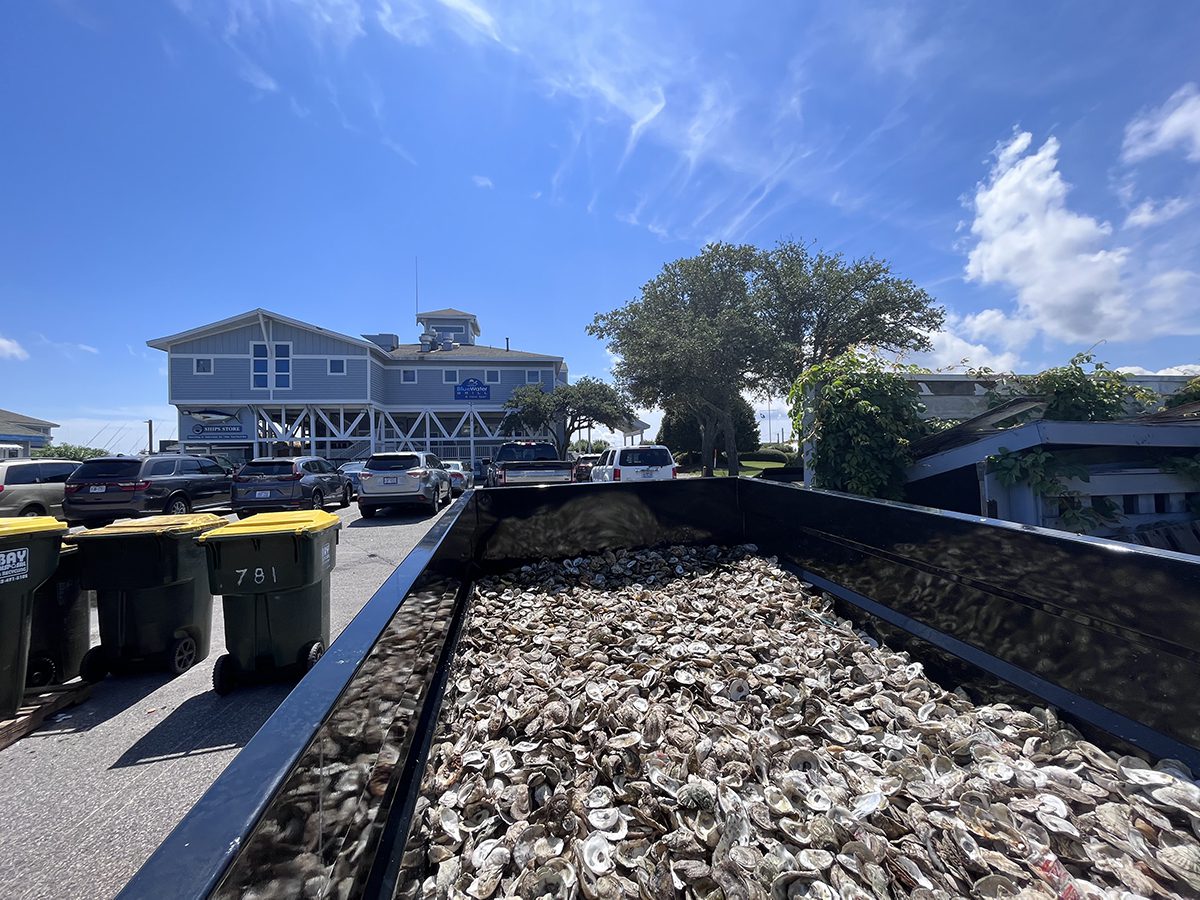 Blue Water in Manteo is the first restaurant partner in the northeast to host a 5-foot by 8-foot trailer to collect oyster shells for recycling as part of the Coastal Federation's Restaurant to Reef program. The restaurant has recycled about 300 bushels of shell since the trailer was parked last September.
The restaurant also is being recognized for its collaboration with the Coastal Federation's fall 2022 and spring 2023 oyster farm tours. Participants toured the Federation's demonstration oyster lease in Wanchese, then sampled a half-dozen North Carolina oysters and their signature oyster shooter.
"We are very excited to continue this partnership with Blue Water Grill & Raw Bar to help raise awareness of the important role that oysters play in maintaining a healthy and sustainable coast, while also inspiring more people to support oyster restoration efforts," staff said.
Mary Helen Goodloe-Murphy is being recognized "For Decades of Reliable and In-Depth Press Coverage on Coastal Environmental Issues."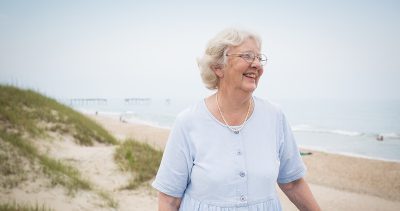 Goodloe-Murphy, a staff writer for The Coastland Times, serves as director of the Outer Banks National Scenic Byway Advisory Committee.
In this role, she assembled a team to address stormwater runoff, increase green areas, and improve water quality in the seven villages of Hatteras Island.
She is a founding board member of Outer Banks Forever and serves on the Rodanthe-Waves-Salvo Civic Association Board of Directors. She has partnered with the Coastal Federation on numerous cleanups and helped secure grants to establish multi-use pathways on Hatteras Island. She received the Order of the Long Leaf Pine in 2012 and was named Outer Banks Citizen of the Year in 2013.
"Mary Helen Goodloe-Murphy has demonstrated an incredible commitment to the Outer Banks community and works tirelessly to keep the villages on Hatteras Island informed and pristine," staff said.
Central Winners
Todd Kelly is being recognized "For Promoting and Advancing the Use of Living Shorelines in Carteret County."
As Carteret County Soil and Water Conservation District technician, Kelly has partnered for 16 years with the Coastal Federation to implement 28 marsh sill projects through the state's Community Conservation Assistance Program.
He worked to install several stormwater best management practices including cisterns, rain gardens, and wetlands. These projects are working to reduce shoreline erosion, provide habitat, and are helping to improve the water quality of our coast.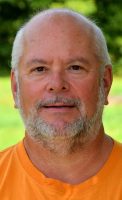 "We are truly thankful for our long-term and valued partnership with our friend Todd Kelly," staff said.
Kelly said he is honored to receive the Coastal Federation Pelican Award.
"It's been an honor to serve the citizens of Carteret County for 36 years. I've provided technical assistance to individuals and groups to help to prevent soil erosion and protect our water resources as well as educate the public on conservation practices. I appreciate this recognition for the community and being a part of making the county a wonderful place to live and vacation," he said.
Dr. Caresse Gerald is being recognized "For Impactful Leadership that Inspires the Next Generation of Coastal Environmental Professionals."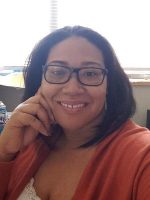 A professor at North Carolina Central University in the Department of Environmental, Earth and Geospatial Sciences, Gerald has been instrumental in connecting her students to coastal environmental issues, resources, and opportunities.
Gerald is leading an effort to help build the restoration pipeline amongst historically underrepresented students in coastal science, technology, engineering, and math, or STEM, and restoration fields.
"Partnering together, we've witnessed how loved she is as a professor, and how she effortlessly serves as a role model for her students to pursue a STEM career," staff said.
Janice Allen is being recognized "For Decades of Effective Leadership to Protect Our Coast's Natural Heritage and Environmental Quality."
Allen led protection efforts for the North Carolina Coastal Land Trust for more than 26 years, helping protect almost 100,000 acres of coastal land.
She has partnered with the Coastal Federation, most recently with an effort to conserve forest along the Newport River that is instrumental in protecting oysters there.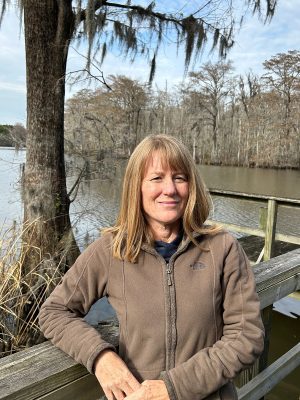 Through her work, the Coastal Federation is to take ownership of 1,400 acres of property near Mill Creek to restore its natural hydrology and forest cover, part of a larger plan to protect the river and safeguards flight paths from development for Marine Corps Air Station Cherry Point.
"Her role as a conservation leader on the coast has her designing and implementing complex, multi-million-dollar conservation real estate transactions to preserve vital habitats and open space for fish, wildlife, and people," staff said.
Allen told Coastal Review that she is "passionate about the work they do at the Coastal Land Trust to conserve special places on the coast.
"It is always a pleasure to partner with the good folks at the Coastal Federation to combine our strengths and enhance the impact of our conservation projects. Our work at the coast matters," she continued. "I am humbled to receive a Pelican Award and am so thankful to the Coastal Federation for this recognition. My appreciation also goes to the Coastal Land Trust for being such an awesome team. "
Southeast Winners
Joe Suleyman is being recognized "For Support of and Dedication to Oyster Shell Recycling."
As director of the New Hanover County Environmental Management Department, Suleyman and his team have provided a 10-yard dumpster dedicated to oyster shell recycling in Wrightsville Beach.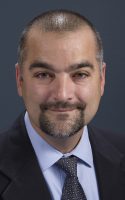 He also implemented programs for composting, hazardous waste pickup, and a treatment system to remove PFAS from the landfill-produced leachate, which is when rain water filters through solid landfill waste.
"Joe's remarkable dedication, leadership, and expertise in environmental management have significantly contributed to the well-being of the residents and businesses of New Hanover County and serve as an inspiration to all," staff said.
Suleyman told Coastal Review that he was really surprised to receive the Pelican Award.
"It's truly an honor for me and my department because all of our work is a team effort that doesn't get much appreciation, but it is important, crucial actually," he said. "We all live, work and play here and I think it's important to support the foundational elements of the Coastal Federation. The federation has a lot of great programs and it all comes down to water quality and I believe everything we do either supports that mission or enhances it."
Cody and Rachel Faison are being recognized "For Advancing Community Oyster Shell Recycling and Coastal Restoration."
As owners of the Ghost Fleet Oyster Co., the Faisons promote community oyster shell recycling and coastal restoration efforts. They have pioneered an innovative and inclusive approach to oyster shell recycling.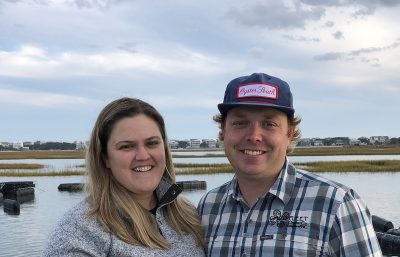 By collaborating with restaurants, seafood markets, and organizations, they have established a strong shell recycling program that encourages the responsible disposal and reuse of oyster shells.
"Ghost Fleet Oyster Company is an exemplary leader in environmental conservation and coastal resilience helping shape a sustainable future for North Carolina's coastal ecosystem and communities," staff said.
Nancy Faye Craig is being recognized "For Exceptional Volunteer Contributions to Our Coast."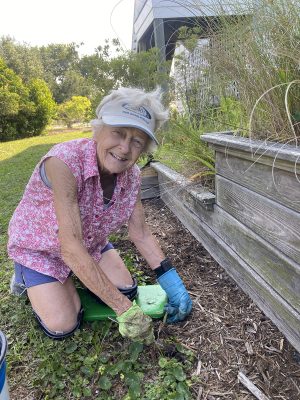 When the Federation's Stanback Coastal Education Center was moved by barge in 2013 to its location at Wrightsville Beach Historic Square, Craig knocked on the door and asked if she could lend a hand in the house's restoration efforts.
Ever since, she has been painting, cleaning, weeding and mulching, as well as taking care of the native plants and rain gardens that help soak in stormwater runoff, providing thriving grounds that serve as a model and living classroom.
"Nancy Faye's exceptional contributions to our coast serve as a testament to the power of volunteerism and its capacity to create lasting change. Nancy's passion, selflessness, and leadership inspire us all to take action and protect the natural treasures that grace our shores," staff said.
Craig told Coastal Review that she was "just thrilled" to be selected for a Pelican Award. "I was most surprised."
A retired teacher, she is a Wilmington native who moved to Wrightsville Beach in 1984.
She said she was on a run that day when she knocked on the door of the newly relocated historic cottage, and was tasked with painting right then.
"I just live across the street, basically, and so, I did some work and went back, and have been there ever since," she said.
Also a volunteer at Cape Fear Community College, the Wilson Center and other organizations, Craig said she helps in the community as much as she can. These days you can find her on most Wednesdays at the Wrightsville Beach office tending to the native plants.