Dr. David Shiffman's favorite thing to talk about are sharks, and has been since he was very young.
"I've loved sharks for a really, really long time, since I was younger than anyone in this room," Shiffman said to a few dozen last month at North Carolina Maritime Museum in Beaufort.
Shiffman, an interdisciplinary marine conservation biologist who specializes in the ecology and conservation of sharks, stopped in the Carteret County town as part of the tour for his book, "Why Sharks Matter: A Deep Dive with the World's Most Misunderstood Predator." His book is available at the museum's gift shop.
The talk in Beaufort Sept. 20 was the 27th stop of his 40-day "Reading Frenzy" international tour. A resident of the Washington, D.C., area, he also spoke at his alma mater Duke University in Durham and the North Carolina Museum of Natural Sciences in Raleigh.
As a student at Duke, he spent 2005 in Beaufort at the university's marine lab, graduating in 2007. He earned his master's in marine biology from the College of Charleston in 2011, and his doctorate in 2016 from the University of Miami in ecosystem science and policy.
Shiffman told Coastal Review in a follow-up interview that he wrote the book, "Why Sharks Matter," because sharks are some of the most misunderstood animals on the planet, and they're also ecologically important and threatened.
"Sharks are so ecologically important that we're better off with healthy shark populations off our coasts than we are without them, but due to unsustainable overfishing practices, we're in danger of losing many species forever," he said, adding there's growing recognition that we need to save sharks, but there's lots of confusion, and even misinformation, about the best ways to do that.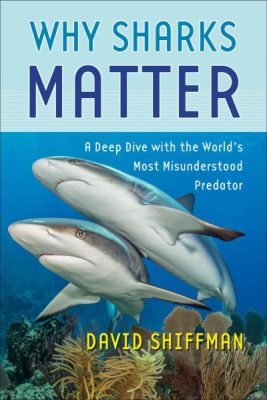 His book features detailed descriptions of dozens of different conservation policies and management regulations that can be used to help protect sharks, including a description of what policies work in what situations and how people can help with each, he said.
Being from Pittsburgh, Shiffman explained to the audience in Beaufort that he fell in love with the ocean through zoos and science museums. The first shark he ever saw was in the Pittsburgh Zoo when he was a child.
"One of the things that I love about sharks is that they're absolutely weird. They're fascinating. They're different than any other living thing in so many ways," Shiffman said, and one way is their skeleton, which is made of cartilage. "They don't have any bones."
There are 536 known species of shark, he continued, having to repeat himself after a voice piped up from the crowd, in disbelief, "How many?"
And, there's a new species discovered somewhere in the world every two weeks and that's been true for the last 12 years.
Shiffman, during both his talk and in his book, explains that much of the fear people have toward sharks comes from "inflammatory, inaccurate popular press coverage in general, the movie 'Jaws' and the dumpster fire of nonsense that is Shark Week," he wrote.
Shiffman cites in his book a 2013 paper by Robert Hueter and Dr. Christopher Pepin-Neff that suggested new terms for shark-human interactions such as "shark sighting" or "shark bite," which is the terminology Shiffman uses.
Whenever there's a shark bite anywhere in the world, it's headline news, he said during the presentation. Adding his favorite statistic about this, which came from the Pepin-Neff and Hueter paper, is that for something like 38% of all reported shark attacks in Australia, "the shark did not physically touch the human at all. It swam near them."
Pepin-Neff released just this week a new study in the journal Biology on how The New York Times is changing its coverage on shark encounters.
Pepin-Neff analyzed 10 years of articles that cover human-shark interactions and found that there had been a shift in the newspaper's reporting style since about 2018.
A comparison of the number of articles that include shark "attack" and shark "bite" mentions between 2012 and 2021 shows that from 2012 to 2017 there was a clear dominance of the phrase "shark attack," but parity began to emerge in 2018 with increased use of "shark bite."
"Sometimes rare but terrible and tragic fatal shark bites occur," Pepin-Neff said in a statement, "The data collected show that 32-39% of all reported shark 'attacks' have no injury. This may constitute a game-changer for how the public thinks about sharks and how the media reports on shark 'attacks.' The findings of The New York Times illustrate that a change is happening, and the public supports this change."
This type of research is important because there are direct connections between public attitudes toward shark bites and support for shark conservation, according to the report.
Shiffman said during his talk that a big reason most people are afraid of sharks is the movie "Jaws." Before the movie was released 47 years ago, a lot of people didn't really think about sharks – fishermen and surfers did – but people who went to the beach to swim didn't really think about sharks, but this movie changed the world, and not in a good way for the ocean.
"There is actually something called the 'Jaws effect,' in the peer-reviewed published literature, which describes how a fictional portrayal of a real-world issue affects what real world people really think about that issue, " he said. Adding, the author of "Jaws," Peter Benchley, "was so horrified by what this book and movie did to public perception of sharks that he dedicated most of the rest of his life and a lot of the proceeds from 'Jaws' to shark conservation."
As for Shark Week, Shiffman writes in his book that the Discovery Channel, though improvements are being made, had fostered "nonsense and fear over facts," rather than use its platform to promote science, conservation and public understanding.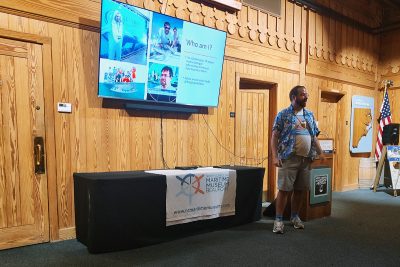 Shiffman told the audience in Beaufort that the risk of being injured by a shark is small. More people in a typical year are killed falling off cliffs while taking selfies with the scenery behind them than the number killed by a shark.
"I don't want to minimize real concern," Shiffman continued, but there's a very small risk you'll come in contact with a shark and that relative risk should be kept in mind when considering policy solutions.
"They're not a threat to you, but they're actively important. We're better off with shark populations off our coast than we are without them. But unfortunately, many species face very, very serious conservation challenges," he said.
"The number one threat by far is us, is humans, is unsustainable overfishing practices," which includes targeted fishing, bycatch and for shark fin and shark meat trades.
He noted that while over the last 20 years, the trade in shark fins has been dramatically declining, things have gotten a lot worse in the last 10 years for sharks because of the shark meat trade, which is a major element that has not been given attention in the media.
"The problem is unsustainable overfishing, too many sharks are being killed," Shiffman said. He explained that one set of solutions is to make the fishing more sustainable, such as size limits or quotas. There's also a newer suite of policies in recent years that say there's no such thing as sustainable fishing. You need to ban all fishing.
"It's worth noting here that 90% Oof all the shark scientists in the world agree that the goal here should be making fisheries more sustainable, not banning all fishing," he said.
Shiffman explained that one thing he's learned in his career is that while this is bad news, "it is not hopeless, it's not a lost cause."
Scientists know what policy solutions work and that they need more help.
"This is a big part of the reason why I wanted to write the book "Why Sharks Matter," because there is not – before my book – an accessible to the public guide with the different policy solutions that are out there," he said.
After a lot of the talks he gives, people ask for reading recommendations to learn about policy solutions and shark conservation that they don't need a law degree to understand. He said he's had to tell those who want to read more that there's no book out there, that was until May of this year when his book was published.
"This is the first shark book to comprehensively address this topic for a nonexpert audience," Shiffman said in the follow-up interview. "I've found that when I attend conferences where experts discuss these issues, the conversations are very different from what I see among enthusiastic nonexperts on social media. So, my goal for the book was to make the technical and confusing world of shark conservation policy accessible to the interested public."
Shiffman said he's been blown away by the reception of his book while he's been traveling the world talking about it.
"I'm so grateful for everyone who has come out to hear me speak, and for everyone who has bought a copy of my book," he said.
Folks can follow Shiffman on Twitter, Facebook and Instagram @Whysharksmatter, where he said he's always happy to answer any questions anyone has about sharks.