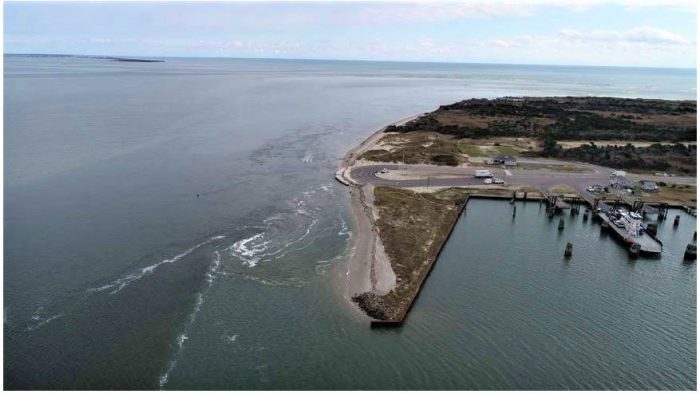 From an Island Free Press Report
The North Carolina Department of Transportation's Ferry Division is seeking a grant to study moving the South Dock ferry terminal for the Hatteras-Ocracoke vehicular ferry from the north end of Ocracoke Island to a new site near the pony pens, near the middle of the island.
The Ferry Division requested support during the Dare County Board of Commissioners' May 2 meeting.
"As part of the grant process, the more letters of support you have shows that the local community supports the (initiative)," said Ferry Division Planning and Development Manager Catherine Peele. "So we have reached out to stakeholders, Dare County, the National Park Service, and anyone in that surrounding area who is affected."
The 5-mile stretch of highway on the northern end of the island is regularly subjected to ocean overwash and soundside flooding during storms. With a compromised oceanside dune system, and sound and ocean waters adjacent to both sides of the roadway, there are limited options to move the highway in the years ahead.
The potential grant from the federal Department of Transportation's Maritime Administration America's Marine Highway Program would provide much of the $100,000 needed for an analysis of relocating the terminal, and an additional $200,000 for a similar study on how to improve the Ferry Division's Cherry Branch maintenance facility in Craven County.
The plan stems from a 2016 NCDOT feasibility study that examined seven possible options to address the Ocracoke Island hot spot, ranging from five-year solutions to 50-year solutions. A 2020 addendum takes a closer look at the proposal to create a new ferry terminal 6 miles north of Ocracoke Village just south of the pony pens.
The initial feasibility study outlined the basic details of moving the terminal, but now, NCDOT says it needs more information to have a clearer picture of the costs and work involved.
"The (initial) study gave a cost estimate for how much it would be to construct, but no information on operations or the impact on the Ferry Division," said Peele. "We want to look at what kind of dredging would be needed, how long permitting would take, what kind of staffing levels we would need, departure schedules, associated costs with the increase in fuel, maintenance, and general operations. All of these things need to be considered, and we want to make sure that the operational impacts are well documented."
If the grant is awarded, the more detailed study could begin as early as this year.
"If we don't win this grant opportunity, we will need to look at other ways to get this (study) funded," said Peele. "But primarily, our focus is on this grant, which is due June 17."
The study would take 12-18 months to complete. If the project is feasible, construction of a new ferry terminal would likely take years because of funding, permitting, contracting and other considerations.
"With the increase in storms and sea level rise, and a hot spot on Highway 12 where the road is constantly flooded and washed out, our (South Dock) terminal essentially becomes the terminal to nowhere. You can't get to Highway 12, which means you can't get to Ocracoke," said Peele. "This vulnerability is causing us to think about what we can do going forward, and we are trying to come up with a solution to make South Dock more sustainable in the future."