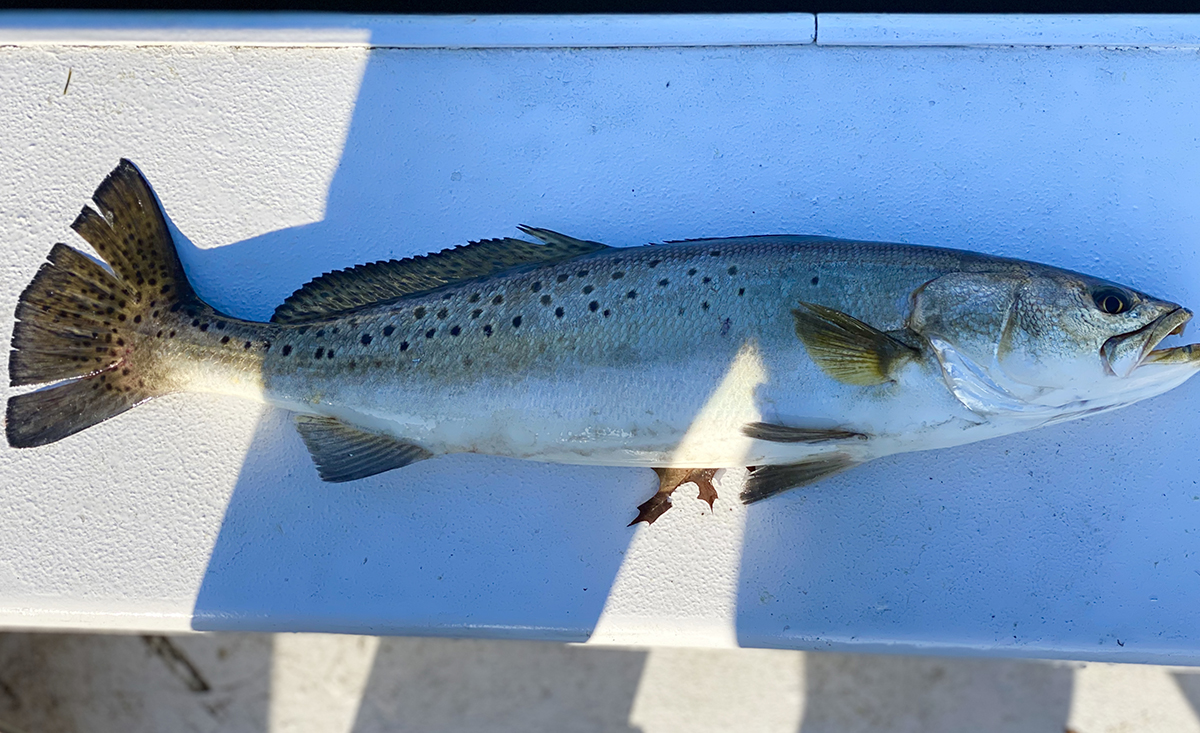 The text came in, "Dude, nice trout bite in the creek today."
I was out the door in 10 minutes. Launched the boat and fishing in 30. I picked a calm shoreline and began casting with a light spinning rod into water that was about 4 feet deep. Twitch. Pause. Twitch, twitch. Pause. Tap. Set the hook! From retrieval of text message, to hooking my first fish was approximately 40 minutes.
By March, most people here haven't caught a meaningful fish in three, maybe four, months. Thankfully, this is when trout start to get more active. It doesn't take much sunshine to warm up the water in places we find spring trout. Many shallow creeks off the Atlantic Intracoastal Waterway or off main river tributaries will have trout that over wintered in them. March is when we can start to legitimately target them again and have a real chance of having a good day.
If you look at charts you will see many North Carolina estuary systems. We have the Pamlico Sound, Pamlico River, Neuse River, Newport River, White Oak River, New River, and Cape Fear River (and that's not all of them!). Feeding into these major systems are tributaries with shallow water. The trout are in these shallow areas. Many of them spend the whole winter there. This becomes brutally obvious when we have a stretch of cold weather where the air temperature drops below freezing long enough to drop the water temperatures enough that it actually becomes lethal to the fish. This is called a cold stun or cold kill. Dead trout will be seen floating in the water.
It was once tradition for folks to go around and scoop them up and enjoy themselves a little winter fish bonus meal. Now it has become a situation where the state fisheries department will be alerted and close the fishing down if dead trout are seen. Sometimes the closure will last for a few months after.
This is tough for all concerned. Tough for the fish, obviously, because they get killed. Tough for anglers because we can't get out there. Tough for businesses that cater to anglers because the anglers stay home. Of course, in the end the closures are to help the population of fish as a whole, and in my experience, when there is a cold kill, and they shut it down, the closure is beneficial to the trout in the long run. However, it's better, of course, when there is not a cold event. Because after a mild, or even an average winter, with the first run of sunny days in March, the trout that spent the winter in those shallow creeks will start to feed actively.
After a few years with no cold kill events, the trout population stabilizes and we can have really nice fishing.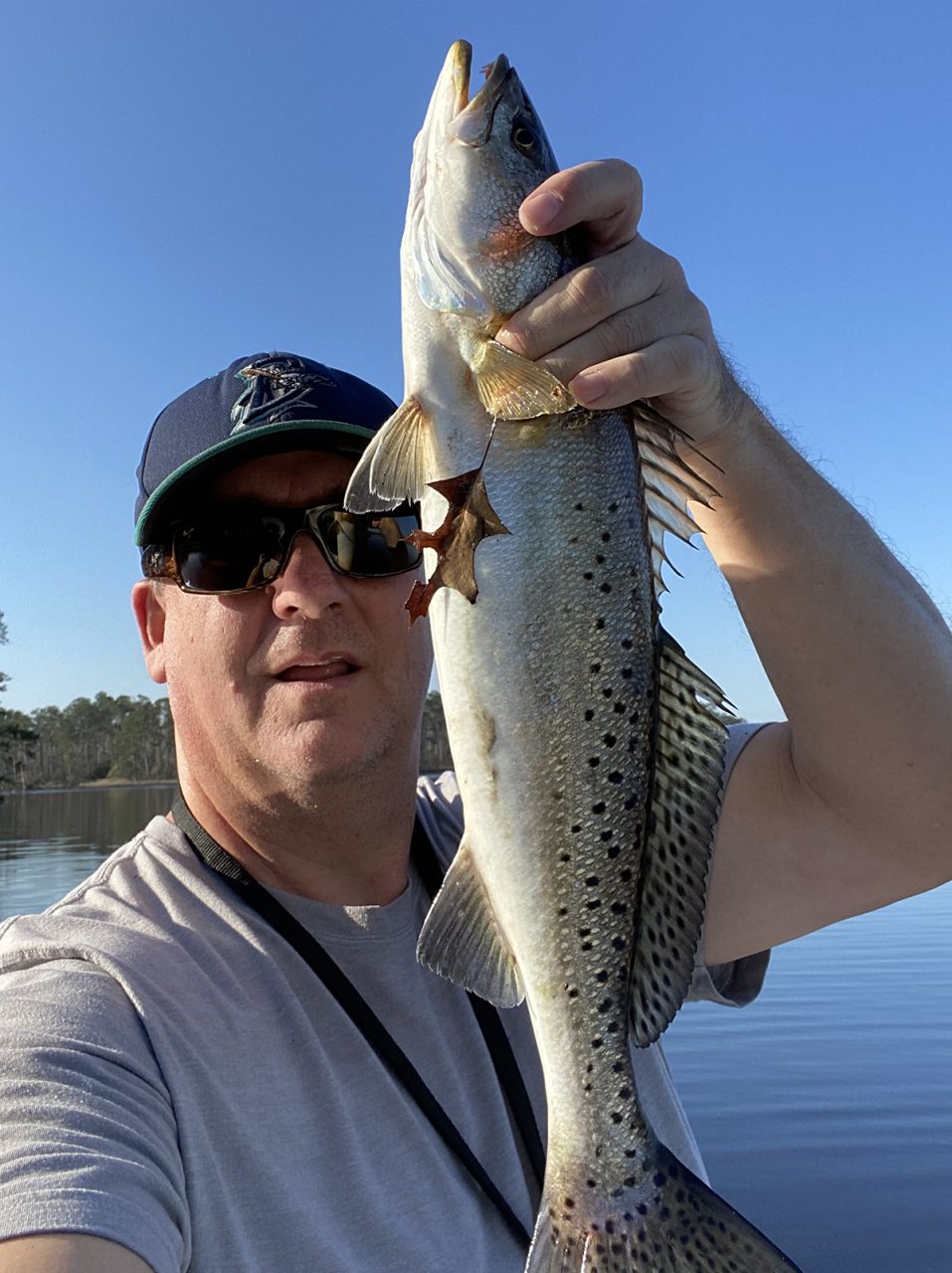 Gear
The MirrOdine plugs by MirrOlure are what we use for this. They are best worked with a twitch-twitch-pause type of retrieve. Cast it out. Let it settle for a second or two. Reel in the slack. The hits come on the pause and often they are very faint taps. Speckled trout eating these plugs usually engulf the lure then hold in place for a second, so a big aggressive pull is not usually felt.
Counterintuitively, the biggest fish, usually make the softest taps. The little guys have to grab it and go before something sees them. Bigger girls (and ones over 5 pounds are generally female) are more confident and will not run off as fast after they grab a plug.
I prefer to use a light spinning rod between 6 and 7 feet long, usually going with the 7-footer. Other guys like shorter, others longer. For me, the shorter rod makes it easier to make the short, sharp rod movements needed to work the lures.
Keep the rod tip low. This keeps the plug in the strike zone longer. If you have your rod tip high, it can lift the lure up in the water column too high. Also, if there is a little wind, keeping your rod tip low keeps your line less affected by the breeze and it will be a straighter connection from the tip of the rod to the lure. This enables you to better feel what is happening. Too much slack and you won't feel the light strikes.
I pair the light rods with an equally light reel. I prefer the 2500 series of reels that most manufacturers make. It has the small oblong handle and it's rated for 10- to 15-pound test line. This keeps the overall weight of your gear down and won't be fatiguing after a full day. The reel should be of decent quality with a smooth drag. This is because you will be using 10-pound test line and might actually catch a fish that tests your line to its full strength.
Your line should also be a quality braided line. If you are still using monofilament lines, now is the time to get rid of it. Switch to braid. It's stronger with a thinner diameter so you can use smaller reels. Its smoother and limper so it casts further. But the number one reason is that braided line has no stretch. This means that when that 6-pound trout inhales your lure and sits there with it in her mouth for a millisecond before deciding what to do next, you will feel it and set the hook. With mono, that stretch means you may never have known when the biggest trout of your life came a'calling.
People who are using braid, and have been for a long time, may find it odd that I mention this. But I still see too many people using monofilament line in situations where braid is the superior choice.
You will need to learn a new knot now. Since braided line is so limp, if you tie it directly to a lure, it will foul almost every cast. The action of the lure and any pauses, allows the lure to catchup to the line and tangle. A length of monofilament needs to be added to the front of the braided line. I know! I know! I just said monofilament was not good because it's too stretchy. Attaching a section of two to three feet will not add enough elasticity to affect your ability to feel bites.
In addition, if the water is ultra-clear, many experts will opt for fluorocarbon line. This style of line becomes practically invisible in water due to magical properties best explained by Sheldon Cooper types. The leader will allow your lure to do its dance and keep the line from fouling on the hooks. This keeps you in the action, so you don't miss a chance.
The new knot I was talking about? Attach the monofilament to the braid with a Uni to Uni knot. This provides a nice smooth connection that has not failed me. There are others that are out there if you care to look them up. Learning knots from drawings in a book is difficult. I would suggest finding an animation or a how-to video on the internet. There are other knots good anglers are using now, I'm still using the Uni Knot that was popularized by Vic Dunaway of the Miami Herald in 1970.
Lures
Now for the business end, and the thing that people obsess over without first taking into account all the other things. "Whatyougetumon"
Walk into a coastal tackle shop and the options are myriad. Made all the more complicated because the guys who know what they are doing will all tell you something different.
For springtime fishing, in small, shallow creeks, you cannot go wrong if you start with a MirrOlure MR 17 MirrOdine with a pink back and pearl sides. (Attach this to your monofilament leader with a non-slip loop knot.) This is a great starting point that catches fish along our whole coast. If you see another color that catches your eye, get it. Did your friend tell you he was getting them on a different color? Get that one, too. Try them all. When you find the one that works best in the body of water you are in, get some more. They have a way of disappearing.
Another great option is a ¼-ounce jig head with a small tail like a Z-man MinnowZ. If the water is a bit deeper or there is enough current that your MR 17 is not able to get down into the strike zone, the jig will be the next thing I reach for. Having said that, 1/8-ounce jig heads with the swim tails are a great option in shallower water as well. If the plug is not getting bit, but you know the fish are there due to previous experience, switch it up. I've been using colors in differing variations of gray with highlights ranging from pearl to chartreuse. The brand I've been using the past couple of years has been Z-Man. They are made of a material that doesn't tear as easily as some others, but also has great action in the water. The fish seem to like them quite a bit.
In part two, coming next month, we'll explore what a day on the water looks like.