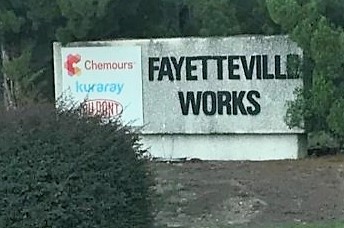 The state has taken action against Chemours for exceeding its annual permitted GenX air emissions limit at the company's Fayetteville Works site in Bladen County.
The problem was a temporary and was quickly resolved, the company said in response to Coastal Review.
The North Carolina Department of Environmental Quality's Division of Air Quality announced Thursday it had issued Chemours a Notice of Violation.
Chemours must comply with the GenX emission limit of 23.027 pounds per year, according to the emissions requirements in the facility's air permit. This limit equates to a 99% reduction from GenX emissions in 2017.
In March, excess GenX emissions resulted in noncompliance with the rolling 12-month totals for March, April, May and June. As of June 30, Chemours reported annual GenX emissions of 32.024 pounds.
The notice requires Chemours to submit a written response by Sept.10, including a timeline of events leading to the exceedance and a detailed plan of action for compliance.
GenX is a member of a large group of man-made chemical compounds known as per- and polyfluoroalkyl substances, or PFAS and are used to make products to resist stains, grease and water. Most exposure, which can be harmful to human health, is through drinking contaminated water or eating food that contains PFAS.
NCDEQ has worked since 2017 to stop the discharge of process wastewater into the Cape Fear River, the water source for the Wilmington area, and reduced air emissions of PFAS from Chemours.
Chemours Regional Communications Lead Lisa Randall provided the following statement Thursday to Coastal Review:
"Our Fayetteville Works site had a temporary increase in air emissions earlier this year from one of our site's carbon adsorption units. The issue was quickly resolved when the carbon was replaced in this unit, and emissions returned to their usual low levels. However, the data results from that one emissions sampling caused an exceedance of the site's calculated 12-month rolling air emission allowance for HFPO-Dimer Acid in accordance with our Title V air permit. Chemours responded proactively by contacting DEQ regarding the upset condition, and taking immediate corrective action that included changing out the carbon in the related carbon bed and discussing additional longer term improvements with the agency."
Air quality deposition and stack test data from the Chemours facility are updated and posted as results are analyzed. The most recent data can be found online.