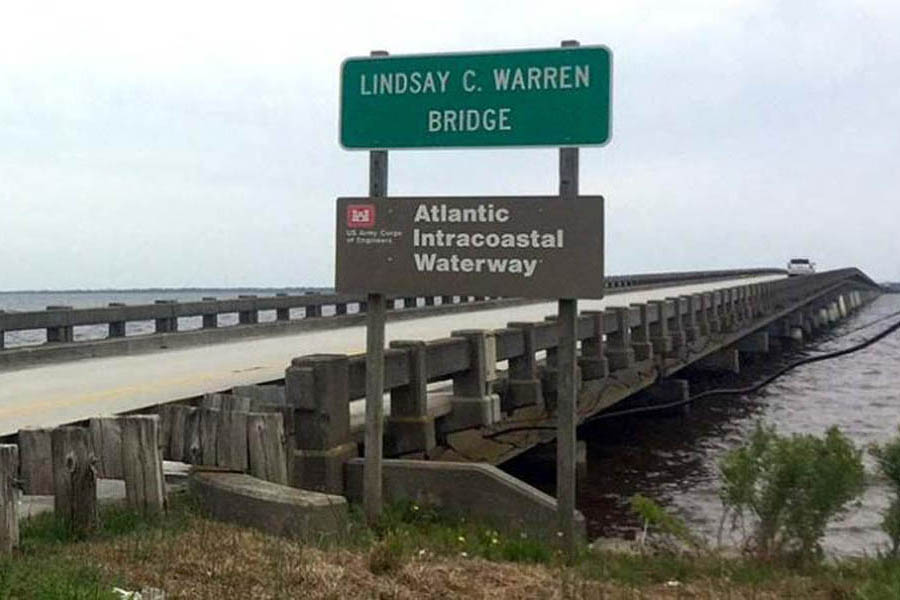 Reprinted from The Outer Banks Voice
Local officials in Dare and Tyrrell counties are appealing to officials in Raleigh and Washington, D.C., in an effort to prioritize the replacement of the 60-year-old Lindsey C. Warren Bridge, better known as the Alligator River Bridge.
The 2.8-mile bridge across the Alligator River has closed several times in recent years to undergo repairs.
"The repeated and continuing failures of the span since it was 'fixed' have gone on and on – it is time to fix the problem and to fix it with a bridge replacement," said Commissioner Wally Overman during the Nov. 2 Dare County Commissioners meeting. The bridge underwent a major renovation several years ago as part of a $16.7 million effort to extend the span's life.
Dare County Commissioners have passed several resolutions over the years urging action to replace the bridge, most recently in January when the board asked that the North Carolina Department of Transportation, or NCDOT, include the project in its 2023-2032 State Transportation Improvement Plan.
NCDOT recognizes the importance of the bridge replacement, said the department's Division 1 Communications Officer Tim Hass, noting that a consultant earlier this year was tasked with conducting an environmental review of the replacement project. That review process, however, has been shelved due to COVID-19 budget constraints. Once the nine- to 12-month review is complete, $150 million in funding would still have to be identified for the project.
Hass said that transportation officials are making efforts to move the project forward. "We've heard from the folks in Tyrrell County and Dare County and know it is a priority," he said.  "It's just a matter of how high a priority and identifying funding."
For his part, Overman has contacted State Rep. Bob Steinburg, R-Chowan,  U.S. Rep. Greg Murphy and Rep. Bobby Hanig, R-Currituck, seeking their support.
"We need to keep the hammer down on this now until we get some sort of positive resolution," he asserted. "It is something that we really need to press on and keep pressure on DOT to get this done however they get the funding — whether it's federal, state, whatever. We really don't care. It just needs to be fixed."
Columbia's Board of Aldermen is also sending former resolutions and letters to state representatives asking for their support, according to Town Manager Rhett White.
"The bridge is not getting any younger, newer or stronger," he said. "In fact, the bridge is getting more use and more abuse every month of the year that goes by and every year that goes by."
Adding that between 200 and 400 Tyrrell County residents travel to Dare County regularly for work, White said, "I think that while Dare County is concerned about hurricane evacuation, we're concerned with getting our people to and from work."
Overman, who along with Dare County Planning Director Donna Creef are members of the Albemarle Rural Planning Organization, or ARPO, noted that the span's replacement has received the general support of that organization, particularly among representatives from Tyrrell, Hyde and Currituck counties.
"The functionality of that bridge is absolutely paramount when we're talking about ensuring the safety of our residents and visitors," Overman said.
Both Overman and White voiced frustration over the difficulty transportation improvement projects in rural areas have in competing with other projects in more urban areas of the state.
"It just contributes to the delay in a new or replacement bridge," Overman said, adding that is why he and other officials are seeking the help of state representatives. "We want to get this thing front and center, and get it moving."
White noted that the need for replacement has been on the table for two decades. The closures due to repairs and renovations, he added, "turns everything on its head. You're looking at about a 90-mile detour to get to the Outer Banks and we've got anywhere from two to four hundred people (from Tyrrell County) a day, depending on the season, who drive to the Outer Banks for work."
When the bridge was built, he observed, tractor trailers going from Columbia to the Outer Banks were few and far between, but now it is "almost a steady stream…We just feel like if they don't (replace the bridge) we're going to have a major problem with this bridge that's going to affect a lot of people's lives."
White said that he expects that the Southern Albemarle Association will lend its support to the replacement project when it meets in January and that proponents will seek the official support of the ARPO at its next quarterly meeting.
This story is provided courtesy of the Outer Banks Voice, a digital newspaper covering the Outer Banks. Coastal Review Online is partnering with the Voice to provide readers with more environmental and lifestyle stories of interest about our coast.