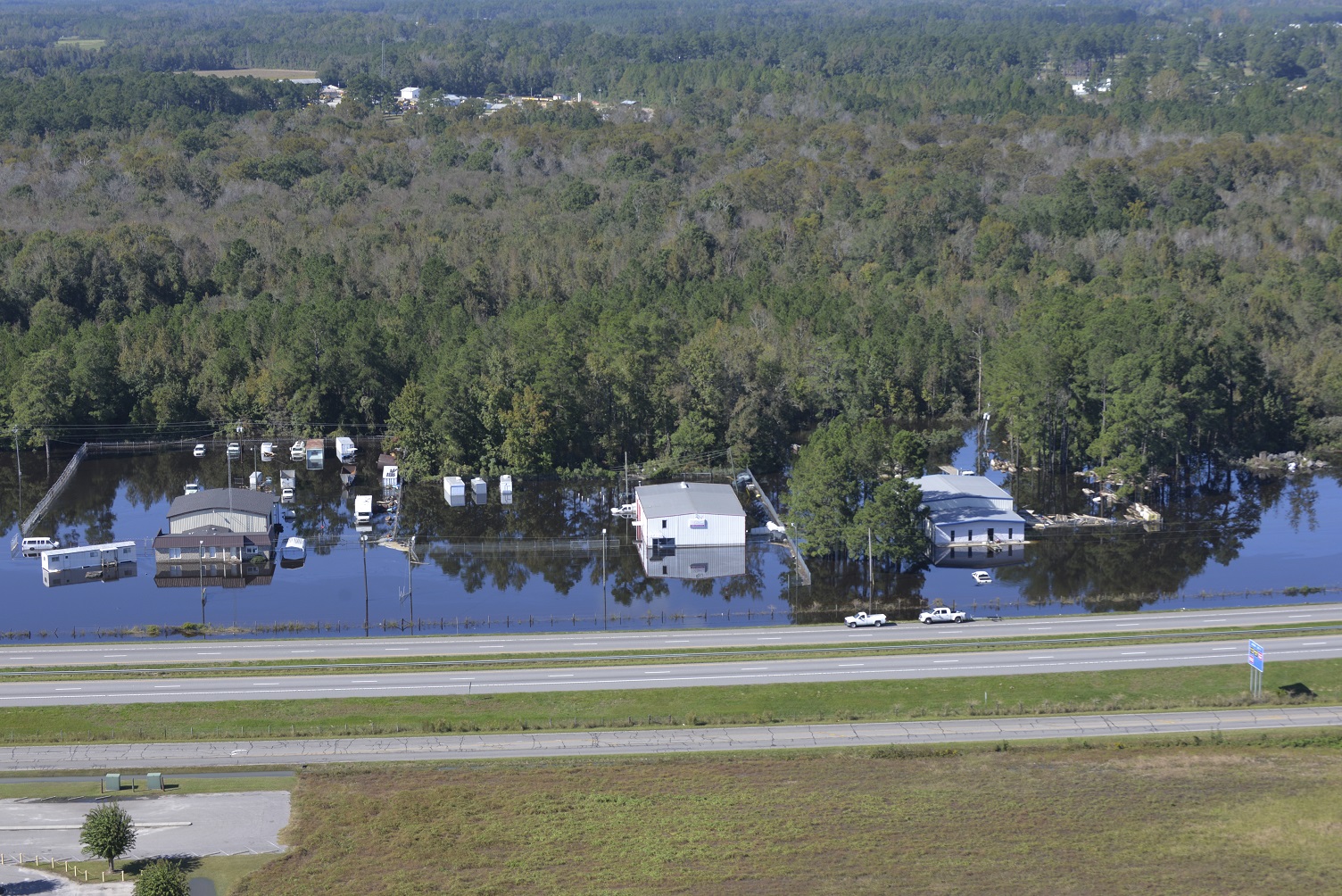 Updated 1 p.m. Wednesday to include comments from John Locke Foundation
A new report by an independent, nonpartisan policy institute urges North Carolina's leaders to reduce the impact of climate change while addressing systemic racism and environmental justice.
The Center for American Progress, or CAP, a progressive think tank headquartered in Washington, D.C., released the report, "Building a Just Climate Future for North Carolina," Wednesday. It also looks at how the COVID-19 pandemic has "highlighted the interconnection between systemic racism and injustice and environmental, public health, and economic disparities."
Coastal Review Online received an embargoed draft of the report Tuesday.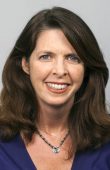 Cathleen Kelly, a senior fellow for energy and environment, and Rita Cliffton, a research associate on the climate and energy policy team, both with the Center for American Progress, wrote the report.
"In our report, we found that, like many other states, systemic and historic disparities in North Carolina, driven by discriminatory zoning, housing discrimination, the longstanding practice of concentrating sources of pollution in low-income communities and communities of color, among other unjust policies, have exacerbated the risks and impacts of more extreme weather, flooding, heat waves and other climate change impact in these communities," Kelly said Tuesday in an interview.
"The report aims to help North Carolinians and their leaders better serve all communities, especially EJ (environmental justice) communities, by highlighting how systemic racism and environmental injustice — which create the conditions for poverty, economic instability, concentrations of pollution, and excessive use of force by police  — elevate the risk of and exposure to deadly threats, like climate change and the COVID-19 pandemic, and the need to end racism and injustice in all forms," Kelly said.
The report finds that North Carolina's communities most at risk in a changing climate also face the greatest barriers to securing the financing needed to protect homes and strengthen critical infrastructure, including schools, hospitals and community centers, Kelly said.
"EJ communities suffering from environmental racism in North Carolina also face disproportionate rates of energy poverty and lack access to air conditioning, a growing threat in a warming climate," she said.
Kelly explained that the report provides six ways state leaders must take action: create standards for building clean and resilient infrastructure and housing, prioritize equitable housing policies and just community development, accelerate cleanup of toxic sites and flood mitigation, provide equitable access to clean and affordable energy, support a just transition to clean energy, and foster inclusive and equitable public engagement.
The report details these steps to "protect the health and well-being of all North Carolinians and build safe and resilient communities in the midst of the COVID-19 pandemic and ongoing climate crisis."
Kelly added that among the specific recommendations, the report says the state should do the following:
Provide funds to the North Carolina Housing Finance Agency to finance construction of new safe and affordable housing units that are both energy efficient and resilient to climate change risks.
Expand investments in rental assistance and affordable housing development, increase data collection on homelessness risks and prioritize hazard and disaster risk-reduction investments in frontline communities before and after weather disasters.
Prioritize and expedite cleanup of toxic sites — Superfund or otherwise — near residential areas, watersheds and coastal areas at risk of flooding due to increased storms and sea level rise.
Prioritize energy efficiency retrofits in low-income communities to lower energy bills and improve air quality.
Increase access to sustainable and affordable energy options by creating a statewide green energy bank that would prioritize investments in low-income communities and communities of color.
Donald van der Vaart, a senior fellow for the John Locke Foundation, told Coastal Review Online Wednesday that the foundation doesn't support these "overarching strategies that do more to uproot our energy landscape, ultimately leading to higher energy costs that aren't helpful for the environment, and are hurting the poorest among us. Generally speaking, we would advocate things that would lower prices, that would include the develop of natural gas and extend the lifetime of nuclear plants."
The report refers to studies and papers by scientists initiated by Gov. Roy Cooper's Executive Order 80, "North Carolina's Commitment to Address Climate Change and Transition to a Clean Energy Economy," signed in October 2018.
The governor's executive order called for a statewide Clean Energy Plan, released October 2019 by the state Department of Environmental Quality, to reach a 40% reduction in statewide greenhouse gas emissions by 2025.
The CAP report also cites the findings in a statewide assessment of current and future climate change impacts by the North Carolina Institute for Climate Studies scientists. "The North Carolina Climate Science Report" released in March warns that climate change will affect North Carolina's public health, economy and environment.
In June, the state rolled out its North Carolina Climate Risk Assessment and Resilience Plan, which looks at the state's vulnerability to climate change and ways to become more resilient.
The plan recommends developing a state climate justice report as part of future North Carolina resilience plans to prioritize actions that "address the unjust reality that low-income communities and communities of color are often the most vulnerable to climate change." Such communities often lack the ability to prepare for or recover from extreme weather, exposure to heavy concentrations of pollution, outdated infrastructure and homes in need of repair, according to the CAP report.
"We are pleased that groups like the Center for American Progress are advocating for resilience and using resources such as the North Carolina Science Report that have been developed under Governor Cooper's leadership. In fact, many of the report's findings and recommendations cite the North Carolina Climate Risk Assessment and Resilience Plan, which is exciting to see since that document involved extensive interagency collaboration," North Carolina Office of Recovery and Resiliency Deputy Chief Resilience Officer Amanda Martin told Coastal Review Tuesday.
Martin continued that greater social equity is a serious prerequisite for resilience.
"North Carolina can't call itself resilient if only some of its residents have the ability to bounce back after a disaster or other kind of stressor – we need everyone on board. So, without infinite resources, it's important for us to focus on areas of greatest need, even as we recognize that disasters impact people of all backgrounds. NCORR's approach is to prioritize serving low- and moderate-income hurricane survivors, and to invest in recovery and mitigation in ways that support the long-term prospects of all North Carolina communities in a changing climate," she said.
Kelly said state leaders need to confront systemic racism and environmental injustice to protect the well-being of all state residents. The pandemic has also underscored disparities.
"The COVID-19 crisis has highlighted the interconnection between systemic racism and injustice and environmental, public health, and economic disparities. People of color — especially Black, Native American, and Latinx people — are contracting and dying from COVID-19 at far higher rates than their white counterparts," according to the report.
Public health researchers found that residents in polluted neighborhoods are more likely to experience the worst effects of COVID-19, and death rates from the disease have been highest in communities of color, Native American communities in particular, who are often exposed to the highest levels of pollution.
"These same communities are also the most vulnerable to emergencies and disasters, including those fueled by climate change," according to the report.
The pandemic also has caused "skyrocketing unemployment" that is predicted to increase poverty rates and widen racial disparities.
"In addition to health and environmental injustices, people of color are often subject to discriminatory and lethal treatment by police and the criminal justice system," according to the report. "In essence, the pandemic, the protests, and climate change have laid bare that long-standing public policies and practices — which create the conditions for poverty, economic instability, concentrations of pollution, and excessive use of force by police — elevate the risk of and exposure to deadly threats and the need to end racism and injustice in all forms."
Martin with NCORR said its timely that the report ties COVID-19 in with the state's climate future.
"We see two big connections between the pandemic and climate resilience, both concerning the needs of our most vulnerable residents. The first is that we can – and must — apply lessons learned from disaster recovery to the COVID-19 response and recovery. For example, improvements that the state has made in program design, public outreach and the speed of disaster recovery program delivery after receiving federal funds are all applicable to COVID-19 response and recovery," Martin said.
Martin added that another major connection is that the COVID-19 crisis, just like hurricanes and flooding, reveals the depth of social needs that must be incorporated into resilience planning, policy and programming.
"For people in precarious housing situations, it doesn't matter if the crisis is pandemic-related job loss or a flood that ruins your car so you can't drive to work. Too many people are living one paycheck away from homelessness, and the system we have in place to cope with housing needs – the organizations, developers, resources, knowledge and relationships – is the same system whether the threat is COVID-19 or a hurricane," she said.
The report also notes Cooper's Executive Order 143 that established the Andrea Harris Social, Economic, Environmental and Health Equity Task Force, which was named for the cofounder of the N.C. Institute of Minority Economic Development.
The 2019 Clean Energy Plan and Executive Order 143 both highlight the need for public engagement to ensure that the executive branch and other state leaders support inclusive policies that advance equity and environmental justice and climate justice, or CJ, according to the report, which also mentions the North Carolina Secretary of Environmental Quality Michael Regan's Environmental Justice and Equity Advisory Board implemented in 2018 to advise NCDEQ on issues related to environmental justice.
"Despite this progress, the state still lacks a state statutory commitment to fully address climate change and structural environmental racism," the report's authors found.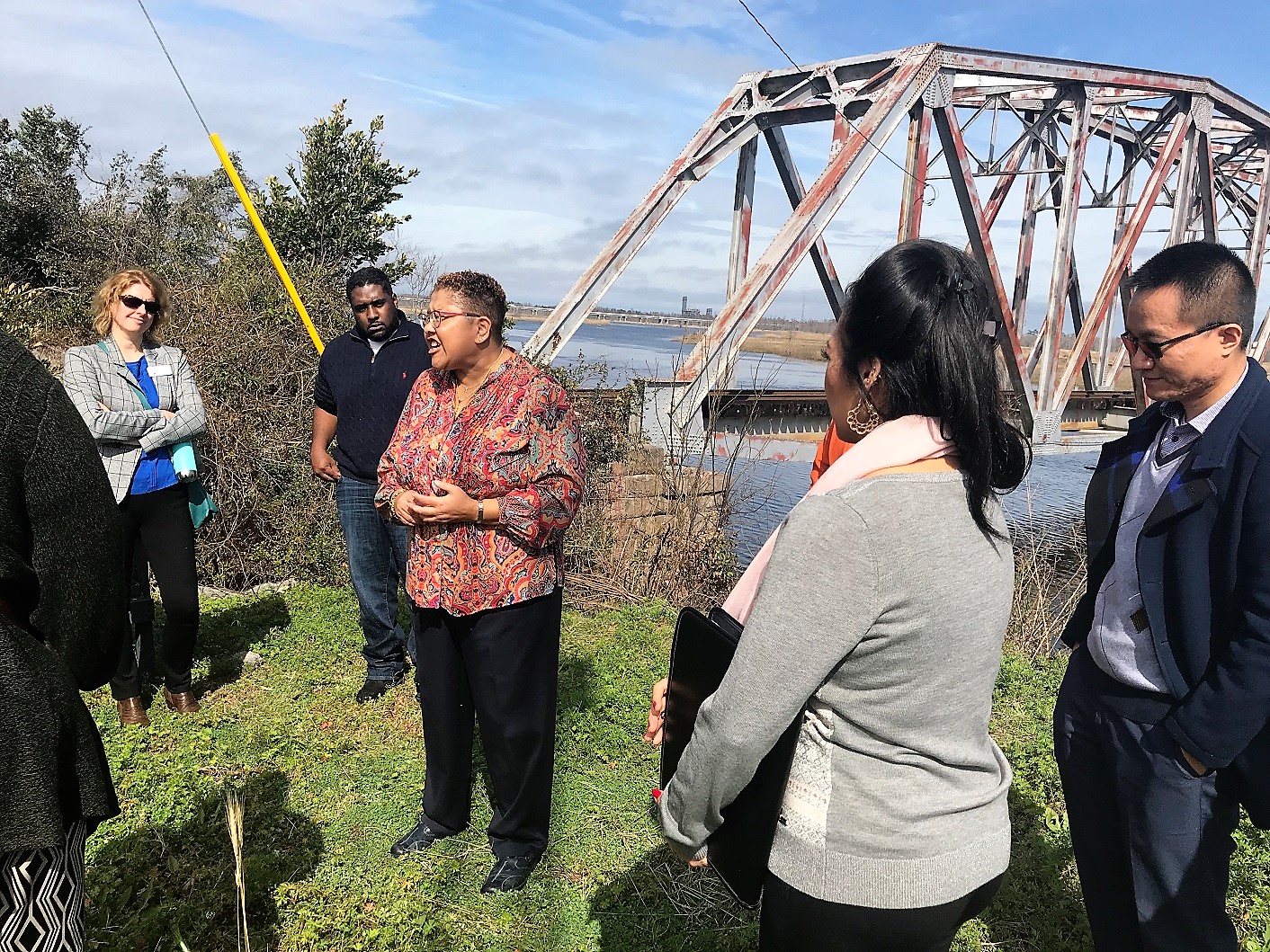 Veronica Carter is a member of the DEQ Secretary's Environmental Justice and Equity Board. She is also a member of the board of directors of the North Carolina Coastal Federation, which publishes Coastal Review Online.
She said the report's recommendations on racial equity warrant consideration, especially among those who advocate for environmental causes – an advocacy group that often lacks racial diversity.
"We need to do a little self-examining and realize that we as activists and environmentalists have not paid enough attention to environmental and climate justice communities," Carter said.
Carter pointed to places in eastern North Carolina that are still recovering from storms years ago, including hurricanes Matthew in 2016 and Florence in 2018, as examples of communities considered both environmental justice and climate justice communities.
"If you look at the communities in Columbus County where they are still struggling to recover from Matthew, these are predominantly EJ communities," Carter said.
In Brunswick County, Carter said, many of those still repairing damage from Florence are in minority and low-income communities.
"We have a number of households (in Brunswick County) that are still trying to recover from Florence and it's because their houses were not in the best of shape before Florence, because they lived in EJ, in CJ communities. And if you go back to the history of segregation and redlining in North Carolina, many of our EJ and CJ communities are in places nobody else wanted to live because they were prone to flooding," Carter said.
She said climate change's effects, including more frequent flooding and stronger storms are often most devastating in communities of color. "They're sitting ducks," Carter said.
The CAP report urges state leaders responding to the COVID-19 pandemic to also plan for and address other pressing public health and safety threats such as those posed in the The North Carolina Climate Science Report "of more intense heat waves, more powerful storms, sea level rise, and other climate change impacts that threaten the health and livelihoods of North Carolinians well into the future."
"By recommending policies to address environmental racism and improve the health, safety and climate resilience in EJ communities in the state, we hope to support and accelerate state action to tackle climate change while advancing economic, racial, and environmental justice in communities across North Carolina," Kelly said.
Martin said NCORR welcomes input from stakeholders and external groups on how to "achieve a stronger, more equitable, more resilient North Carolina. Like all recommendations that come our way, we review them with a careful eye for new perspectives, innovative analyses and recommendations on how to increase the resilience of all residents and communities in the state." Contact the NCORR office at 833-ASK-RBNC, 833-275-7262 or Ask-RBNC@rebuild.nc.gov.
Editor Mark Hibbs contributed to this report.