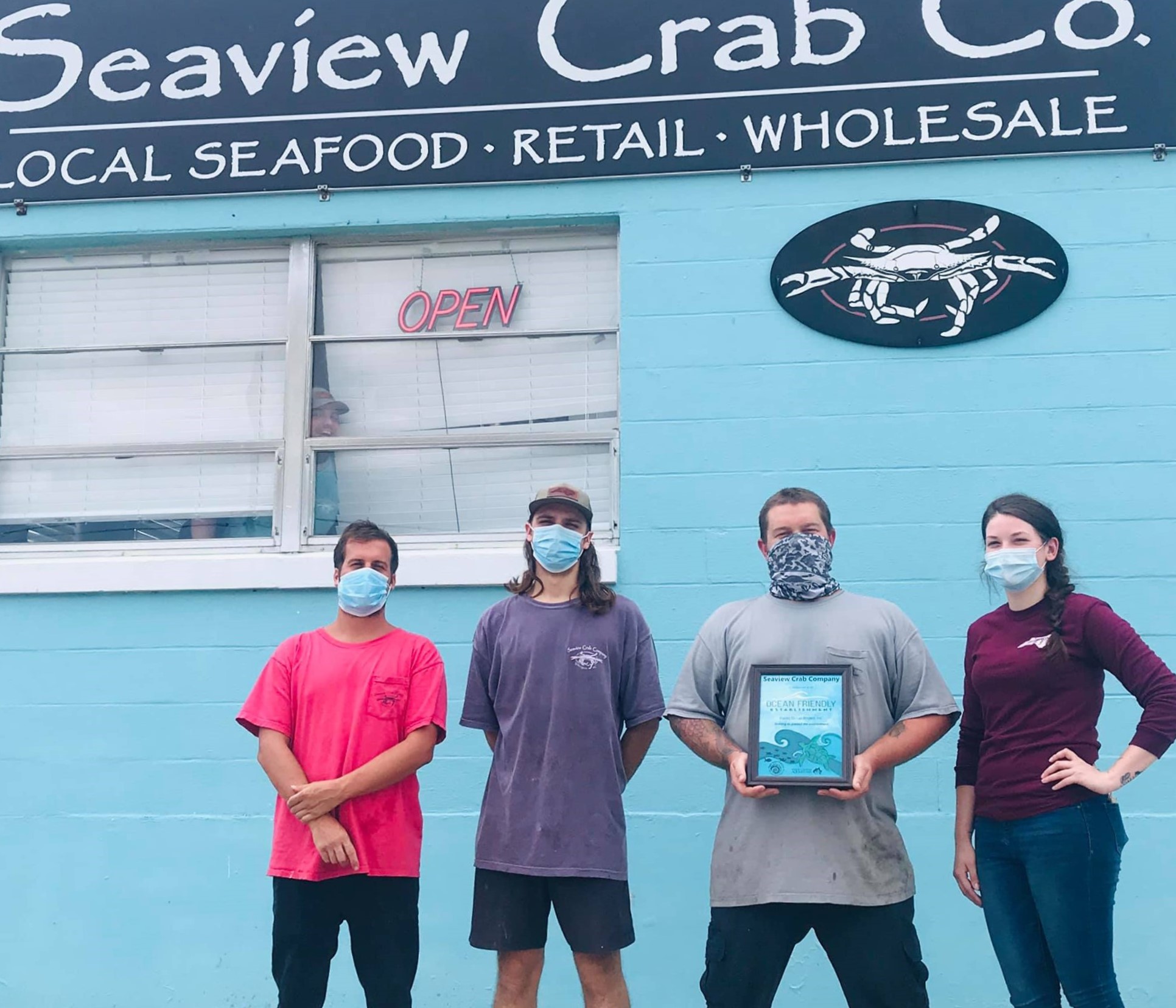 The measures put in place in March to curb the spread of COVID-19 have changed how North Carolinians consume and dispose of waste. This is the first installment in a series examining how advocacy organizations, local governments and state agencies are adapting to these changes.
In recent years, a program to encourage restaurants and other businesses to use environmentally friendly practices has gained momentum along the North Carolina coast.
But organizers of the Ocean Friendly Establishments program are seeing their efforts come to a halt because of the COVID-19 pandemic, as more restaurants are being pushed to use single-use plastics.
Ocean Friendly Establishments, which the Wilmington-based nonprofit Plastic Ocean Project launched in 2016, are businesses that voluntarily make environmentally friendly decisions, primarily reducing the use of single-use plastics by only serving straws upon request and eliminating single-use plastic bags and Styrofoam, and become certified through the program.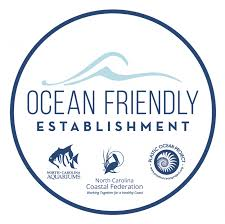 Partners in the effort include the North Carolina Aquariums at Jennette's Pier, Crystal Coast Waterkeeper, the North Carolina Coastal Federation and Surfrider Foundation.
Gov. Roy Cooper in March signed an executive order to close restaurants and bars to sit-down service, limiting the businesses to takeout or delivery orders only, to slow the spread of COVID-19. As a result, Ocean Friendly Establishment volunteers and businesses have noticed an uptick in use of single-serve plastics.
"With the increase in takeout business, we've really gone through a lot more disposable plastic ware," Cara Godwin, assistant general manager for Blue Moon Beach Grill and Blue Water Grill, both in Nags Head, told Coastal Review Online. The restaurants are certified Ocean Friendly Establishments.
"That's probably the biggest increase, along with plastic ramekins for ketchup and sauces for take-out. Other than that, we've tried to maintain our in-house operations as consistent and 'plastic-free' as usual. We do go through more disposable gloves."
She added that with the lack of employees and COVID-19, "I think all of the restaurants are just trying to survive this crisis."
Leslie Vegas, coastal specialist with the federation's northeast office in Wanchese, began working with the Plastic Ocean Project in 2019 to expand the number of certified Ocean Friendly Establishments on the Outer Banks.
During a recent webinar, "Addressing Marine Debris in This New Norm," Vegas explained that there are 52 businesses certified in the Outer Banks. From 2015-2018, an average of six businesses were certified a year and in 2019, when the federation and Jennette's Pier joined the effort, 20 businesses were certified. "We saw a lot of growth last year."
In 2020, only eight businesses were certified before March. Since then, just a handful of businesses have been certified as Ocean Friendly Establishments.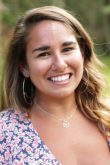 "The program has definitely lost a lot of momentum with the coronavirus happening," Vegas said. "Restaurants have been the most affected, I think, by the virus in terms of the safety standards and sanitation standards that they have to uphold."
Many single-use bans had been going into effect pre-COVID-19 across the country but many of those bans were postponed or eliminated completely, Vegas continued. "That's another thing that we've had to sort of look at and consider as we've moved forward."
The Ocean Friendly Establishments coordinators also learned more of what is required of restaurants and businesses from the U.S. Centers for Disease Control and Prevention and what the general guidelines would be.
The top three CDC recommendations and guidelines that most impacted the Ocean Friendly Establishments program were to avoid using or sharing items that are reusable, including menus, condiments and other food containers; use disposable food service items like utensils, dishes and tablecloths; and avoid using food and beverage utensils and containers brought by customers, she said.
"This is straight from the CDC. They're really encouraging the usage of disposable items to be safe. However, they say that if the items are not feasible or desirable, ensure that they are cleansed and handled properly," Vegas said.
In addition to encouraging businesses to reduce single-use plastic, Ocean Friendly Establishments encourages consumers to bring their own utensils and containers. "Those are now currently things that are not being recommended and actually being advised against by the CDC."
Taking those recommendations into consideration, "We have to ask ourselves as we continue to promote the program are reusable safe to use?" Vegas said.
That's a question Vegas said she's not qualified to answer in a straightforward way. "The best that we've been trying to do is kind of keep up with what the latest research is saying and what we feel comfortable sharing with our local businesses."
A group of more than 125 epidemiologists, virologists and other health experts from 18 countries recently signed a statement saying that reusables are safe as long as standard health codes and sanitation guidelines are being followed, Vegas explained.
"The CDC has also come out with a statement saying that the transmission of the virus from surface contact has not yet been documented. Right now, it's only been transmitted from person to person through respiratory droplets that are inhaled, not from surfaces like cutlery, glasses, plates, those kinds of things," said Vegas.

Plastic Ocean Project Executive Director Bonnie Monteleone reiterated in an interview with Coastal Review Online how important it is to support local Ocean Friendly Establishments to help eliminate single-use plastics. She said she thought the argument for not using reusable bags is contradictory.
"The items are picked up by the customer and then handled by the cashier and placed in a bag. At this point, it doesn't matter what type of bag. We encourage people to bring their own bag and not let the cashier touch it, bag their own groceries to reduce contact. Otherwise, the cashier is touching both the items and the plastic bag, which they hand the customer," Monteleone said.
The Plastic Oceans Project placed a radio advertisement encouraging people to support their Ocean Friendly Establishments. "And when they place their order, we asked that they mention if they do not need single-use, to-go ware or condiments. This was our way of helping mitigate the increase of plastic waste," she said.
At the time of the interview, Plastic Oceans Project is also promising to contribute $2,000 on top of a $5,000 grant through North Carolina Aquariums that will help offset the expense of compostable products for Ocean Friendly Establishments that cannot afford them right now, she added.
Since March when the governor put in place dining restrictions, Monteleone has observed both positive and negative responses to the change back to single-use plastics.
"Positive because it allows our vulnerable business the opportunity to serve in order to stay afloat, so to speak, and negative because so many individuals shifted to bringing reusable containers and are forbidden to use them in many places," she said.
Monteleone said that they are fortunate to have restaurants reluctantly using plastics and are trying to find workarounds.
"Slice of Life (Pizzeria & Pub in Wilmington) has been hugely instrumental in encouraging the conversation as well as donating time and funds to start a website strictly for OFEs, so more businesses can work together to reduce single use," she said. "Ceviche's is another restaurant working with our OFE team to bring to town a reusable to-go container program much like Green To-go in Durham."
Vegas said in an interview that many people who are passionate about using reusables would still like to be able to freely use them. "However, there are so many restrictions around reusable products that using items like coffee cups and bags at stores are no longer an option."
As far as the Ocean Friendly Establishments program goes, the advice is to use reusables when possible.
"If ordering to go, request that plastic cutlery is not included, ask for no bag if it's a single item, and, if you have extra time, order an item for dine in, then place leftovers in your own container that you bring to the restaurant. Additionally, we're advising in favor of reusable masks that can be laundered vs the single-use options," Vegas added.
Some businesses have not been able to maintain the cost of the environmentally friendly to-go ware, including the paper-based clamshells that are extremely expensive and have been less available due to high demands, and some business owners are concerned about losing the Ocean Friendly status with the introduction of Styrofoam or single-use items.
"But we understand as a program that it's difficult to navigate these new circumstances, and we're hoping to work together to come up with local solutions," Vegas said.
Vegas said they've had to sort of shift their recommendations but the main recommendation is to support the current Ocean Friendly Establishments.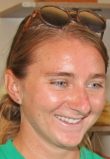 Meredith Fish, educator with Jennette's Pier and part of the Ocean Friendly Establishments program, added that "Several places in the area still try their best to use eco-friendly packaging options, however, given the amount of packaging that is required to carry out all the takeout orders, a lot of businesses are reverting back to single-use plastic items such as plastic bags, containers and utensils."
Fish said she recognized that most people are focusing right now on the virus, which is understandable, "but I wish more people would see single-use plastics as a threat as well," Fish said.
"I know that the Outer Banks is working hard right now to revamp the recycling program but hopefully everyone remembers that reducing your plastic consumption is even more important than recycling," she said. "This is why it's so important to avoid using plastic whenever possible, especially single-use plastics, seeing that you only use them once before they can end up polluting our Earth."
She opts for glass, metal and paper whenever possible, and "I hope that is the mindset that local businesses will adopt as well, even in the midst of COVID."
Jan Farmer, a volunteer with the Topsail-area Ocean Friendly Establishments, has also observed that usage of single-use plastics is up because of the large increase in takeout business.
"Businesses that were using compostable takeout or compostable straws have sometimes switched to less environmentally friendly products if their normal products ran out and were unavailable, but they appear to have switched back when they could get the better products in stock," Farmer explained. "I actually have one establishment that has made the shift to paper cups from Styrofoam during this time."
"I think it's important to remember to not lose sight of problems that existed before COVID-19. While we may have to make adjustments to our original plans, the work shouldn't stop and there will always be things we can do to make a positive impact and to reduce our single-use plastic usage while staying safe and healthy," Vegas said.
National efforts to curb plastic use
On a national level, more than 120 environmental organizations sent letters to seven national food delivery companies — GrubHub, UberEats, Doordash, Delivery.com, Caviar, Seamless and Postmates — in July requesting that that they change their default ordering process to one that does not automatically include utensils, napkins, condiments and straws in order to reduce the amount of single-use plastic pollution entering oceans, landfills and incinerators.
"Takeout orders are up all over the country as a result of the COVID pandemic; however, the vast majority of people eating at home neither need nor want yet another set of plastic utensils, plastic straws, handful of soy sauce or ketchup packets, or pile of paper napkins. Committing to making this small change to their delivery ordering systems would help reduce single-use packaging and save restaurants a bit of money," said Judith Enck, president of Beyond Plastics.
The letter suggests that customers would need to request no single-use items when they place their order for delivery, which would reduce costs to restaurants and take a step to reduce plastic waste and pollution. There is also a place to voice support of this initiative, Hold the Plastic, on the website.
As consumers continue to rely on delivery services for meals, the amount of unwanted single-use utensils and condiments are on the rise as well, though a recent study found that 98% of all U.S. take-out or delivery meals are consumed at home or a workplace, where reusable cutlery is typically available and preferred, according to the release.
"Food delivery platforms have the opportunity to reduce the amount of plastic entering our homes while at the same time saving businesses money by moving to an opt-in system for these items. Similar to how customers choose exactly which toppings they want on their pizza, customers should also be able to opt in to exactly which utensils, napkins, condiments, or straws they want," said Jennie Romer, Legal Associate at the Surfrider Foundation's Plastic Pollution Initiative, in the release.
Ordering in to support local restaurants & stay safe during #COVID? Urge @Grubhub @DoorDash @Seamless @Caviar @Postmates to follow @UberEats lead & change #singleuseplastic utensils, straws, condiments & napkins to opt-in only to cut #plasticpollution. https://t.co/Crqkr3Cjup

— Beyond Plastics (@PlasticsBeyond) August 3, 2020
Enck addressed in an op-ed April 22 in Newsweek that the pandemic isn't an excuse to go back to single-use plastics.
"I still believe that. And yet, the Center for Disease Control has put out guidance to restaurants when they're reopening telling them, even if people are dining on site, the restaurants should use single use disposable items single use plates utensils cups and straws," she said, adding that if you're trying to protect the health of the wait staff, it doesn't matter if they're going to be delivering and picking up single use disposables or real dishes that are washed.
"My final point is we can tackle more than one crisis at a time. Clearly, the priority needs to be protecting health from the COVID virus, so we can still address plastic pollution and climate change. We can't return to business as usual. We need adjust recovery, and that includes making environmental protection, a priority, Enck said