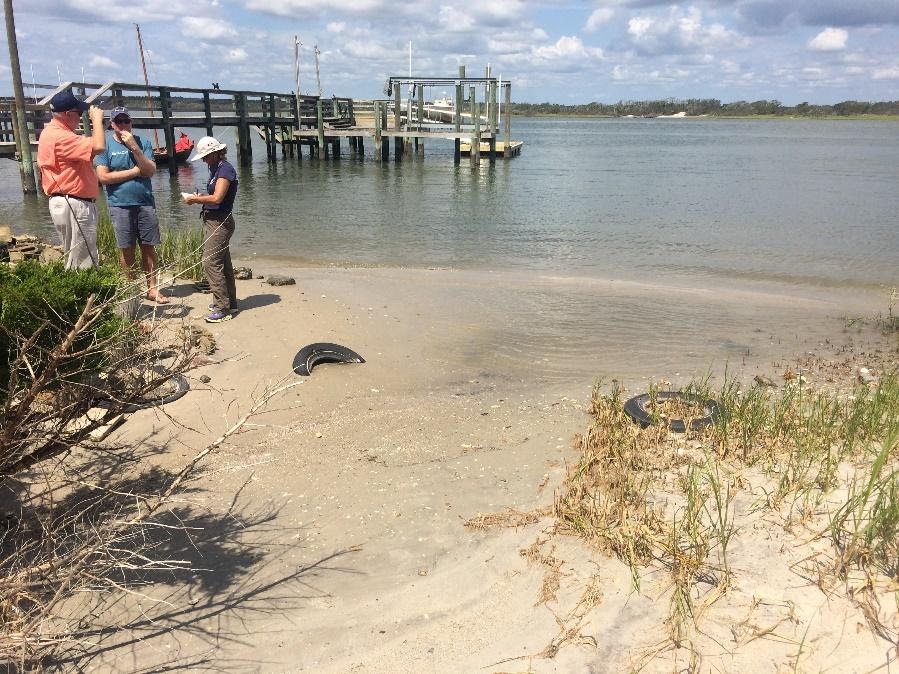 TOPSAIL BEACH – Pockets of water left by swift, hard downpours or a series of rainy days typically flood the same streets in this town at the southern end of Topsail Island.
The waters of Banks Channel spill over street ends through some areas of town, only exacerbating flooding issues during lunar or king tides, evidence of the rising sea level.
Topsail Island is now in the early stages of addressing some of these water issues in a multifaceted approach to reduce stormwater-related flooding, enhance water quality and curb soundside erosion.
"We're doing this as a coordinated effort as a stormwater/living shorelines project," Town Manager Mike Rose said.
The town is working with engineers and coastal scientists who are currently hashing out project details for seven stormwater projects and four living shorelines.
Topsail Beach has contracted with engineering firm LDSI Inc. to focus on the stormwater infiltration projects, details of which are still in the works, Rose said.
Important projects, he said, but not quite as exciting as rolling out what will be the town's first living shorelines.
"We think it's a great chance for this to be almost a springboard," for more living shoreline projects, Rose said.
The town has contracted with the North Carolina Coastal Federation to design and oversee the installation of living shorelines on town-owned property at the end of four streets: Rocky Mount, Haywood, Sidbury and Nixon avenues, all of which dead end at Banks Channel.
Living shoreline projects are built with various structural and organic materials, such as plants, submerged aquatic vegetation, oyster shells and stone. These projects generally work best along sheltered coasts such as estuaries, bays, lagoons and coastal deltas, where wave energy is low to moderate.
Tracy Skrabal, a coastal scientist with the federation, said the plan is to design at least three different types of living shoreline, such as a vertical wall sill, oyster bag sill or other new, innovative measures.
"All of them will include marsh plantings," she said. "Our goal for this is not to just put four living shorelines on the channel, but to use this as a training tool, a demonstration for other property owners. They have a lot of bulkheads in Topsail Island."
Each site has about 100 feet of shoreline.
"They vary," Skrabal said. "Some have a little bit of marsh. Some of them have a little bit of erosion."
Mounting research shows that living shorelines hold up better through storms than hardened structures, enhance intertidal habitat for fish and other marine resources, and better defend against sea-level rise.
Topsail Beach recently wrapped up a $26 million storm damage reduction project, one that pumped more than 2.2 million cubic yards of sand onto the ocean shoreline and deepened about three miles of inlet and channel waterway.
"The town has invested a lot into the ocean side of this island," Rose said. "This gives us an opportunity to focus on the other side of the island. We're excited about this."
Topsail Beach hopes to pay for the projects from a portion of a $5 million state grant the town received last summer.
Senate Bill 95 split the state Division of Water Resources grant equally at a little more than $1.66 million each among Topsail Island's three towns, Topsail Beach, Surf City and North Topsail Beach.
The law required the towns to submit a report on prospective projects no later than last fall to the Joint Legislative Oversight Committee on Agriculture and Natural and Economic Resources and the Fiscal Research Division.
"We've put these projects into that application request, which has been recommended for approval," Rose said.
If, for whatever reason, the projects are not approved for that grant, Rose said the town will commit funds to the projects.
The hope is for construction to begin on a portion of the living shoreline projects this year, but with ongoing uncertainty of the pandemic, original projected start times will likely be pushed back.
"We are moving forward with design," Skrabal said. "We will try to communicate with people virtually, but most of our education and training will happen after the projects are on the ground. My goal is to have at least two sites constructed in 2020 and two sites constructed in 2021. We're just really impressed by the commitment of the town to move in this direction. These two projects combined will really increase our ability to educate professionals and residents on all these techniques. To their credit, the town is trying to get ahead of all of this."