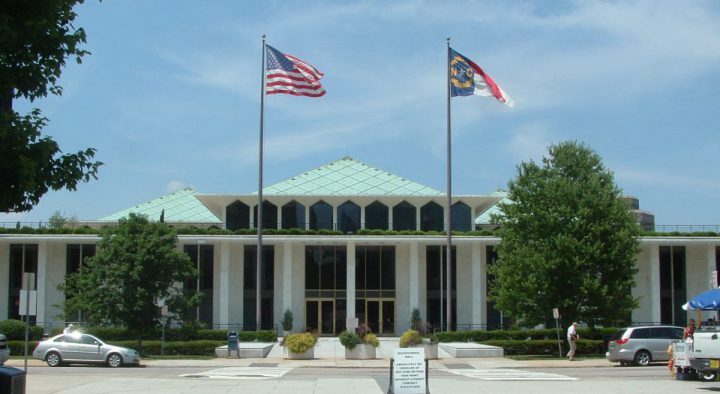 After a slow-moving, late-night session that stretched from 10 a.m. Thursday to 3 a.m. Friday, the North Carolina General Assembly adjourned with plans to come back in early September.
The legislative marathon included lengthy deliberations over bills that challenged Gov. Roy Cooper's coronavirus response, last-minute fixes and several pieces of legislation in the works since last year's contentious budget fight.
Among them are rescue funds for dozens of failing public water systems, state matches for federally funded coastal projects, requirements for hurricane-related flooding and resiliency planning, and steps for dealing with abandoned and derelict vessels.
As work wrapped up, the legislature avoided a last-minute fight over this year's version in the series of large, multi-provision regulatory bills.
House appropriations co-chair Rep. Chuck McGrady, R-Henderson, who is leaving the legislature after five terms, said items flagged by Cooper were pulled from the bill. As a result, the Regulatory Reform Act of 2020, passed unanimously.
The bill allows the Division of Coastal Management to begin accepting electronic payments and gives the Department of Environmental Quality broader authority to establish emergency procedures for solid waste handling during a hurricane or other disasters.
State matching funds for federal coastal projects that are usually included in the comprehensive budget bill were added to another last-day omnibus. They include Morehead City and Wilmington harbor work and coastal storm mitigation projects for Kure Beach, Wrightsville Beach, Carolina Beach, Ocean Isle, Bogue Banks and Surf City, along with shoreline protection for North Topsail Beach.
That legislation, House Bill 1087, also includes a new initiative on flood storage capacity that would create basinwide inventories of areas than can temporarily hold water to reduce the impacts of severe flooding.
Budget delayed until fall
Not among the items completed was budget legislation, that's the usual mission of the second year of the biennial, the so-called short session.
The legislature did pass some budget bills aimed at shoring up the Department of Transportation, which has put some construction projects on hold due to lack of funds, as well as targeted funding and policy changes for Department of Health and Human Services and the Department of Public Instruction. But a larger budget bill is likely on hold until the legislature returns on Sept. 3.
Throughout the nine-week session, the senate's main budget negotiator, Sen. Harry Brown, R-Onslow, cautioned against developing a spending plan until rules on federal coronavirus relief are clearer and legislators have a better idea of revenue.
Brown, who is stepping down after eight terms, gave his farewell speech to the Senate a little after 2 a.m. Friday, imploring his colleagues to lift up the state's poor counties. "There are two North Carolinas," he reminded them.
The state followed the federal government in delaying its tax filing deadline to July 15, after the start of a new fiscal year. Since no budget was passed, for parts of the government not specifically funded in the short session, an automatic continuation budget law kicks in, funding departments and agencies at previous year levels.
Although work has been completed for now and an adjournment resolution passed, the General Assembly will spend the next week holding skeleton sessions in the event leaders want to call members back for a veto-override vote.
Cooper has said he would veto the legislature's bills to reopen various businesses because they would "tie the hands" of public health officials.
Among the final round of bills, several sought to rewrite the use of emergency powers by the governor, including legislation requiring the governor to get approval of the Council of State.