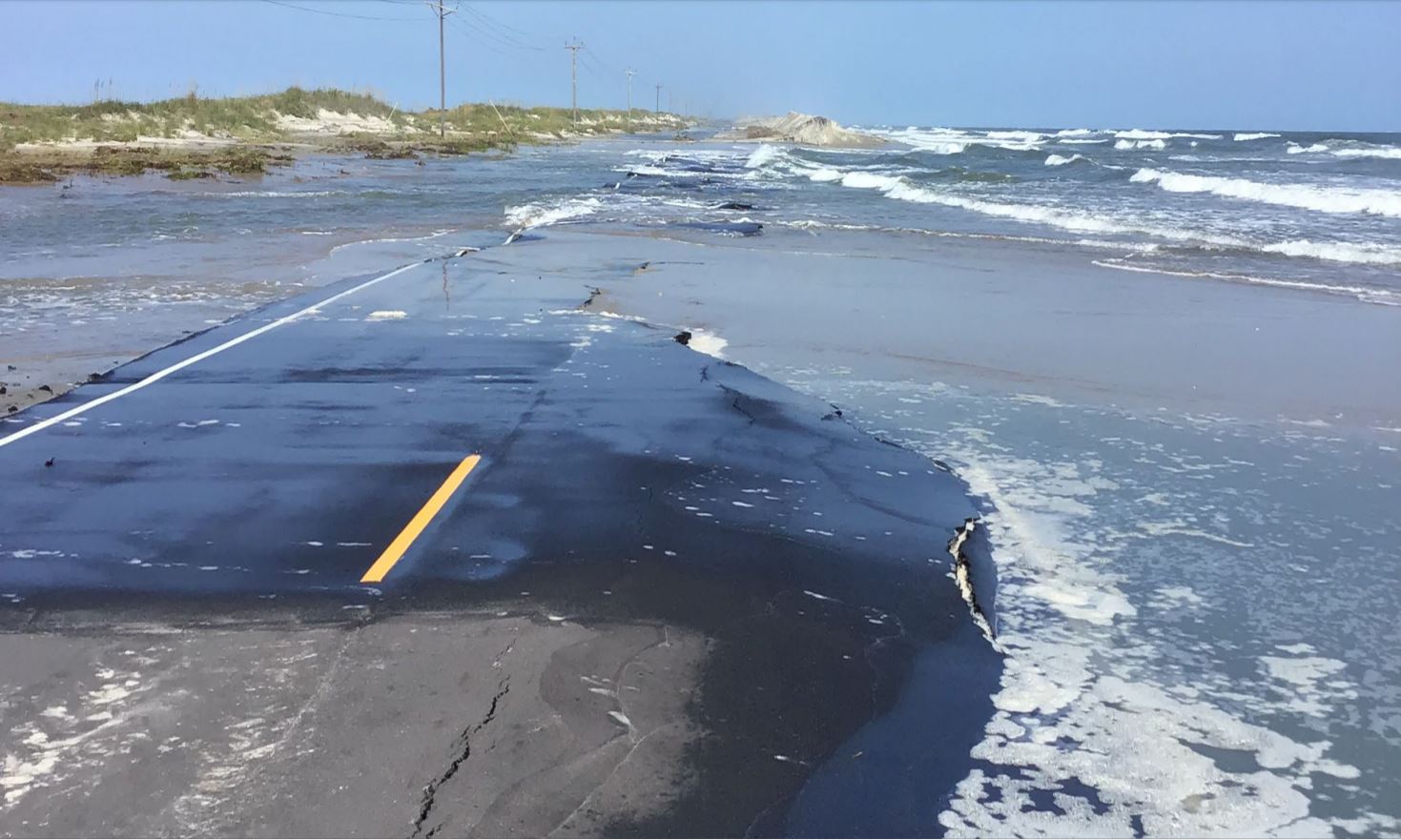 The North Carolina Department of Transportation has been granted permission to use oversized sandbags to expedite construction of its temporary erosion control structure alongside a portion of N.C. 12 on Ocracoke Island.
The Coastal Resources Commission on Thursday unanimously approved NCDOT's request for a variance to its Coastal Area Management Act, or CAMA, major permit to use sandbags that are larger than typically allowed by the state.
Colin Justice, assistant attorney general with the North Carolina Department of Justice, told commissioners in their online meeting Thursday that using the larger sandbags will speed up completion of the project in time for peak hurricane season.
"This property is extremely long and it's very flat," Justice said. "This part of Ocracoke Island is one of the highest erosion rates on the N.C. coast."
The sandbags that will be used are 50 feet long. State rules allow for bags that measure flat to be between 7 feet and 15 feet in length.
The bags are white – the only color available in the larger size. The state requires that bags be tan in color.
Justice explained that the larger sandbags will be filled with dry sand, a process that is faster than the traditional method of pumping wet sand to plump up the bags.
The rate of installation of the larger sandbags is about 200 feet per day. The current average installation rate for traditional sandbags at the project is about 30 feet per day.
Justice said quicker installation and the fact that less equipment will be needed to put dry sand in the bags will reduce impacts to the shoreline.
Sandbags will be placed in two rows,  an oceanward row 6 feet high with an 8-foot-wide base and a landward row 4 feet high with a 6-foot-wide base. The modified 14-foot base will be smaller than the 20-foot base originally permitted.
The landward row will be 10 feet from the edge of the pavement.
Both rows will be within the same footprint of previously authorized sandbags and covered by constructed dunes.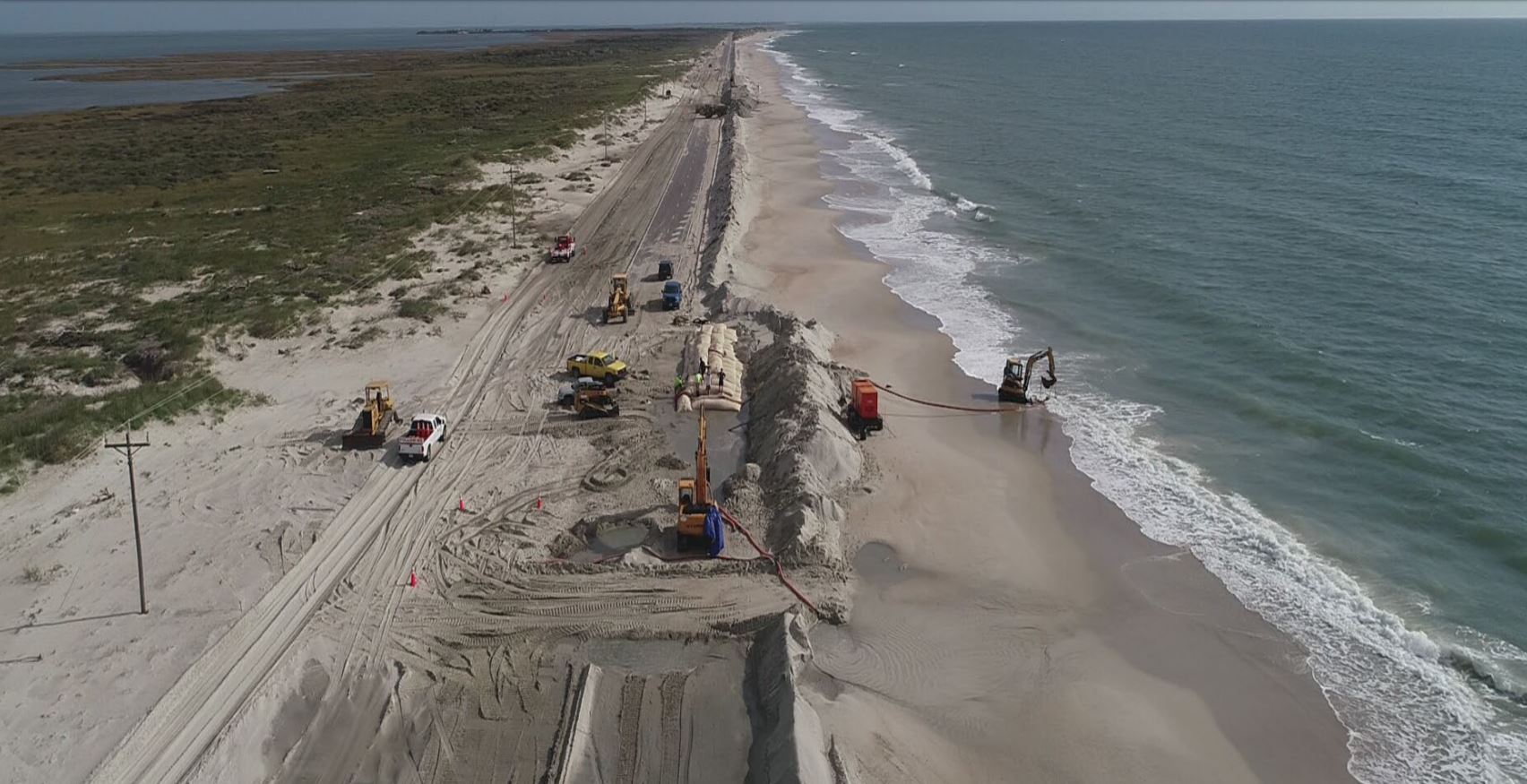 This area of the Ocracoke shoreline is a "hot spot" because of high beachfront erosion caused by hurricanes and nor'easters. Here, an average of 6.6 feet of beach erodes each year, according to the North Carolina Division of Coastal Management's April 2020 oceanfront erosion rate study.
That rate is similar to those studied in 2013 and 2004, which measured average erosion rates of -6.7 feet-per-year and -5.6 feet-per-year, respectively.
The maximum erosion rate is -19.8 feet per year along this stretch of beach.
This portion of N.C. 12 is the primary route for residents and tourists — about 70% — traveling to and from the island.
The state first issued a CAMA major permit to NCDOT in February 2003 authorizing dune maintenance along the highway on Ocracoke Island.
Over the years that permit has been modified a number of times.
Last September, the Division of Coastal Management issued an emergency major modification to the permit to allow construction of a 975-foot-long sandbag structure and 2 miles of dune reconstruction after storm surge from Hurricane Dorian ripped through two approximately 500-foot sections of blacktop.
Less than four months and two powerful nor'easters later, the division in January authorized a minor modification for an additional 4,248 linear feet for a total of 5,223 feet of a temporary erosion control structure.
About 3,275 of the 5,223-foot sandbag project had been installed as of June 1.
The North Carolina Division of Water Resources, Wildlife Resources Commission, U.S. Army Corps of Engineers, U.S. Fish and Wildlife Service, and National Park Service did not object to the transportation department's request to use oversized sandbags.
In 2016, NCDOT completed its feasibility study examining alternatives to maintain motor vehicle access from Hatteras to Ocracoke Village. Those alternatives include long-term beach nourishment, bridging areas that are particularly vulnerable to storm damage, or moving the ferry dock closer to Ocracoke Village and away from highly eroding areas.
Justice said when asked by one of the CRC members that he did not know an exact date as to when a long-term solution will be selected.
"It will take a few years," he said.
The sandbag project will buy time for NCDOT and the National Park Service, which manages the Cape Hatteras National Seashore, to continue studying and eventually implementing a long-term solution for protecting the road, including the northernmost 2 miles of N.C. 12 on Ocracoke Island in Hyde County.
NCDOT has spent more than $75 million in the last decade maintaining and repairing the road from Oregon Inlet to Ocracoke Village.
CRC Vice Chair Larry Baldwin said he calculated an average of $7.5 million is spent annually on the road. That's more than $260 per ferry passenger, he said.
"This seems to be repeating the same act over and over again," he said.