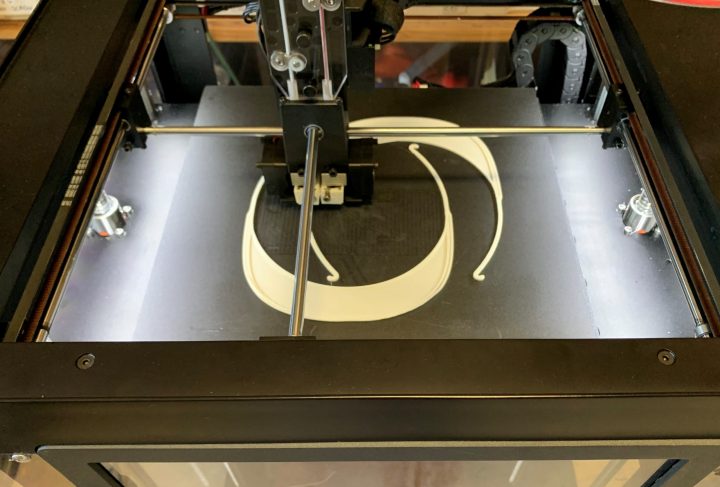 Research staff and educators in Carteret County have responded to an ever-growing need for personal protective equipment by turning their homes into face shield factories, using 3D printers from area institutions.
They're donating the shields to first responders and health care workers in eastern North Carolina.
Julian Dale, lead engineer in the Marine Robotics and Remote Sensing Lab at the Duke University Marine Lab in Beaufort, transported the lab's larger 3D printer to his garage after the Duke Marine Lab closed in response to the COVID-19 pandemic. Dale's original plan was to continue making customized drone research equipment from home.
Then he heard that others were 3D printing personal protective equipment. People around the world have been collaborating online to share and revise designs for 3D-printed face shields and other gear.
Dale confirmed the need for this equipment with Beaufort Mayor Rett Newton, also a doctoral student in the Marine Robotics and Remote Sensing Lab, who asked Beaufort fire and police chiefs.
"Our first responders enthusiastically welcomed this protective gear," noted Newton.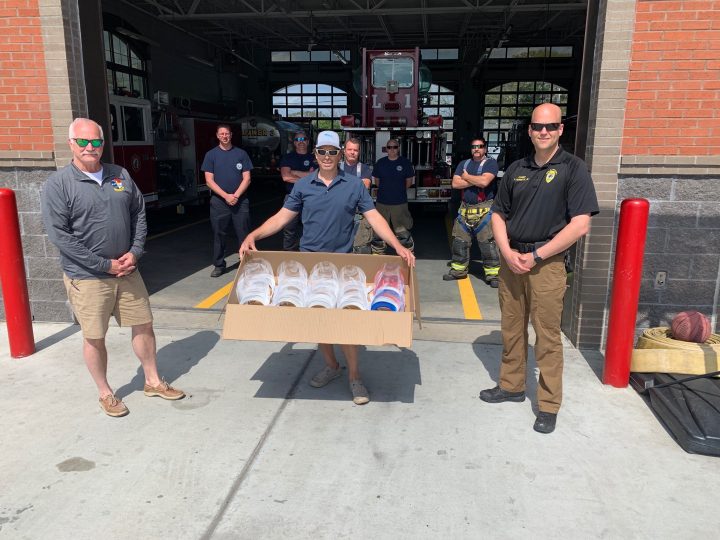 Dale found a relatively easy design online for a visor that could be outfitted with a shield. Rather than wait for an online consensus on face shield designs, of which there were several options, he jumped to work.
"We should probably just have a crack at producing them," Dale said he thought Saturday, April 4.
Since then, he's sent out about 100 face shields and is continuing to produce more. Other 3D printers have joined the production chain too.
"IMS volunteered their printer as well that was sitting idle," said Dale, referring to the University of North Carolina Institute of Marine Sciences in Morehead City.
Ryan Neve, IT and engineer support specialist at the institute, brought the lab's 3D printer and Carolina blue plastic filament home for the specific purpose of printing face shields. Filament is a spool of plastic thread that feeds the printer.
UNC IMS has had their printer for almost two years, and Neve previously used it to make customized and inexpensive research equipment parts.
"We mainly used it to print out parts for field work, for profilers at Jordan Lake," he explained. Profilers are floating platforms that release water measurement devices to the bottom of the lake every half hour.
That same 3D printer can print two plastic visors in about five hours. The larger printer in Dale's garage can print two visors in about one and a half hours.
Todd Williamson, Project Lead the Way Teacher at Beaufort Middle School, is now using one of the middle school's 3D printers to make the visors as well, with filament provided by UNC IMS.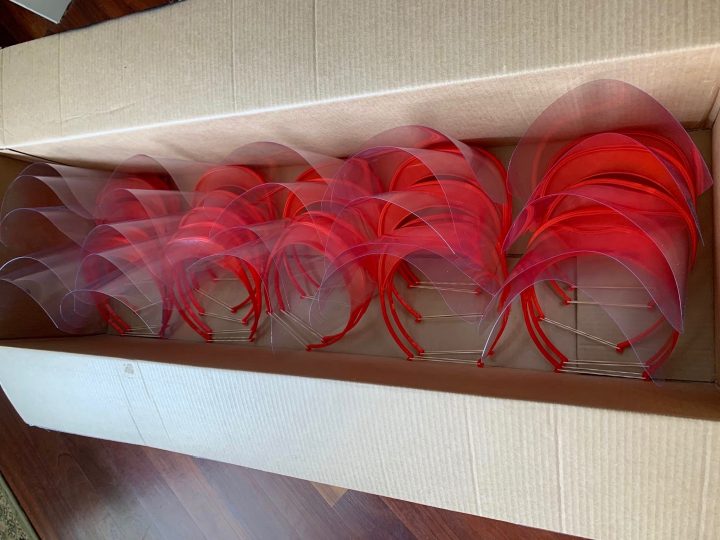 The clear plastic shields that attach to the visors are ordered separately, and Dale rounds down their sharp edges for safety. The last piece of the face shield is a rubber band, which holds the back of the visor together. Dale said that each completed face shield costs about $1.30 in supplies.
The shields can be washed and reused, and the clear plastic part can be replaced when necessary. Dale said if he's able to get enough parts they can give away extra plastic shields with the visors.
Shields protect the mouth, nose and eyes, though healthcare workers treating COVID-19 patients must also wear face masks for respiratory protection.
Dale provided Newton with face shields to distribute to Beaufort emergency medical services and fire rescue, and has left shields on the doorsteps of healthcare workers for them to distribute at their respective workplaces. Carteret General Hospital, New Bern Hospital, Carteret Medical Specialists PLLC, and Oceanside Pediatrics in Morehead City have received shields.
"This is another great example of citizens wanting to safely and effectively contribute to the fight against COVID-19," commented Newton.
The Carteret News-Times reported Sunday that the county currently had a sufficient supply of personal protective equipment for first responders in the short term, but will likely need more face masks as the pandemic continues.
If residents want to donate extra personal protective equipment to Beaufort's first responders, they can contact Public Information Officer Rachel Johnson at r.johnson@beaufortnc.org. For more information about 3D printing protective equipment for healthcare workers, you can visit the National Institute of Health's collection of 3D-printable equipment.