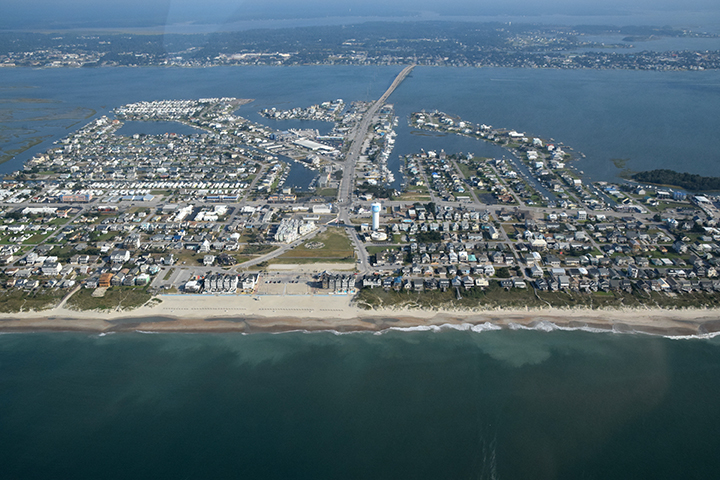 Updated to include information from Carteret County
In response to COVID-19 and in keeping with the governor's stay-at-home order, the mayors of Carteret County's Bogue Banks towns are imploring the public not to visit unless it's essential.
Atlantic Beach Mayor Trace Cooper said early Thursday afternoon during a joint press conference via Zoom with Emerald Isle Mayor Eddie Barber, Indian Beach Mayor Stewart Pickett and Pine Knoll Shores Mayor Ken Jones, that they are all working closely together throughout this crisis, which is something the elected officials do during good and bad times.
"We know that for example, hurricanes don't care about city limits and neither does the coronavirus. Bogue Banks is an island that is home to four distinct towns, but we are all part of one community. Our community is a vacation community that prides itself on hospitality," Cooper said. "So what I'm about to say next is difficult for us. Don't come here. You must stay away from our beaches."
Cooper reiterated that the governor had issued a stay-at-home order for all of the state. "Our local police departments, along with their law enforcement partners at the county and state level are coordinating to strictly enforce this order," he said.
All public beach accesses, town parks and recreation facilities are closed, as well as the North Carolina Aquarium at Pine Knoll Shores and Fort Macon State Park. All hotels and motels are closed to leisure travel and vacation rentals are prohibited.
"If you don't live on Bogue Banks or own property on Bogue Banks or work in an essential business on Bogue Banks, you can't be here. Do not come, stay home and stay safe," he said. Adding that the sooner we all comply to the governor's stay-at-home order, the sooner we can get through this. When we do, when it's safe, we'll welcome everyone back with open arms but for now, stay away."
Emerald Isle had its first water rescue Sunday. "As the weather warms our first responders need to be focused on the current crisis and not on water rescues," he said.
Barber explained that effective immediately, all four towns will close the ocean waters of the Atlantic to swimming in coordination with the governor's executive order.
Pickett said that all four beach towns will be flying with double red beach flags, which means the waters are closed. Also during the governor's 30-day, stay-at-home executive order, swimming, surfing, kiting and nonmotorized recreational water access are prohibited on Bogue Banks but the beach area strand will be open.
Jones added that the sandy beaches are open for walking, fishing and small groups.
"Travel from outside Carteret County is not essential travel," he said. "Please do not do this unless you meet the governor's executive order criteria for essential activities."
Jones said unless you have to cross the bridges in either direction for an essential need, don't. "Bottom line, the less travel, the better."
Cooper said that while the towns and all levels of government are working together to fight COVID 19, the governments can't do everything. "We need your help as well."
He reiterated that the public needs to heed the executive orders issued by the governor and others and "We need you to do the things that we've all been told to do over the past few weeks, stay at home. Wash your hands like crazy, do not touch your face and maintain social distancing."
Carteret County announced Thursday afternoon that recreational water access for Salter Path has been restricted in accordance with the announcement from the four Towns of Bogue Banks. Recreational water activities such as swimming, surfing, kiting, and non-motorized recreational water access will be prohibited through April 29.