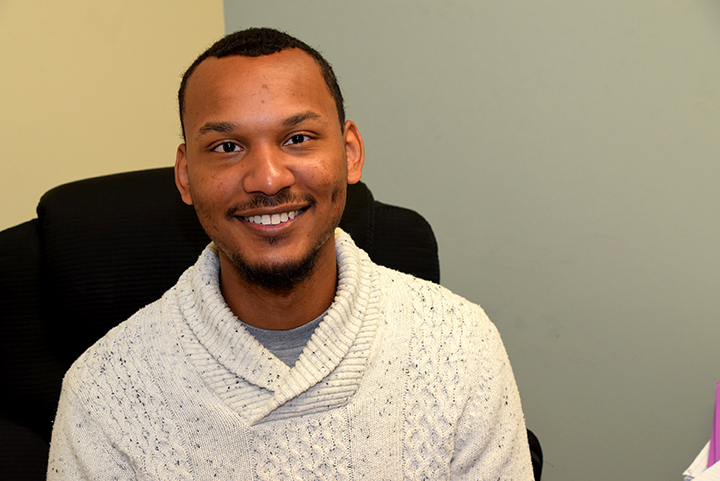 Second in a series
Navassa is 13 square miles of high ground flanked by rivers and creeks with a storied history of enslaved Africans who made a life for themselves after slave abolition, forging a unique legacy that remains relatively undocumented outside of a couple of local publications.
At a pivotal time for the town on the cusp of a development boom, Barnes Sutton wants Navassa to have tangible reminders of its history told throughout its streets.
In the little more than two years since accepting the job as the town's planning and development director, Sutton speaks as much of a historian as planner.
"What I've been saying lately is Navassa has just missed history a million times over," he said.
"Everyone who's got a statue on that side of the river (Wilmington) did business on this side of the river, but that's not documented anywhere. When you walk around downtown (Wilmington) you've got the historical tours, you've got the plaques on all the buildings, you've got the signs everywhere," Sutton said.
"You're constantly reminded whether you're looking for it or not that you're in a historical area and there's significance to this place that you're in. That's cultural infrastructure. That's what we're trying to work on here in Navassa, is how do we implement and install this cultural infrastructure to where even when we're gone, communities pass on, or move away, that the people there now are well aware that they're in a place of history?"
Aside from Navassa Mayor Eulis Willis' book, which delves into the town's history, and a short film and small book the University of North Carolina Wilmington produced about the town, most of the history here is anecdotal, Sutton said.
And, to a degree, the town's history is misunderstood, he said.
Navassa has made local headlines throughout the years for containing a highly disproportionate number of Brownfield Sites as well as the former Kerr-McGee Superfund Site, more than 200 acres of property where a creosote plant operated for decades.
Sutton knew about the Brownfields and Superfund Site when he took the job, but he said it's taken him some time to understand that Navassa is not so much the victim of industry as it is the purveyor of industry.
With its access to the Cape Fear River, the railroad, and its high ground and proximity to Wilmington, Navassa has been an ideal spot for industry over the decades.
Abolished slaves once forced to work the plantations along the river banks saw the job opportunities these industries brought to the area.
"This was the place to do business," Sutton said.
"Transitioning out of the plantation era to the industrial era, a lot of freed slaves at the time went and worked immediately at these industries and were able to buy their own way. This was kind of a refuge for that to happen. A lot of the plantations were on the west bank of the river, so Navassa was like a beacon," he continued. "That's kind of the part of Navassa's history that a lot of people don't see. It's not necessarily that Navassa was taken advantage of, but Navassa took advantage of what was already there and they made their way into being landowners, being homeowners, having full-time employment and that only went away when technology shifted and those fertilizer companies went elsewhere. But, there was a time when there wasn't enough state regulation to make sure these companies did what they needed to do before they left."
Industry is what separated the Gullah in this area apart from other Gullah Geechee residing in the coastal areas and islands from the southeastern coastal areas of North Carolina to Florida.
Gullah isn't spoken in Navassa like it is in African American communities on the South Carolina and Georgia seaboard. Residents here do not make the sweetgrass baskets popular in Charleston, South Carolina.
"That's just because the Navassa Gullah descendants took a route that a lot of other people in that culture didn't," Sutton said. "A lot of other cultures stayed with agriculture or they were isolated on barrier islands to where their culture melded with one another and really became what people traditionally think of the Gullah Geechee. But, Navassa just didn't have that isolation. We took a much more industrial route."
Preserving the past in a future of growth
Like the former and current mayors of the town – there's been only two since it incorporated in 1977 – Sutton has inherited the task of how to lure in businesses townsfolk here desire.
The town's population is about 2,100, not enough to bring in a gas station, grocery store or retail shops.
"Even with I-140 they're saying it's just not enough numbers yet," Sutton said.
But that's about to change. Two large housing developments, the 800-acre River Bend that will include 2,100 homes and Indian Creek, where 3,600 homes are planned on 1,000 acres, are in the early planning stages.
Pacon Manufacturing, which produces medical wipes, pads, towels, drapes and liquids, is relocating from New Jersey to Navassa, where the company is expected to bring nearly 300 jobs.
Local jobs will boost tax revenues. New neighborhoods and the families that move into them will help draw businesses. It's growth is in the right direction, but one that requires a balance.
"From the council's perspective, it's OK what can we do to better prepare our citizens for the change to come," Sutton said.
"And, so if they can find the better employment, decrease expenses getting to and from work, then that limits the chances to be displaced. It's not necessarily industries that they're trying to attract, it's that at one point in time the huge chunk of Navassa citizens remembers getting up in the morning and punching the clock. It was a sense of security. It was a sense of routine," he said. "People remember getting up and walking to Navassa Guano, working, punching the clock, going home and having lunch, and going back. We used to have that here and I think that's what people are trying to get back."
It's a delicate balance, one where Sutton aims to tie in the quality of life the town's residents desire while simultaneously preserving its heritage.
"I care a lot. I want to try to bring people what they want. I want to try and figure out a way to improve whatever situation they're in with the goal of making Navassa what it's been trying to be since its inception, which is a place where people can thrive. It was well on its way and I think it can do it again," he said. "We just have to figure it out. I'm trying to expose people more so to how to interact with your community. Do you understand the value of the waterways in your back yard? Do you understand the value of community engagement? I think that's a lot to try and take on, but we don't really have a choice. We have to be vigilant. Otherwise, we wake up and the town is different."