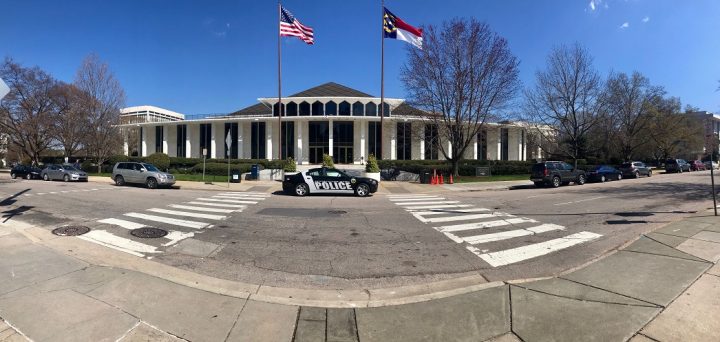 Coastal legislators in both parties survived primary challenges in a Super Tuesday dominated by headlines at the top of the ticket.
Unofficial results from the State Board of Elections show incumbent Reps. George Cleveland, R-Onslow, Ted Davis, R-New Hanover, Bobby Hanig, R-Currituck, Howard Hunter III, D-Hertford, and Phil Shepard, R-Onslow, all survived primary challenges by wide margins.
In legislative races for open seats, former Craven County commissioner Steve Tyson won the Republican primary for state House District 3 in Craven County, taking 52.57% of the vote in a four-way race to replace Rep. Michael Speciale.
Taking 82% of the vote, Marcia Morgan, who lost a close race in the 2018 general election against Davis, won the Democratic primary for the new House District 19 that includes parts of New Hanover and Brunswick counties. She'll face Republican Charlie Miller, a member of the Brunswick County Board of Education, who won 62.4% of the vote.
Jacksonville City Council member Michael Lazzara won the Republican primary with 63% of the vote to replace eight-term Sen. Harry Brown in Senate District 6, which includes Jones and Onslow counties. He'll face Ike Johnson, chair of the Onslow County Democratic Party, in the fall.
In other state races, both Gov. Roy Cooper and Lt. Gov. Dan Forest won their primaries by wide margins and will face off in the fall race for governor.
Forest's replacement will be decided in a matchup between Republican Mark Robinson and Democrat Yvonne Holley.
National Races
The vote count Tuesday night yielded decisive victories in the presidential race with Donald Trump, who faced nominal opposition, taking 93.5% of the Republican vote and former Vice-President Joe Biden winning roughly 43% of the Democratic votes.
Biden's closest challenger, Sen. Bernie Sanders, I-Vt., won 24% of the vote in a race that saw a jump in turnout compared to the 2016 primary. The two will divide up the state's 110 delegates. No other Democrat reached 15%, the threshold required to win a share of the delegates.
Biden won decisively in all 20 coastal counties and the rest of the state, taking all but four western counties. Sanders strongest showing was in New Hanover County where he picked up 27% of the vote.
Former mayor of New York Mike Bloomberg, who dropped out of the race Wednesday after a dismal Super Tuesday showing, came in second in Brunswick, Craven, Pamlico and Tyrell counties but only topped 20% of the vote in Brunswick.
In other national races, three-term incumbent state Sen. Erica Smith, D-Northampton, who represents Beaufort, Bertie and four other northeastern counties, lost her bid for the U.S. Senate to Cal Cunningham who took 57% of the vote to Smith's 34.75%. Cunningham will face incumbent Sen. Thom Tillis, R-N.C., who walked away with 78% of the vote.
Smith was one of two legislators who opted to run statewide rather than seek reelection. State Rep. Holly Grange, R-New Hanover, lost her bid in the primary for governor to Forest. Her district was among those redrawn by the legislature last year after a successful court challenge in state court over partisan gerrymandering.
In the Democratic primary for the sprawling 7th District, which stretches from Brunswick and New Hanover counties to just south of Raleigh, Christopher Ward of Tabor City won with 46.37%. He will face three-term Republican David Rouzer of Wilmington, who did not face a challenge in the primary.
The district, redrawn last year after a court challenge over partisan gerrymandering of congressional districts, covers Brunswick, New Hanover and Pender counties on the coast along with five inland counties.
There was no primary opposition for the 3rd Congressional District, which covers the rest of coastal North Carolina. Incumbent Greg Murphy, R-Pitt, who won a special election last year after the death Rep. Walter Jones Jr., will be facing Democrat Daryl Farrow of Trenton.