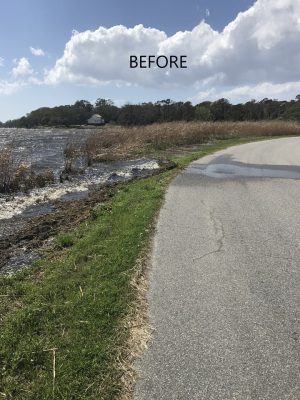 From an Outer Banks Voice report
Kitty Hawk officials are asking for help to push one of its projects across the finish line in pursuit of the North Carolina Department of Transportation's Mobi Award.
The Mobi Awards recognize projects that showcase the role that investments in multimodal transportation play in creating vibrant communities in North Carolina. Kitty Hawk's entry is its Moore Shore Road living shoreline project that was completed in July 2019.
According to information provided by the town, the project consists of 520 feet of offshore sill with native marsh grasses planted behind the sill. The purpose of the living shoreline is to protect Moore Shore Road while also creating a natural habitat for marine life and vegetation. The project also features two osprey poles to further support wildlife.
The $210,000 project was funded and built in partnership with the town, North Carolina Coastal Federation, NCDOT, Dare County Soil and Water, National Oceanic and Atmospheric Administration, Coastal Engineering and Surveying and private landowners.
More than 100 volunteers planted the native marsh grasses in June and July 2019. Better Beaches OBX and the Coastal Federation aided in organizing the volunteers for the planting of the marsh grasses.
You vote online and individuals are allowed to vote once a day for up to three entries per day, but they can return every day to again vote for up to three entries. The last day of voting is Feb. 21.
Folks looking to spread their votes around might want to give some love to the Ocracoke Express passenger ferry, which is also among the candidates.