Reprinted from the Outer Banks Sentinel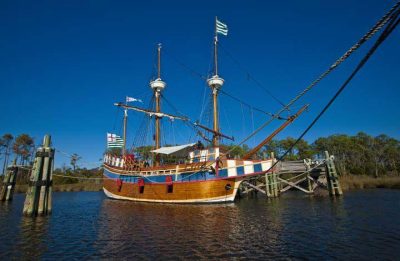 DARE COUNTY — With its approval this week of a capital project ordinance for the Shallowbag Bay Dredging Project in Manteo, the Dare County Commissioners moved a step closer to freeing the Elizabeth II, the iconic wooden vessel stranded by shoaling and unable to move from Doughs Creek across from the Manteo waterfront.
Commissioners voted to appropriate $1.9 million awarded to the county by the North Carolina Department of Environmental Quality for the dredging project. The project is fully funded by DEQ, which finalized a financial assistance agreement Feb. 12. The agreement is effective until June 30, 2020.
Dare County Manager Bobby Outten said in an interview that in approving the capital project ordinance the commissioners had basically authorized "moving the money from one account to the other, so we can spend it."
The appropriation was approved without discussion during the board's March 4 meeting as part of the consent agenda. The action also authorizes Outten to execute a $6,996 related services agreement with APTIM Coastal Planning and Engineering of North Carolina to coordinate the permitting of dredging for the navigation channel in Shallowbag Bay.
In the agreement, APTIM states that it "anticipates that the review of authorization, identification of potential disposal sites, coordination with County staff on purpose and need, and development of the project narrative, will be completed within 30 days of receiving notice to proceed from Dare County."
Asked about a time frame for the dredging project to be completed, Outten said it will be "as quickly as possible," adding that the time needed to receive the necessary permits will determine when the dredging work can begin. He also added that the project will be complete well before the end date of the financial assistance agreement in June 2020.
The Elizabeth II was built in 1983 to represent the 16th century ships that sailed to Roanoke Island during the voyages between 1584 and 1587, establishing the first English colony in the New World. The vessel was built for $670,000 at the Manteo waterfront to mark the 400th anniversary in 1984 of the first English voyage to Roanoke Island. It is one of the premier attractions at Roanoke Island Festival Park.
In May, in response to a request from the Dare County Waterways Commission, Dare commissioners approved a resolution requesting "urgent assistance for emergency approval" to dredge the Manteo Channel to its authorized depth of 12 feet, citing the "dire situation" created by the channel's shoaling confronting North Carolina's "floating ambassador" and impacting area economies. The resolution also asked for assistance in permitting and funding.
This story is provided courtesy of the Outer Banks Sentinel, a weekly Dare County newspaper that is published in print every Wednesday and headquartered at 2910 South Croatan Highway, Nags Head. Aside from the print paper, the Sentinel also produces a continually updated digital version at www.obsentinel.com.