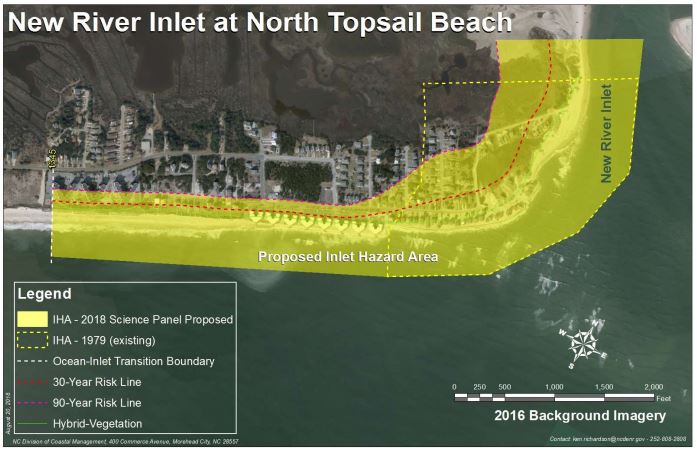 MOREHEAD CITY – The North Carolina Coastal Resources Commission has approved preliminary boundaries and building rules at inlets.
Though official adoption of the redrawn inlet hazard area, or IHA, maps and guidelines for development within those areas is still months away, the CRC's decision last week puts the state one step closer to amending the current outdated maps.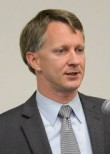 North Carolina Division of Coastal Management Director Braxton Davis told members of the commission at the quarterly meeting Thursday that the regulatory agency understands the revised maps are going to be a topic of controversy in the coastal towns at inlets.
"These maps were done in 1981," he said. "We have IHAs that don't even capture some of these areas."
A little more than 2,900 acres of land is designated as IHA at 10 of the 19 active inlets in the state.
The 10 are: Tubbs, Shallotte and Lockwood Folly inlets in Brunswick County; Carolina Beach, Masonboro, Mason and Rich inlets in New Hanover County; New Topsail Inlet in Pender County; New River Inlet in Onslow County; and Bogue Inlet in Carteret County.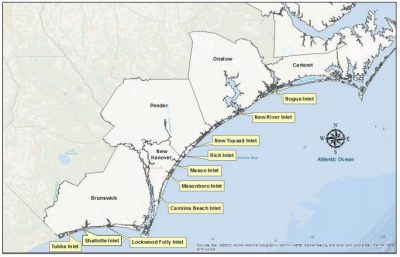 The CRC approved removing IHA designations at inlets where the adjacent land is undeveloped and owned either by the state or federal government.
IHAs are defined as shorelines especially vulnerable to erosion and flooding where inlets can shift suddenly and dramatically.
Inlets typically move over time in one of two ways. An inlet migrates, meaning it moves in one general direction, or it oscillates, wagging back and forth.
A majority of the state's inlets oscillate.
Long-term erosion rates are about five times greater at oceanfront shorelines near inlets.
The proposed maps expand current IHAs collectively by a little more than 1,359 acres while removing about 470 acres from existing boundaries at the 10 developed inlets.
A majority of IHAs are being expanded under the proposed boundaries.
The preliminary maps place an additional 152 acres and 243 structures within an ocean hazard area of environmental concern, or AECs.
Ocean hazard AECs are defined as those that may be easily destroyed by erosion or flooding or may have environmental, social, economic or aesthetic values that make it valuable to the state.
Rules governing development within IHAs were established to control density and structure size along the shorelines affected by the dynamic waterways.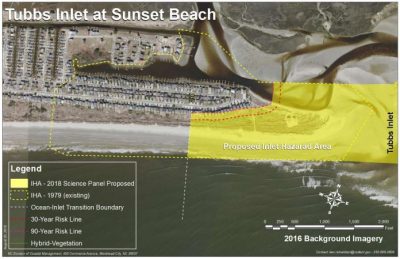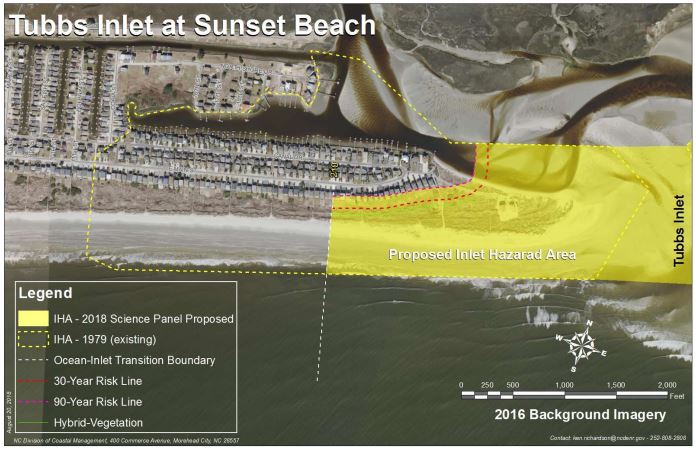 The proposed setbacks have been established through years of work by the science panel that advises the CRC.
The science panel studied historical shoreline data at each inlet, then used that information to predict erosion and accretion rates at those inlets.
DCM has established building setbacks in the new boundaries based on the annual inlet erosion rates rather than the oceanfront erosion rates now. For some of the inlets, this method of calculation equates to no change in the current building setbacks. For others, the setbacks vary.
Current rules do not allow lots about one-third of an acre in size to be subdivided. Residential structures of four units or fewer or nonresidential structures of less than 5,000 square feet are only allowed on lots within an IHA.
The updated rules maintain the size limitation to no more than 5,000 square feet of heated space and remove restrictions on the number of units allowed in a structure.
Larger structures that would be included in the new boundaries would be grandfathered under the rules.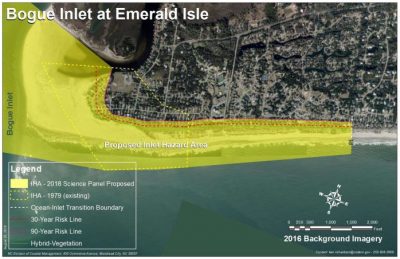 North Topsail Beach Alderman Mike Benson expressed his concerns about condominiums at the north end of town that would be grandfathered in under the new maps.
Benson told the commission during a public hearing on the proposed IHA map changes that the revised boundary at New River Inlet would include 11 buildings that are all larger than 5,000 square feet.
If any of those buildings were to be destroyed in a hurricane or fire, Benson wanted to know if they could be rebuilt.
DCM shoreline management specialist Ken Richardson clarified that structures between 5,000 and 10,000 square feet could be rebuilt to the same footprint. The owners of a structure greater than 10,000 square feet, such as Shell Island Resort in Wrightsville Beach, could request a variance from the CRC to rebuild.
Richardson said he will turn over DCM's recommended changes to the state Office of State Budget and Management for review.
Once that office confirms its findings, a series of public meetings will be held where the public will get an opportunity to comment on the maps and rules.
Richardson said he hopes those meetings will kick off some time in the spring and that revised maps are adopted by year's end.
If adopted, the new IHA boundaries would be updated every five years.