Reprinted from Island Free Press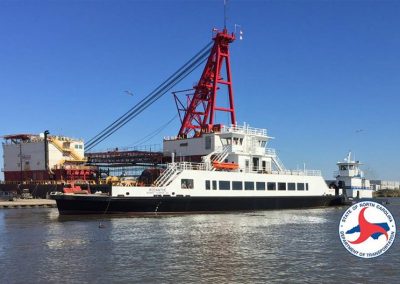 A new river-class vehicle ferry that was originally contracted by the state Department of Transportation  Ferry Division in 2017 is nearing completion and is expected to be in the water by the spring of 2019, per a recent announcement by the NCDOT.
The M/V Rodanthe, which is being built at the Bollinger Shipyard in Amelia, Louisiana, will be replacing the Hatteras-class and roughly 24-year-old Thomas A. Baum ferry, adding more room for vehicles on the Hatteras-Ocracoke route.
Hatteras-class ferries can accommodate about 26 vehicles on average, while river-class ferries can accommodate 38 to 40 vehicles.
"We're phasing out the smaller (ferries) so we can take fewer trips," said Tim Haas, an NCDOT public relations officer. "The (M/V Rodanthe) should be in North Carolina in March, and then should be out in the water by April or May for the summer season."
Two additional river-class vehicle ferries were contracted in November 2018 to replace the smaller Hatteras-class ferries, the M/V Kinnakeet and the M/V Chicamacomico. These new ferries, which are tentatively named the M/V Avon and the M/V Salvo, are scheduled to be delivered to the Outer Banks in 2020.
"These two new boats, along with the two others already under construction, will both increase our capacity and upgrade our technology," said Ferry Division Director Harold Thomas in an earlier statement regarding the 2018 contract for the M/V Avon and M/V Salvo. "The new ferries mark a major step in improving and modernizing the North Carolina Ferry System."
This story is provided courtesy of the Island Free Press, a digital newspaper covering Hatteras and Ocracoke islands. Coastal Review Online is partnering with the Free Press to provide readers with more environmental and lifestyle stories of interest along our coast.