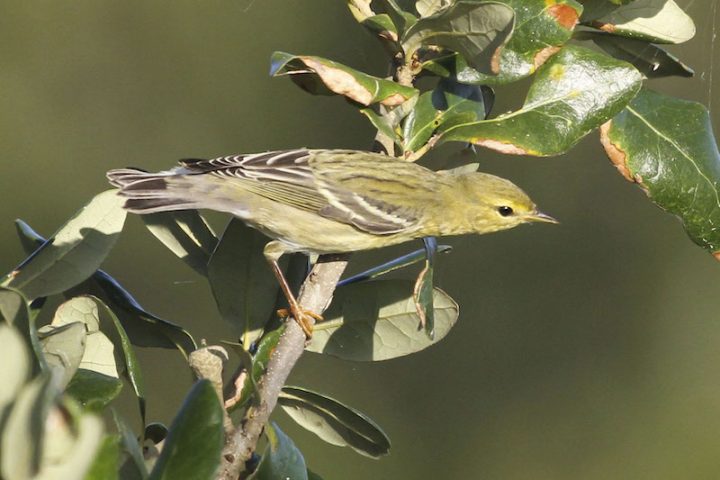 Reprinted from The Outer Banks Voice
An exciting time of year is upon us!
September jump-started the songbird migration, with a brief pause for a hurricane, and October will keep the birds moving through, on their way to their wintering grounds. There will be plenty of birds to see this month and hopefully some rarities to find.
In addition to a continuing mix of warblers, vireos, tanagers, orioles, cuckoos, thrushes, grosbeaks, buntings and flycatchers, look for our first winter birds to show. Yellow-bellied sapsuckers, red-breasted nuthatches, brown creepers, blue-headed vireos, golden-crowned kinglets, ruby-crowned kinglets, and several wren species will arrive in October. A good variety of sparrows will show up, as well.
The experts predict that this winter will be a "finch winter," meaning that there should be a greater chance than usual of us seeing pine siskins, purple finches and other northern finches, due to failures in the natural food production of trees up north, so keep your feeders full and your fingers crossed. It could be interesting. One "finch winter" a few years back, we had redpolls, red crossbills, and even white-winged crossbills.
Personally, I'm hoping for evening grosbeaks this winter.
With reference to the wrens, look for sedge wrens and marsh wrens in fresh and brackish marshes. They are shy birds in dense habitat, so it may take some effort to see them. Search for the also secretive, tiny, chocolate-brown winter wren in damp, shady, woodland habitats, especially areas with lots of tangles and fallen trees. House wrens are the easiest to find – look for them in thick shrubby areas, wet or dry. They are usually plentiful along the brushy canal banks at the edge of the fields on the Alligator Refuge.
To find sparrows, search weedy fields for chipping, clay-colored, field, savannah, song, and white-crowned sparrows; the last two species preferring fields with a wooded edge or some high brush in which to hide. Look for bobolinks, too, which share the same habitat. Swamp sparrows prefer moist to wet habitats with thick cover. They are fairly common, especially toward the end of the month. White-throated sparrows prefer dry areas with heavy brush and trees, including backyards.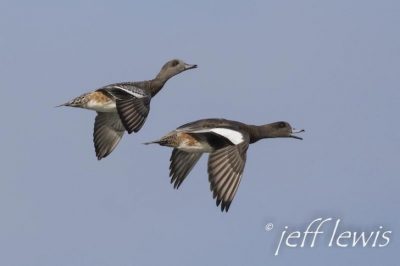 Salt and brackish marshes are where you can find seaside, Nelson's and saltmarsh sparrows. You will need long pants, a long-sleeved shirt and boots to protect you from the sharp marsh plants. Strength, balance and endurance are helpful, too.
Several of the above sparrows, especially chipping and white-throated sparrows, will visit bird feeders in yards with good habitat. Scatter some millet or a good quality seed mix on the ground in an area with nearby cover.
October also brings a big increase in waterfowl. Pea Island and Lake Mattamuskeet National Wildlife refuges are the local hot spots. Puddle ducks especially, should increase in numbers and variety. Look for gadwall, American widgeon, American black duck, mallard, blue-winged teal, northern shoveler, northern pintail and green-winged teal.
Keep a sharp eye out for Eurasian wigeon – one has already been spotted this fall. While scoping for ducks, pied-billed grebes and American coots should be spotted and American white pelicans are a possibility. The first-of-the-season snow geese are usually spotted in October, too, so keep an eye on the sky. Diving ducks usually don't move in until November, although you may find a few ruddy ducks toward the end of this month. Sea ducks such as surf, black and white-winged scoters should begin migrating south over the ocean in mid-to-late October, so an ocean watch is not out of place. A spotting scope is needed.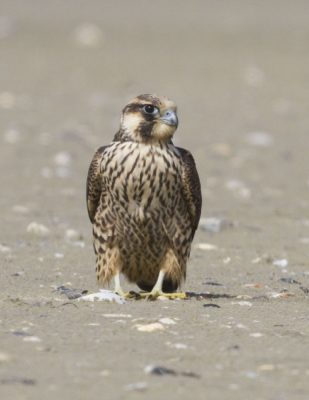 Raptor migration is good in October. Sharp-shinned and Cooper's hawks fly south, terrorizing songbirds, including the ones at our feeders. Northern harriers, American kestrels, merlin, peregrine falcons and red-tailed hawks may also be seen. On days with clear skies and cool, north winds, find a high sand dune, or an observation platform at Pea Island, and do a hawk watch. Start early, although mid-morning is usually best, and enjoy the show.
Shorebirds are still present in October, but diversity drops by the end of the month. Keep an eye out for unusual species, like American golden-plover, Hudsonian godwit, Baird's sandpiper, buff-breasted sandpiper and any of the three phalaropes: Wilson's, red-necked or red.
The 22nd annual Wings Over Water Wildlife Festival takes place Oct. 16-21 on the Outer Banks. Considered one of the premier East Coast wildlife festivals, Wings Over Water offers nature-oriented field trips and programs – everything from birding to paddling to photography to astronomy.
Field trip leaders will guide you to the nearby hot spots, including wildlife refuges: Pea Island, Alligator River, Mackay Island, Mattamuskeet and Pocosin Lakes, as well as other wild areas, including the Palmetto-Peartree Preserve in Tyrell County, Nags Head Woods, Kitty Hawk Woods, Pine Island sanctuary, Hatteras Island and Ocracoke Island. This is one of the few times that you may be allowed access to some of the normally closed areas of the refuges.
The volunteer trip leaders are experts and will do their best to show you a lot of birds. There is also a dinner and keynote speaker one evening. For more information google www.wingsoverwater.org. I hope to see you there.
At home, continue to keep those bird baths clean and filled, with moving water if possible. Fill the bird feeders with fresh, good quality bird seed and put out a cake of suet. Also, keep the hummingbird feeders filled with fresh sugar-water. If you still have hummingbirds coming to your nectar feeders in October, then these are the birds that will probably spend the winter with you. Keep your eyes open for different hummingbirds – sometimes western species turn up in North Carolina during fall and winter.
Head outside on these crisp fall mornings if you can and enjoy nature. It's a blast!
This story is provided courtesy of the Outer Banks Voice, a digital newspaper covering the Outer Banks. Coastal Review Online is partnering with the Voice to provide readers with more environmental and lifestyle stories of interest about our coast.