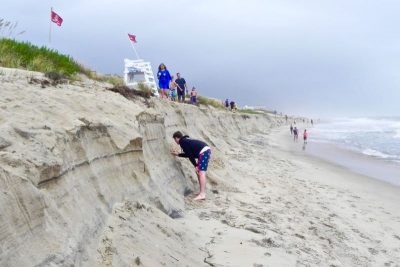 Reprinted from Outer Banks Voice
NAGS HEAD — A cliff about 10 feet high has developed along the dune line on part of the Nags Head beach just north of Jennette's Pier, due to the recent high tides and surf.
Known as an escarpment, the cliff off Gray Eagle Street near Whalebone Junction is the work of a King Tide and an unusually persistent flow of wind and waves.
A King Tide, or perigean spring tide, happens several times a year when the moon is at its closest point to Earth. The most recent was on July 12-15, with the next one predicted for Aug. 9-12.
"The way the back beach and toe of dune have built up over the past seven years, the escarpments will be higher than normal until the (beach) profile equilibrates," said Tim Kana, president of Coastal Science and Engineering.
The firm designed the town's beach re-nourishment project in 2011, and will be engineering the re-nourishment effort that has been delayed until next year.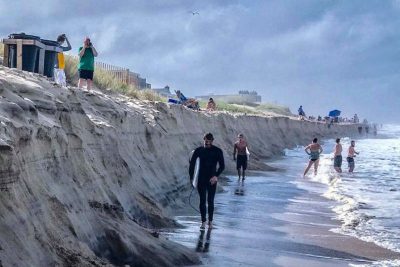 Kana said it appears an "erosional arc" has developed along the Gray Eagle Street area.
Waves are able to roll farther on the beach because of a deeper break in the sandbars offshore that would normally dissipate wave energy.
This is similar to what started in May 2015 at the intersection of N.C. 12 and Kitty Hawk Road, with high surf washing away the dune and the Beach Road in that area multiple times until the Kitty Hawk beach nourishment project was completed last fall.
Smaller escarpments have developed along other parts of Nags Head's beach in the past year, but not to the height of the one that popped up at Gray Eagle.
"Thankfully the dune continues to protect property," said Nags Head Town Manager Cliff Ogburn.
"It does seem to be concentrated in this small area. With a return to southwest winds we should see this level out some."
This story is provided courtesy of the Outer Banks Voice, a digital newspaper covering the Outer Banks. Coastal Review Online is partnering with the Voice to provide readers with more environmental and lifestyle stories of interest about our coast.