WASHINGTON, D.C. — The Council on Environmental Quality, or CEQ, put out a notice Tuesday  that it is seeking public comments on potential changes to the National Environmental Policy Act, or NEPA, The Hill reported.
CEQ is the federal agency that oversees NEPA, which requires federal agencies to consider how its proposed actions will affect the environment.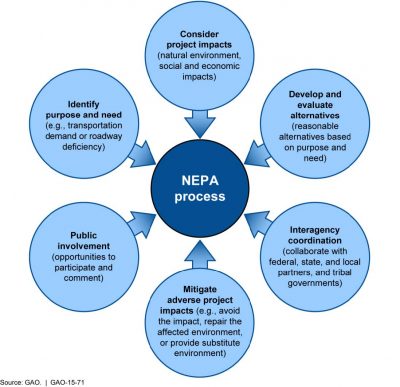 The notice was published Wednesday in the Federal Register.  CEQ, in the notice, does not propose any rules or changes, rather it lists 20 questions related to the NEPA process and the scope of NEPA review. The public will have 30 days or until July 20, to comment.
The agency said in the notice  that CEQ has only once in the last 40 years amended the regulations, though it has issued several guidance documents. Because of the time since NEPA implementing regulations were issued, CEQ is looking for feedback on potential revisions to update the regulations.
The move to change NEPA was spurred in August 2017 when President Trump signed an executive order said to streamline the permitting process for highways, bridges and other infrastructure projects.
"NEPA is our nation's bedrock environmental law, but it is also fundamentally a law about transparency," said Southern Environmental Law Center attorney Kym Hunter in a release.  "For almost fifty years, NEPA has ensured that major decisions affecting the environment are not made behind closed-doors, but that all impacts are fully disclosed to the public, and that alternative solutions carefully examined. The Trump administration wants to take us back to a time where corporate polluters call the shots, communities are paved over without any input, and federal money is spent willy-nilly without any real plan or foresight."
In a press release from the Congressional Western Caucus responding to the White House addressing NEPA regulations, Rep. Paul Gosar, R-Ariz., said, "Issued in 1978 and amended in 1986, the Executive's NEPA regulations governing the law's implementation have barely been touched since they were first put in place. Given how much we have learned about how the law plays out in practice since then – and how impactful these regulations are – this fact borders on outrageous.
"Accordingly, we look forward to working with the White House's Council on Environmental Quality and other relevant federal entities to ensure that NEPA is implemented in a maximally efficient way. This restrictive law has been made far more onerous by executive decisions to bureaucratize rather than streamline its implementation, and it bodes well for our great companies and economy to see the President taking action here."
Comments should be submitted on or before 30 days after the date of publication in the Federal Register. To comment, go to https://www.regulations.gov and follow the online instructions for submitting comments to Docket ID No. CEQ-2018-0001.