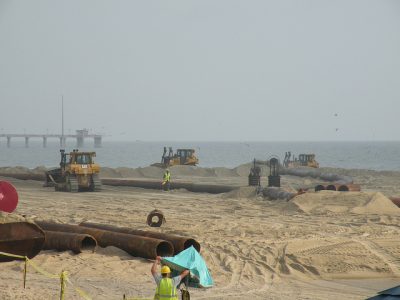 Reprinted from Outer Banks Sentinel
In a move that comes as no surprise, the Nags Head Board of Commissioners unanimously voted on May 2 to move the town's beach nourishment project back to 2019 in order to avoid the dramatically higher costs of a project this summer.
The lowest bidder, Great Lakes Dredge & Dock, provided an estimate of approximately $52 million for a 2018 project, about $16 million more than its 2019 price tag to pump the 3.73 million cubic yards of sand onto the 10-mile stretch of beach from Milepost 11 to the southern town line.
Town Manger Cliff Ogburn said the delay boiled down to dollars. "The permits were in hand, the bids went out on time," he said during the commissioners' meeting. "The proposals, economically, just did not come back. Had they come back at the 2019 prices, we could be nourishing in 2018."
Town officials went into high gear last year in an effort to get permitting and funding in place for a 2018 start date, but when bids came in earlier this spring, the town reconsidered moving forward this year.
The project, aimed at replenishing the sand along the oceanfront that has been depleted since the last nourishment project in 2011 as well as from Hurricane Matthew, is being funded through municipal, county and federal sources.
The town's portion of the project — 2.3 million cubic yards — will cost approximately $22.2 million and be financed equally between municipal bonds and the county's Beach Nourishment Fund. The town is also eligible for roughly $16 million in FEMA funding for about 1.43 million cubic yards of sand determined to have been lost during Hurricane Matthew in 2016.
Ogburn said he expects the town to enter into a contract with Great Lakes in June of this year for the 2019 project, which is expected to get underway beginning May 1 and extend to the end of next year.
As for FEMA funding, Ogburn said that the federal agency prefers to appropriate funds closer to construction. "We are still hoping we can obligate the funds, otherwise we will have to rebid (for that portion)," he later told the Sentinel.
Commissioners Renee Cahoon and Webb Fuller broached the topic of expanding the town's Municipal Service Districts (MSDs), the areas where property owners are required to pay an additional tax earmarked toward the project's debt payment.
"As we go through the budget process, I would hope we could take a look at expanding the MSDs," Cahoon told the board. "I think there are areas of the town that are more dependent on beach nourishment than other areas, as they are only accessed by one road."
Cahoon said she was specifically speaking of properties along Old Oregon Inlet Road, adding that, "This is more of a long-term picture, not just project by project."
Fuller echoed Cahoon, saying that varying tax rates within the existing MSDs should also be considered, and is "something I think we should look at as quickly as possible."
While Ogburn said that there would likely not be time to create new MSDs to help offset costs of the 2019 project, adjusting tax rates within existing districts might be possible.
For his part, Commissioner Michael Siers suggested that sharing some of the costs with visitors, in the form of a retail sales tax, also be considered to "offset the homeowners from having to pay all of that."
This story is provided courtesy of the Outer Banks Sentinel, a weekly Dare County newspaper that is published in print every Wednesday and headquartered at 2910 South Croatan Highway, Nags Head. Aside from the print paper, the Sentinel also produces a continually updated digital version at www.obsentinel.com.