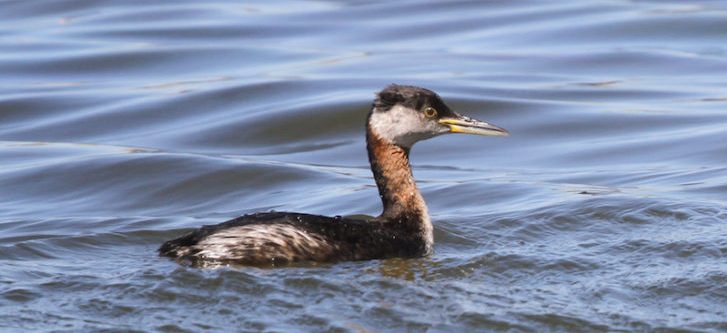 Reprinted from The Outer Banks Voice. 
Cold, windy, dreary February. The perfect month for staying indoors, watching movies (or basketball), catching up on chores and yearning for summer, right? Wrong. February is a great month for birding.
The ocean is full of life, and seabirds are plentiful.
Along our beaches, especially the wide ones like at Cape Point and the inlets, look for rare gulls mixed in with the gull flocks.
An all-white gull can be either an Iceland or a glaucous gull.
Iceland gulls are smaller than our common herring gulls, while glaucous gulls are larger. For specific field marks, refer to a good field guide.
Several other rare gull species are possible, as well. Sort through the Bonaparte's gulls feeding over the ocean and see if you can spot a little gull, a European species.
Northern gannets can be common to abundant some days over the sea. Watch for huge white birds, with black wing tips, plunge diving from 50 to 100 feet high and at almost 60 mph. They hit the water like arrows, and then pursue fish underwater. They are incredible to watch, especially when present in large numbers. Nesting on rocky islands in the cold waters off Canada, gannets move south to our waters in winter.
For ocean watching, a spotting scope is almost a necessity. On many days, red-throated loons will be plentiful, and there are usually a few common loons to see, too. Sometimes the birds are close to shore, often they are way off the beach.
Always keep an eye out for the rare Pacific loon. On days when horned grebes are fairly common, look for red-necked grebes. Fairly rare here in winter, red-necked grebes are about twice the size of horned grebes and have a large, yellow bill. Again, consult a field guide for details.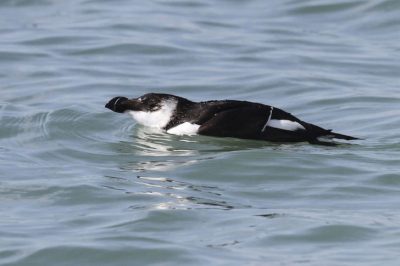 Red-breasted mergansers are common in winter in the ocean as well as in the sound. These long-bodied, diving ducks have flat, saw-toothed bills, just right for grasping slippery bait fish. For a closer look at these ducks, check out the marinas in the area. There are often a few mergansers at Oregon Inlet, Wanchese Harbor and the back side of Hatteras Island, especially near the inlet.
Beautiful long-tailed ducks, formerly called oldsquaws, are also found in and around the inlets and near marinas. Another good place to look for them is in Roanoke Sound near the Daniels ("Little") bridge. You should at least see some buffleheads.
Auks can be seen off our beaches in winter. Razorbills are the most common species seen, but some years we get a few Dovekies, a tiny auk only about 8 inches long. Both of these short and stocky birds are black and white, resembling penguins. They are great divers, with razorbills capable of reaching depths of around 400 feet.
A good place to look for seabirds is from the end of an ocean pier. Mornings are generally better; the birds are in closer and move offshore as the day grows old. While on the pier, check around the pilings for common eiders and scoters; even a harlequin duck is possible. Humpback whales are occasionally spotted in winter, too. If your favorite pier is closed, you may still be able to spot some of these birds from shore, as they feed around and under the pier.
Another good spot for winter seabirds is the south side of Oregon Inlet (North end of Pea Island). Sea ducks, grebes and loons are attracted to the jetty and the bridge pilings, which harbor lots of prey items. One year six harlequin ducks spent the winter here. You may see a harbor seal in this area, as well.
The ferries that run from Hatteras to Ocracoke can be good for some of these species as well.
Keep an eye out for flocks of brant, a dark sea-goose that can usually be seen behind Hatteras inlet in the sound. The longer trips, from Ocracoke to Swan Quarter and Ocracoke to Cedar Island, can usually produce several species of diving ducks, grebes, loons and gannets, as well.
The impoundments at Pea Island, Alligator River and Mattamuskeet National Wildlife Refuges remain outstanding for many species of dabbling and diving ducks in February.
Get there early while the sun is low. Bad weather is often the best time to look, so don't roll over and go back to sleep because the wind is howling.
On the Alligator and Mattamuskeet Refuges, raptors are a big draw in winter. Among the red-tailed hawks, northern harriers and bald eagles, you may spot a Swainson's hawk or a golden eagle, if you're lucky. More common raptors often seen are red-shouldered, Cooper's and sharp-shinned hawks, American kestrel, Merlin and peregrine falcons.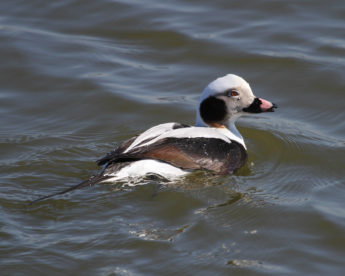 Short-eared owls are sometimes seen at dusk or slightly later, flying over the farm fields, especially from Milltail Road.
A good winter day-trip to take from the Outer Banks is to the Pocosin Lakes Refuge near Plymouth, North Carolina. The impoundments on the refuge hold lots of ducks, swans and coots and the farm fields support a huge population of snow geese and tundra swans each winter.
Among the Snow Geese, keep an eye out for the diminutive Ross's goose. Among the flocks of swans, hope for a trumpeter swan. If you encounter large flocks of Canada geese, scan them carefully for cackling goose and greater white-fronted goose. This seems to be a good year for them. Sandhill cranes are also a possibility.
If large flocks of blackbirds and grackles are encountered, search carefully for yellow-headed blackbird, a western species. At least one or two are seen each winter. Brewer's blackbird is another rare possibility.
In wooded habitats, many species of songbirds are taking cover from the winter weather. In addition to the permanent residents, look for hermit thrush, blue-headed vireo, orange-crowned warbler, winter wren, fox sparrow, brown creeper and yellow-bellied sapsucker. Cool, calm, sunny days are usually best.
In your backyard habitats, some of these same species can be seen, if you live near woods. Otherwise, you may be able to attract a good variety of birds to your yard using a variety of feeders and seed, plus a good bird bath or water feature. If you have shrubs with berries you may get big flocks of robins or cedar waxwings.
So, don those winter clothes and get out there. Winter birding on the Outer Banks is amazing.
This story is provided courtesy of the Outer Banks Voice, a digital newspaper covering the Outer Banks. Coastal Review Online is partnering with the Voice to provide readers with more environmental and lifestyle stories of interest about our coast.