Should mitigation be required for projects that "armor" beaches or inlets against erosion, potentially damaging habitat for threatened and endangered species, as is required in some places for alterations to or development of wetlands?
That's just one of many questions potentially raised in a tidal inlet and sandy beach "inventory" released recently by the North Atlantic Landscape Conservation Cooperative, which was formed in 2009 as a conservation partnership, consisting of federal agencies, states, tribes, universities and private organizations that work collaboratively to develop scientific information and tools needed to prioritize and guide conservation actions in the North Atlantic Region from southeast Virginia north to Atlantic Canada.
The North Atlantic cooperative is one of 22 members of the Landscape Conservation Cooperative Network, which was launched in 2009 by the U.S. Department of the Interior, primarily through the U.S. Fish and Wildlife
The inventory, which was compiled by Tracy Rice, a coastal geologist who is with Terwilliger Consulting Inc. in Pennsylvania, covers the East Coast from Maine to the North Carolina-South Carolina border, and is based on Google Earth data that show changes in the beaches and inlets from Hurricane Sandy, and by man, from 2012 through 2015. It's intended to be used by beach managers, local, state and federal agencies and others who are involved in coastal environmental and marine life issues, but it's freely available to anyone.
"It was a three-year project," said Rice, who was once a geologist in the U.S. Fish and Wildlife Service office in Raleigh, "and it contains a wealth of information for anyone who wants to use it. We purposely made all of the data available online, and we hope that it can be of benefit to anyone who needs it and can use it."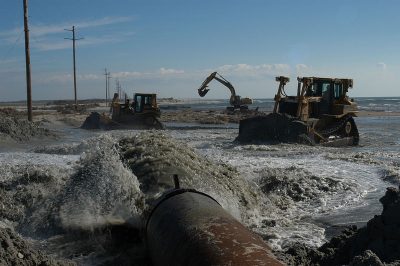 All of this began after "superstorm" Sandy, which devastated parts of the northeastern U.S. coast in 2012.  Money was available through the federal government for recovery efforts, but there was also a need for information about the state of the beaches and inlets before and after the storm. Rice said such information more or less didn't exist in the region. No one, for example, knew how much sandy beach there was, nor did they know exactly where inlets were, or the state of those beaches or inlets.
Using money from the Department of Interior, Rice and others from the U.S. Fish and Wildlife Service, the U.S. Geological Service and other agencies began a long and hard project to fill in those gaps, under the auspices of the North Atlantic cooperative, which she describes as an organization similar to the Cooperative Extension Service, but on a larger scale, interested in making sure that money is spent wisely, without overlap, on a regional basis.
The effort looked at such things as the location and identification of tidal inlets that were open in 2015; habitat modifications to each inlet open in 2015; armor, or hard shoreline stabilization structures; dredging; inlet mining; inlet relocations; artificial inlet openings; and artificial inlet closures.
Although North Carolina is not in the North Atlantic cooperative region, the state was included in the inventory because the investigators chose to include the entire range of the piping plover, a tiny endangered shore bird. North Carolina is at the southern end of that range.
"Part of what we wanted to do is look at the beaches and inlets prior to Sandy, and then to look at them after Sandy and see how much damage the storm did and what humans did to the beaches and inlets," she said.
Examples of manmade changes include erection of sand fences, beach re-nourishment projects and other hard structures to prevent erosion, such as groins and jetties.
Somewhat surprisingly, Rice said, they found that while in 2015, 412 tidal inlets were open along the U.S. Atlantic coast from Maine to North Carolina, 68 percent of them had been altered.
"In late 2015 or early 2016, approximately 1,650.68 miles of sandy beach habitat were present from Maine to North Carolina," Rice noted in the report. "An additional 90.88 miles of sandy shoreline were identified where sandy beach habitat was absent (lost) seaward of beachfront armor in 2015."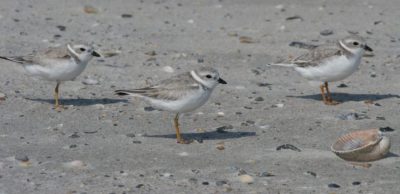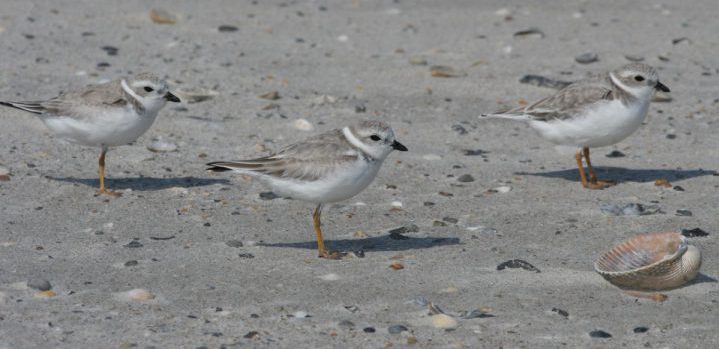 In all, beachfront development of one type or another had modified 45 percent of the sandy shoreline by 2015. Beachfront armor modified 27 percent of the sandy shoreline, with up to 5,144 groins, 235 jetties, 96 breakwaters and 2,886 contiguous sections of seawalls, bulkheads and/or revetments.  At least 23 percent (393 miles) of the sandy beaches from Maine to North Carolina had been modified by sediment placement by 2015."
The inventory noted 140 sandbag revetments known to be, or assumed to be, present – some are under houses or buried – in 2015. These sandbag revetments had modified an estimated 23,108 feet of sandy beach habitat in 2015. In North Carolina, where the use of sandbags has long been more popular than in most areas, according to Rice, even the Department of Transportation has used them in recent years to protect roads on the Outer Banks.
At least 68 miles of sandy beach habitat in the inventory region were modified by beach scraping in the three years after Hurricane Sandy, and at least 247 miles were modified by sand fencing.
Interestingly, the inventory found that 48 percent of the sandy beach in the region was in public or non-governmental organizational ownership in 2015.
North Carolina's inlets have almost all been modified over time. There are longstanding terminal groins at Oregon Inlet and Beaufort Inlet, for example, and there is also a jetty at Beaufort Inlet and one at Masonboro Inlet.
Almost all of the inlets have been dredged, from Oregon Inlet to the north to Tubbs Inlet to the far south, with the exception of New Old Drum Inlet, Ophelia Inlet, Bear Inlet and Browns Inlet. And most of the inlets in the state have been "mined" for sand for beach fill.
While Rice was careful to say that her opinions did not necessarily reflect those of the North Atlantic cooperative or others involved in the project, she noted that, taken as a whole, it's clear that much of the sandy beach and most of the inlets have been modified to some degree by man. That, she said, is cause for concern about not only the representative species in the study – the piping plover – but also for sea turtles, fish and other birds.
While armoring beaches, or doing beach nourishment projects, are moves officials think necessary to protect the beach-driven and crucial coastal tourism industry, Rice said those same practices can affect populations of coastal species that help draw the tourists, especially when cumulative effects from numerous projects are considered. Those cumulative effects are supposed to be considered in permit decisions under the federal Endangered Species Act and the National Environmental Policy Act, but critics have long maintained that they often are not given enough weight in decision-making.
So, Rice asked rhetorically, are we to the point where those cumulative effects need to be addressed, as are wetlands losses, in permit decisions?
In some places, Rice said, that's already being done. For example, in Maryland, there have been instances where dunes have been "notched" to allow natural over-wash, which is a critical process for some habitat and some species. So, is it time to consider requiring mitigation for beach hardening measures, or for inlet stabilization?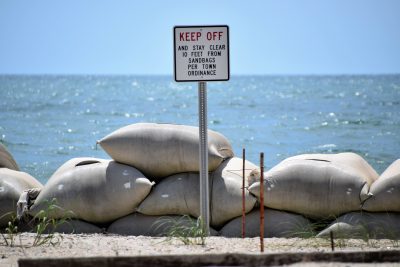 These, she said, are important questions the inventory's results appear to raise in relation to the value we place on long-term survival of habitat for species we are supposed to protect.
In the meantime, she said the inventory will be much-used by a number of federal, state and local agencies, ranging from the U.S. Fish and Wildlife Service to state wildlife resources agencies to the Carteret County's Shore Protection Office, which has a beach re-nourishment master plan awaiting federal approval. And municipalities should also be able to make good use of the data and the imagery; for example, Emerald Isle in 2005 paid more than $11 million to relocate the Bogue Inlet channel to slow erosion of a valuable residential area known as "The Point," and is looking at the possibility of doing that again in the next decade, if not sooner.
State wildlife agencies, she added, are generally supposed to regularly update their action plans to protect habitat for protected species; piping plovers are on the list for every state within their habitat.
Academics are also free to use the data. But in use cases, Rice said, the participants in the effort would like use of the data to be credited.
"We want people to use this information," Rice said. "That's the main reason it has been made available free to anyone who wants to use it."
The habitat inventories for tidal inlet and sandy beach habitat from Maine through North Carolina, including conditions up through 2015, are now available. Data products include written habitat assessment reports, multiple data layers for Google Earth, and Microsoft Excel inventory databases.
Learn More