Mano el Hermano took Latino children to the beach to wade in the water and scoop up creatures to study and release. Video: Albemarle-Pamlico National Estuary Program
NAGS HEAD – Here's a challenge: Watch some kids wading in the sound at Jockey's Ridge State Park, squealing with joy at the sight of a creature scooped into a bucket. Kids who probably have never seen or held such a squirmy, slimy living thing. Try not to smile.
It was a blazing hot day, but some of the elementary-aged kids on their field trip with the Mano al Hermano summer program were hesitant to wade into the water. They had spent all summer reading books about the environment, but it was different being close-up. Standing in their sneakers up to their ankles at the edge of the beach, they studied their pals as they dipped nets and pails into the murky water around the marsh grass.
When a grownup in the water announced she had a bucket filled with "cool stuff," that was too much to resist. All dozen or so kids swarmed around the pail to peer at the creatures that had been temporarily captured.
"Wanna check it out?" invited Ladd Bayliss, coastal advocate for the North Carolina Coastal Federation, who volunteered to help out during the field trip.
"Whoa! Who-oa!" the children exclaimed.
That's a baby shrimp, federation educator Sara Hallas told them. And there's a little croaker, she added, pointing to a cute silver fish. And look! Here's a baby shrimp who's trying to get out. Who knew shrimp could jump so well!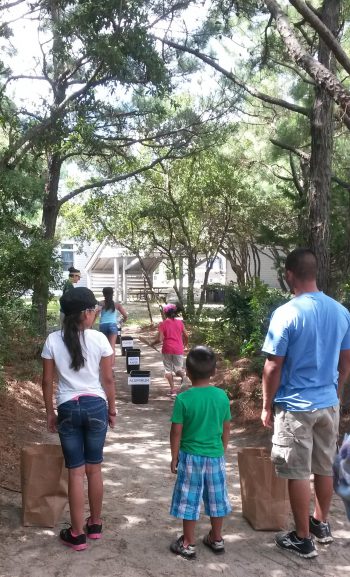 "Ooooooooooo!" the children murmured, staring intently at the animals.
Hallas dipped into the bucket and removed what looked like a long piece of grass. It moved. "It's called a pipe fish," she explained to the clearly impressed children. "It's related to a sea horse."
This year is the second summer that the federation has partnered with Mano al Hermano, which translates to "hand to my brother," to participate in the nonprofit group's Family Literacy Program. The group's mission is to empower Dare County Latino families through education and other support to help them integrate into the community.
The Albemarle Pamlico National Estuary Partnership awarded a $3,550 grant to the federation to cover the cost of the field trip for about 55 participants and the books. The federation also pledged an additional $3,600 of in-kind value for staff time, volunteers and additional supplies.
Marely Hernandez, an 8-year-old Manteo Elementary School student who was waiting to walk over to the sound, said she loved the program so much last year that she wanted to come back, even though she saw a snake.
"After I saw it, I still went into the water," she recalled. "The water was awesome. We walked in the sand. It was like a desert. I learned a lot about the sea animals that live in the ocean."
Culminating in the field trip, the program provided a volunteer who went once a week for an hour to the home of one of 75 participating families to read with children and do activities related to the book they're reading. Three books with coastal themes were provided for the children, who are students at Manteo Elementary School, Nags Head Elementary School or First Flight Elementary School in Kill Devil Hills: "A Day in the Deep," by Kevin Kurtz; "Nature Recycles. How About You?" by Michelle Lord; and "Henry the Impatient Heron," by Donna Love.
Erica Connery, an AmeriCorps member who has been serving with the federation since February, participated in the field trip as part of a community project required to become state certified as an environmental educator. She graduated in 2012 from North Carolina State University with a degree in environmental science.
Connery said she worked with two families over the summer, one with three children, ages 5, 8 and 10, and another with a second-grader and her sixth-grade cousin. Most of her interaction was with the children, while the parents stayed in the background.  She said the summer program helps the children maintain a positive connection to books.
"I can see how they're improving their reading skills," she said.
The Aug. 12 field trip, the official end of the summer program, was the topping on the cake, and their enjoyment was evident all day.
"They were really well behaved and interested in learning," Connery noted.
In addition to the living shoreline programming at the sound, the children were also rotated in six small groups to one of three stations outside the park's visitor center. At each station, a volunteer educator talked about a topic that was pegged to one of the three coastal books they had read.
One program focused on a shipwreck dive that the National Oceanic and Atmospheric Administration is planning later this month in Hatteras, which connected nicely to the "Day in the Deep" book.  Michelle Clower, a coastal fellow for the federation, instructed 10 children sitting at a shaded picnic table about an experiment they could do to help the divers demonstrate underwater pressure on the divers and the diving vessel experience.
[rev_slider alias="mano el hermano"]
Elementary-aged children from Manteo, Nags Head and Kill Devil Hills explore marine life on their recent field trip to Jockey's Ridge State Park with the Mano al Hermano summer program. Photos: Erica Connery and Sara Hallas
"It kinda feels like the world is pushing on you," Clower told the children, describing the feeling of being under very deep water. "It's like a cow is going to sit on top of you."
The children were asked to use colored marking pens to draw whatever they wanted on a Styrofoam cup and put their names on it. The cups will then be given to the NOAA divers to take underwater on their dive expedition. Later, the cups will be returned to children, who will get to see how much the pressure crushed their cups.
"It's probably going to be more than one cow – it's going to be like 20 cows of pressure," Clower said, as the children listened closely, pens poised.  "So it's going to shrink a lot."
The eight-week summer program is essentially a continuation of Mano al Hermano's school year literacy program, said Kay Minis, family literacy director for Mano al Hermano. Teachers had said they'd noticed a drop-off in reading skills when the program discontinued for the summer.
Minis said she started the family literacy program in 2013 as a way to help children in kindergarten through fifth grade succeed in school so that they stay in school and graduate. About 15 percent of children in Dare County schools are Latino, she said.
The volunteers assist with homework, read to the children and help with other school needs. By going into the home and establishing relationships, families are able to develop trust.
The children in the program are all American citizens and bilingual, Minis said, but their parents sometimes were not educated in their home country and were very poor. Some are undocumented and fearful, and speak poor English. As a result, the literacy program has become a vital liaison between schools and Latino families.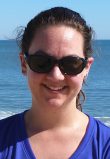 With only about 30 or so available volunteers, Minis said, there are currently about 40 families on a waiting list for the program.
Minis said she is working to raise funds to expand the program to help parents with school and parenting issues and English skills. She also would eventually like to expand the family literacy program to Hatteras Island.
Ultimately, the program's goal is to break the cycle of poverty by lending a hand early, before children become bitter and discouraged and drop out of school.
"To me it's exciting to be right on the ground level," Minis said. "I think we have a much better chance of helping right now, instead of creating that problem down the road."
Back at the sound, Hallas explained that the little creatures in the bucket would have to be dumped back after a little while because the water will lose its oxygen and the animals would not survive.
Just then, there was a burst of activity and a shout.
"Oh my god! It's a snake!" a very animated boy with a full head of black curls shouted. "I catched that!"
Bringing the bucket over to Hallas, an excited group circled around, watching a black creature slither up and down the sides of the pail, desperately trying to get out. Hallas informed them that it was an American eel, not a snake.
"I got him!" the boy, Rodrigo Calletano, proudly reminded Hallas. "Is it an electric eel? "
No, Hallas repeated gently. But 8-year-old Rodrigo – his friends call him "Burrito," he said – showed no disappointment, and quickly grabbed a net to find more creatures.
"It's an outstanding project," said Jimmie Johnson, coastal habit coordinator for the Albemarle Pamlico partnership, who was watching the children in the water in between taking video. "Reaching out to the Latino community is an incredibly important part of the equation. Sometimes they kind of fall through the cracks.
"It's obviously a new experience for a lot of them," he added. "They just don't have this opportunity."
To Learn More