Last of two parts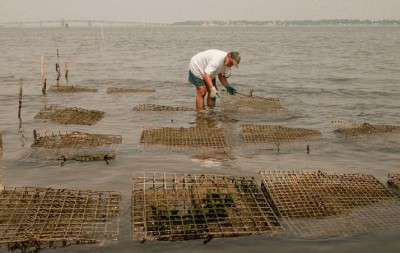 The 2015 N.C. General Assembly took a hard look at the state's oyster and shellfish industry and ordered studies to examine streamlining leasing practices and to possibly end a longstanding ban on new leases in Core Sound in eastern Carteret County.
Legislators, at a meeting today in Wilmington, will get their first looks at some of those studies. Others are looking north to Virginia as an example of a state that has revived its century-old oyster industry and is using it to create jobs and lure tourists.
Here are some number to consider. According to figures reported by the N.C. Rural Economic Development Center in 2013, oyster farming in North Carolina and Virginia were each worth about $250,000. By 2012, the state's industry more than doubles to $595,000. Virginia's exploded to $9.5 million.
The numbers are certainly eye-opening, but can we replicate what Virginia has done?
Many think so. Virginia, home to a large portion of Chesapeake Bay, has the largest oyster industry in the country. And, according to Ben Stagg, chief of the Engineering and Surveying Department for the Virginia Marine Resources Commission, aquaculture techniques, including the use of floating cages, have made oysters available year round and increased production 10-fold in recent years.
The state, he said recently, has 122,000 acres leased. They're easy to access, Stagg said, and cheap to obtain. The state charges $1.50 an acre for the leases.
With a free "oyster gardening" permit, people can grow – but not sell — the shellfish in floating baskets under their piers or place them along the shoreline.
Virginia Program
A state program to lease shellfish bottom in public water has been in place in Virginia since the late 1800s, Stagg explained, and the lease fee has remained remarkably stable. The last time the fee increased was in 1960, when a lease was $1 an acre. "And the process is pretty simple," he said. "You apply for what you want, pay a $25 application fee, we advertise that in the local newspaper for four weeks, do a survey, and unless there is a protest, you almost always get your lease.
The lease holder is also responsible to pay for the survey and all legal and advertising fees. It all amounts to $1,000 to $1,500 a lease, Stagg said. But, then, the lease is yours for 10 years, and there are no production requirements.
There was an attempt to increase that fee this year, up to $5,000 an acre, Stagg said, but state Sen. Bill DeSteph, a Virginia Beach Republican, withdrew the bill amid a significant furor.
The revival of the program, Stagg noted, has resulted in a $55.9 million shellfish aquaculture industry, more than 30 percent of that from oysters alone.
By contrast, in North Carolina has about 175 shellfish leases, encompassing 1,179 acres, and 50 shellfish franchises, covering 516 acres of estuarine bottom in coastal North Carolina. Add to that the 14 leases that allow people to grow shellfish in cages raised off the bottom. The application fee alone for a lease is $200. Lease holders must also meet production requirements. Those who don't must take a test to demonstrate their worthiness to continue.
Jay Styron, president of the N.C. Shellfish Growers Association, is a strong advocate for increasing North Carolina's leasing efforts. Most weekends, he travels from his job at the University of North Carolina at Wilmington to his leased waters off Cedar Island, in Down East Carteret County, where he started Carolina Mariculture about seven years ago.
Last year, Styron sold 60,000 to 65,000 oysters, which he calls a "small amount," growing them in cages that float above the bottom, ensuring the shellfish are cleaner than those grown on the sea floor. Most other lessees, he said, still grow oysters on the bottom.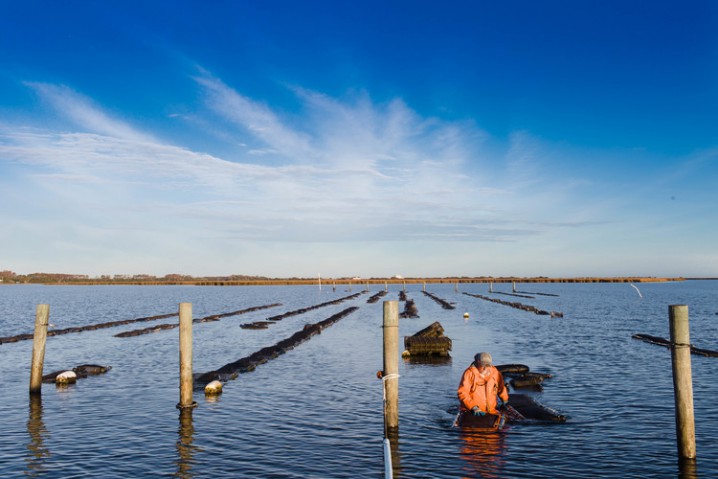 The Heyday in N.C.
A Cedar Island native, Styron thinks his method is the future. Gone, almost, are the days when a commercial waterman could go out and get 15 to 20 bushels of oysters a day, he said.
Mostly, that changed in the 1980s, when Dermo, a parasitic disease, ravaged the state's oyster beds, killing the bivalves before they could reach market size. The state has made efforts to replenish the wild stock, but few think the commercial oyster harvest will come close to matching the 800,000 bushels taken from state waters during the industry's heyday in the early 1900s. In 2014, the N.C. harvest was 137,437 bushels.
Given these numbers, expanding oyster farming, Styron said, makes good sense. He thinks North Carolina can match the efforts of its neighbor to the north.
"There's no reason why we can't," he said. "Our water quality is generally better than theirs, and we have plenty of water, and we have more total acreage we would make available."
All it will take, Styron said, is the political will – translation: regulatory reform and financial commitment – to make it happen. The last legislative session gives him some hope.
"I'm seeing more interest than in past years," he said. "It's a green industry. There is bipartisan support. It doesn't seem to be much of a political issue."
Styron noted, for example, that in the state House of Representatives, the range of oyster bill sponsors or co-sponsors goes from conservative Pat McElraft of Carteret County to leading liberal Pricey Harrison of Guilford County.
Paul Tine, a state representative from Dare County, agreed. "Where's the downside?" he asked. "Nobody I've talked to can give me any reason why we shouldn't invest in oysters and oyster mariculture.  It's jobs – it puts people to work on the water – it's good for the environment – one oyster cleans 50 gallons of water as it feeds – and it's great for the coastal and state economy."
Room to Grow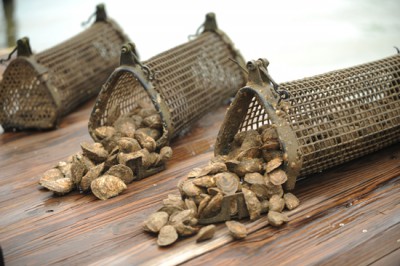 Tine said he thinks there's plenty of room for oyster mariculture to grow without significantly affecting traditional commercial watermen, too.
"I think we have a tremendous amount of room for expansion, and if they do begin to rub up against each other, I'd say that we've done our job," he said. "If that happens, and I don't think it would anytime soon, there are ways to address it. But the (wild) oyster resource is so scarce now, I don't see it. Again, I think it (mariculture) is a win-win-win."
Tine would like to see North Carolina strongly consider making oyster leases as easy to get, and maybe as inexpensive, as they are in Virginia. He considers that state a good, progressive model.
"It's worked there," he said. "As long as we're responsible in our approach, I'd like to see us find a way to get out of the way, as much as possible, and let it happen here. We wouldn't want to make things any harder than they already are for commercial fishermen – it's tough enough – but as long as we're cognizant of that, I think we can move forward and benefit a lot of people."
Stagg said he recently talked about the issues with North Carolina officials, and agrees there is much in his state's program that other states could emulate. But he also noted that Virginia is experiencing growing pains in its leasing program, and there are lessons that North Carolina could heed.
"We do think it's a good model. We've had great growth, most of it (caged-raised) product, in the past 10 to 15 years," he said. "It's been good for the economy and it has helped with water quality. At the same time, we have had some of the same tensions that North Carolina has had with leasing. There are, we know, some people who have applied for and gotten leases just to keep others out, and some of those probably don't do much with their leases. And we don't really have anything in our rules that does much to stop that from happening."
To a significant degree, Virginia even has its own Core Sound, where North Carolina has since the 1990s banned new leases because of user conflicts, both real and perceived. In Virginia's case, it's the Lynnhaven River, a tidal estuary in heavily developed Virginia Beach. It flows into the Chesapeake Bay.  Waterfront property owners have complained about the explosion in the number of leases, and Virginia marine fishery officials recently imposed a moratorium while issues are studied by a task force.
"Historically, we've averaged about 100 lease applications a year, but for the past three years, we've had 300-plus every year," Stagg said. "We currently have a backlog of 300 applications that have not been surveyed. And more of them are being protested. There are 80 applications now that are under protest."
Then there's this conundrum: Virginia, like North Carolina, has allowed leases in waters that are closed because of pollution, and has allowed oysters from those areas to be transferred to clean waters and re-harvested, under close scrutiny, for sale. Recently, however, the state ended that, although the existing leases were grandfathered. But, Stagg said, if one of the big benefits of a thriving oyster population is water quality improvement, does it make sense not to allow oysters, which cleanse the water, to be planted in those areas?
"What I'm saying is that although we would say Virginia is a good state to model, it's not one-size-fits-all," Stagg said. "For years, our program has been unfettered, to some degree. I would say there are many things North Carolina and other states could take from our program, but there are things some of us would like to change."
There also is a bit of a misconception about the Virginia program, particularly among those in other states who constantly push their states to emulate Virginia.
"They say 'Do what Virginia does, it's easy,'" Stagg said. "But it's not really all that easy. And it's not quite the free-for-all that some will have you believe. We do turn down some lease applications when, in our judgment, they are not in the public interest."