Update: Organizers on Thursday canceled the forum because of the winter storm forecast. Read more.
As the Army Corps of Engineers works toward the release of a final environmental study for a proposed terminal groin at Figure Eight Island, three environmental organizations are giving the public a chance to hear from and question experts on the subject.
The N.C. Coastal Federation, the Southern Environmental Law Center and Audubon North Carolina will sponsor a forum Saturday from 10 a.m. to 1 p.m. at the Poplar Grove Plantation on U.S. 17 just north of Ogden.
It's free and open to the public, and panelists will be Walker Golder, deputy director of Audubon on North Carolina; Stan Riggs, a coastal geologist at East Carolina University; Rob Young, director of the Program for the Study of Developed Shorelines at Western Carolina University; and Derb Carter, director of the Chapel Hill office of the Southern Environmental Law Center.

"It's a chance for the public to not only hear from the experts, but also ask them questions, talk to them," said Mike Giles, coastal advocate for the federation's office in Wrightsville Beach. "The corps will have a public hearing after they put out the final EIS (environmental impact statement), but at those hearings, you don't get to ask questions or talk to people one-on-one. This is a real opportunity for people to learn."
A terminal groin is a small jetty-like structure, typically made of rock, steel or concrete, built to control erosion at inlets. The most prominent feature, a loose-rock structure that extends about 500 feet seaward, is meant to allow sand to wash back and forth, which supporters say helps prevent down-shore erosion. Critics contend that while the structures might prevent erosion on one side, they actually can and often do increase it on the other.
The state banned terminal groins and all other hard erosion control structures along ocean for decades, but the legislature, under pressure from some coastal residents and municipal governments, partly lifted the ban in 2011 with a bill that allowed four terminal groin projects, ostensibly as pilot projects, along the state's barrier islands. Legislators last year increased the cap to six. Three communities — Figure Eight, Holden Beach and Ocean Isle Beach – are in various stages of permitting for groins. Bald Head Island recently completed the first phase of construction of its groin.
The corps released its preliminary EIS for the proposed 1,500-foot-long structure on the south end of Figure Eight Island in July. According to that document, building the structure and maintaining it for 30 years is estimated to cost $16.9 million, all to protect 19 homes on the north end of the exclusive, private island. David Kellam, president of the Figure Eight Island Homeowners Association, has said residents of the island will pay the entire cost.
But critics at the corps' public hearing, attended by more than 100 people last summer, focused more on potential environmental effects, particularly on fish and federally designated critical habitat for piping plovers and another tiny bird, the red knot, and on likely alteration of relatively pristine Rich Inlet. The area is also a prime home for sea turtles.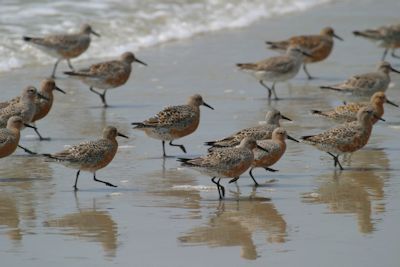 The federation held a press conference on Figure Eight Island in July 2014 about the concerns over the groin, contending it would destroy a sand spit adjacent to Rich Inlet where a half-dozen species of shorebirds come to nest.
Giles said the homeowners' association had promised a forum months ago, but never came through. He said the groin project is especially troublesome because the inlet is probably the most stable and natural one in the state.
"It's never even been dredged," he said. "It's a natural inlet, and it pretty much stays where it is. It's maybe moved 800 yards in the last 200 years."
Rich Inlet, Giles said, is part of a beautiful and productive ecosystem, with extensive mud flats and sand bars that are exposed at low tide and serve as habitat for the dozens of bird species. Humans are also drawn to the spit on Figure Eight's public beach and to the surrounding sand flats.
"You can go there and throw out your anchor and just relax and enjoy it," he said. "It's become increasingly popular as Carolina Beach and Masonboro Island have become increasingly crowded."
He and others also contend that changing the inlet system could worsen the impacts of storms, because inlets essentially serve as safety valves, allowing waters pushed by summer and fall hurricanes and winter and spring nor'easters to slosh back and forth.
The forum, Giles said, is timely, because officials have said that construction of the Figure Eight groin could begin soon after the EIS is released and the public hearing to allow its discussion is held. Currently, the corps is involved in what is called a Section 7 consultation with the U.S. Fish and Wildlife Service, discussing the project's potential ramifications under the Magnuson–Stevens Fishery Conservation and Management Act, the nation's chief fisheries-regulation legislation, and the Endangered Species Act.
The panel Saturday, Giles said, is eminently qualified to discuss the project and its potential effects and to answer questions. Golder is an expert on North Carolina's birds, Carter is an expert on environmental law and Riggs and Young were among a number of prominent N.C. scientists who weighed in back in 2011 when the legislature was debating the bill that opened the door for terminal groins.
Pre-registration for the forum is required by Friday. Register here, call Giles at 910-509-2838 or email him mikeg@nccoast.org.
Written comments on the project will be accepted until Feb. 14. Mail comments to Mickey Sugg at the corps' Wilmington Regulatory Field Office, 69 Darlington Ave., Wilmington, NC 28403, or email him at mickey.t.sugg@usace.army.mil.