Reprinted from N.C. Health News
At a recent hearing in Raleigh, residents called on state officials to adopt a strong response to climate change and argued that such a response would have large benefits for North Carolinians' health.
The hearing held Dec. 17 allowed residents to comment on North Carolina's response to the federal Clean Power Plan. That plan, finalized Aug. 3 by the U.S. Environmental Protection Agency, seeks to limit the U.S.'s contribution to climate change.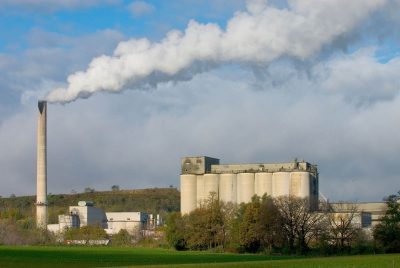 It does so by requiring states to reduce carbon dioxide emissions from their power sectors, in part by reducing the use of coal-fired power plants.
This reduction in coal power would offer several benefits for the public's health, the EPA estimates. Coal-fired power plants not only produce carbon dioxide, they also emit air pollutants with more immediate health effects. These include nitrogen oxides, which contribute to the formation of smog, and sulfur dioxide, which can form fine particles that damage human lungs.
Under the Clean Power Plan, each state can craft its own plan in order to meet minimum federal requirements. North Carolina's Department of Environmental Quality has done just that.
But in the public hearing, residents and health advocates berated state officials for the plan they drafted. Several speakers argued that the plan should be more protective of the public's health.
"The effect of greenhouse gases, leading to a change in climate, impacts our health through degraded air quality, wildfires, drought, heat waves and more," said Alison Jones, a project manager for Mothers and Others for Clean Air, a program of the American Lung Association. "We need a strong Clean Power Plan in place for North Carolina to cut carbon pollution and lessen the burden on the health of our citizens."
Other speakers echoed these concerns.
"Climate change raises the ambient temperatures and makes air pollution worse, impacting our lung function, our circulation and our immunity," said Manijeh Berenji, an assistant professor at Duke University's school of medicine. "This phenomenon affects all of us, but especially the young, the old, the poor and the ill."
Why it's limited
North Carolina environment officials say they drafted a limited response to the EPA's rule. The current state plan only requires efficiency improvements in the state's coal-fired power plants, not at plants powered by natural gas, a cleaner-burning fuel source.
In September 2015, North Carolina produced 3.2 gigawatt-hours of electricity from natural gas-fired plants. The state produced 3.14 gigawatt-hours from nuclear power and 3.12 gigawatt-hours from coal.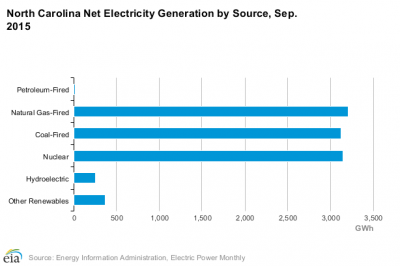 The EPA's rule envisions a national move toward less carbon-intensive sources of energy, such as natural gas and wind energy.
But North Carolina's environment officials say there's a reason they drafted such a limited response. The EPA's Clean Power Plan, they argue, is legally unsound. According to state officials, the EPA issued the rule under a flawed reading of the federal Clean Air Act, the law that sets national standards for air quality.
"The proposal approved Nov. 5 to go to public notice and hearing is the only choice for DEQ and the Environmental Management Commission to submit a legally viable plan," Charlie Carter, a member of the state's Environmental Management Commission, wrote in an op-ed for the News & Observer.
At the same time, North Carolina joined 24 other states in a lawsuit that aims to prevent the rule's implementation.
Environmental groups and others at the public hearing criticized this approach and said that it neglects the large health benefits that North Carolinians stand to gain from the Clean Power Plan.
Yet pinpointing these potential health effects in North Carolina can be difficult. Academic research has limited information on the subject. And though the EPA says that its plan would reduce air pollutants such as sulfur dioxide, the agency didn't estimate the health benefits of these reductions in North Carolina.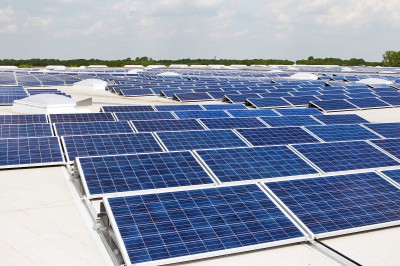 Even without the Clean Power Plan, North Carolina will continue to reduce its carbon emissions, according to a former state environment official.
State policies already on the books "have North Carolina on a path to achieve much (if not all) of the necessary reductions through increased renewable energy generation, greater energy efficiency, and transition of power plants from coal to natural gas," Robin Smith, who served as an assistant secretary for the environment from 1999 to 2012, wrote in a blog post.
But Smith still questioned DEQ's plan. The limited plan – focused entirely on coal plants' efficiencies – doesn't take advantage of the state's existing resources, she added.
"A state with significant advantages in renewable energy, energy efficiency and already on the road to transitioning power plants from coal to natural gas seems to have settled on a policy that throws those advantages away," Smith wrote.
Next steps
The fate of the Clean Power Plan in North Carolina depends on several moving parts.
A possible lawsuit victory. North Carolina could prevail in its federal lawsuit, along with other states. The Clean Power Plan could be ruled illegal, which would free North Carolina from having to comply with its requirements.
A possible lawsuit loss. On the other hand, the states may lose their suits, and the EPA would be allowed to continue implementing its plan.
A federal takeover. If the EPA can go forward with the Clean Power Plan, it may decide that North Carolina's plan is inadequate. EPA has the power to overrule state agencies, and it could implement its own plan throughout North Carolina.
A backup plan. To prevent this kind of federal takeover, state environment officials say they are also developing a backup plan.
The deadlines. States must submit at least their initial plans to EPA by Sept. 6.
A new president and partners in Congress. The Clean Power plan is a slow-moving development, with 2030 as its final target for emissions reductions. Between now and then, Congress could pass legislation intended to nullify the rule. It has already done so, though President Obama vetoed the legislation. But with a new ally in the White House, that legislation could become law.
North Carolina residents can continue to weigh in on the debate. The Raleigh hearing was the second of its kind, and the N.C. Environmental Management Commission is holding a third hearing on the plan in Wilmington on Jan. 5. Residents can also comment in writing on the rules until Jan. 15.
This story is provided courtesy of N.C. Health News, a website covering health and environmental news in North Carolina. Coastal Review Online is partnering with N.C. Health News to provide readers with more environmental and lifestyle stories of interest about our coast. You can read other stories about health care here.
Learn More