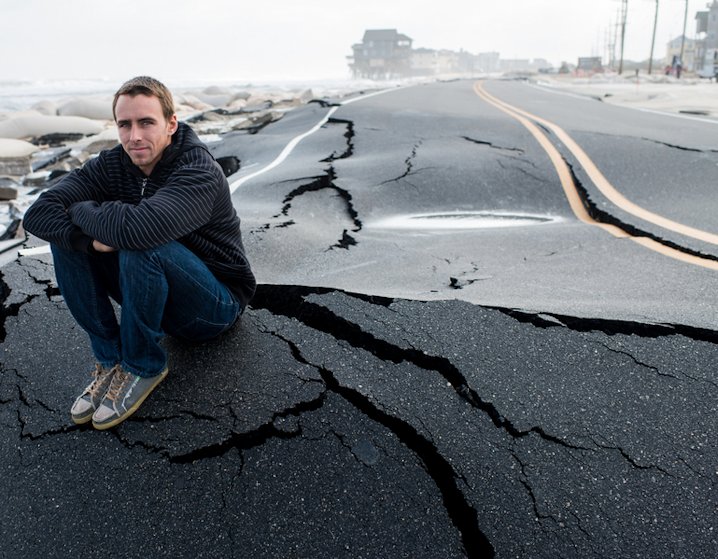 This is the last of two parts. The story is reprinted with permission from Bit + Grain, a new website devoted to telling the story of North Carolina – its people, places and culture.
When a storm approaches the N.C. coast, everyone starts making their plans, but the preparation feels different on Hatteras Island here because of its location and the character of its people.
In the book Hatteras Blues, Tom Carlson describes Outer Banks people as "Hardworking and loyal… and stunningly selfless when such is called for. But, at the same time, these same people are fiercely headstrong, independent… and often sleeve-rolling angry with unethical bullshit. What's right is right."
Traits that likely stem from generations of geographic isolation and an understood interdependence and mutual respect throughout the community. While the island has become more accessible since N.C. 12 was built in 1953 and the Herbert C. Bonner Bridge in 1963, the southernmost village, Hatteras, is still one-and-a-half hours from the mainland and three hours from the nearest major city, Norfolk, Va.
People have learned to be independent out of necessity. Irene Nolan, editor of the Island Free Press and a Frisco resident, admits, "Believe me, we know if we stay we are on our own. But, most people know how to prepare and know what to do during and after storms. But we stay because this is home."
And in the aftermath of a destructive storm, Nolan says, "The only way you get through it is community." Despite development, tourism, and changing ways of life, the heart of Hatteras Island has remained intact: a community of neighbors helping neighbors.
Deceptive Isabel
Ernie Foster of Hatteras Village thinks that there's one great storm in every Banker's life. For his village, that storm was Isabel.
She was deceptive. Reaching official hurricane status on Sept. 7, 2003, off the coast of Barbuda, Isabel spent the next 10 days moving northwest and vacillating between Categories 4 and 5 until it made landfall. A NOAA hurricane aircraft recorded a top wind speed of 233 mph, the strongest ever recorded in an Atlantic hurricane. On September 18, Isabel, having been downgraded to a Category 2 storm with 80 to 110 mph winds two days before, made landfall south of Cape Hatteras, between Ocracoke Inlet and Cape Lookout, bringing with it a Category 5 storm surge.
That day, a wall of ocean spilled across the island and cut a 2,000-foot-wide inlet on the north end of the Hatteras Village. "For those of us who choose to stay," Foster explains, "There's a resignation that stuff happens. But, what I saw happening (during Isabel) was so profound, I was in a state of shock."
Physically removed from the outside world by the newly cut inlet, Hatteras Village was severely damaged beyond any measure of the current generation's memory. The water surge removed, relocated or splintered most everything in its wake.
Mary Ellon compares her home to that of a war zone. "There was a side of a house wrapped around that tree with the blinds still in it," she says. "There were propane tanks all over the place. There were ice chests from Dolphin Realty back here racked up in our trees. Tractor-trailers stuck in the middle of the highway. It was really unbelievable."
"Cars were turned sideways," Todd Balance, a fisherman in Hatteras, adds, "stuck up under a house between pilings, with big fish in them. We had a 7-foot hole in between our house where the water was coming through and the tide was so strong there were red drum in it. Trailers and houses were dropped in sinkholes or washed half a mile out in the sound. Caskets floated up out of graves."
Beth Midgett, reservations and sales manager at Midgett Realty, recalls that 56 of the 170 buildings managed by the company were condemned. "It took until the first or second week of June to be back online and fully ready for the season,"   she says.
Stories of destruction, peril, tragedy abound. Jeff Oden, owner of the Seagull Motel, understands this all too well. When Isabel hit, his daughter, Marci, was managing the mom-and-pop 45-room motel at the north end of the village. She'd wanted to stay and look after things during the storm. When imminent destruction became apparent, Oden frantically made his way to his daughter. After numerous attempts, Oden arrived at the hotel clinging to his surfboard for support. The building he had instructed her to move into was gone.
Wading into the remaining structures past hissing propane tanks and fuel-filled water, he found Marci, "absolutely hysterical," in the attic with her pug. He recalls, solemnly, "I had no idea she was going to be there. She was lucky… That day had a profound and lasting impact on her."
Today, the lot where the Seagull Motel stands is mostly open. Isabel washed away two of three buildings on the property. Only 15 rooms remain.
Coming Together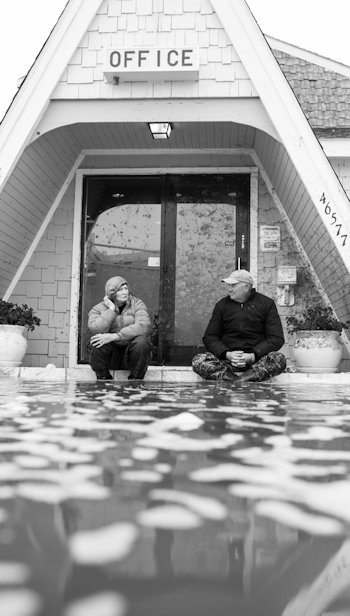 It took two months for electricity and water to be restored and for the road to be repaired. Isabel was the most destructive storm North Carolina has seen in the last two decades, costing the state nearly $450 million, almost a quarter of it spent in Hatteras Village, population 634.
In a place like Hatteras the profound effect of the weather is evident. However, what had the power to physically rip apart a community, oddly united and restored it.
Midgett recalls: "Weather, in a very strange way, makes for community. Sometimes in a small community things feel divisive, but never over a storm. You may be miffed with someone over something superficial, and then a storm happens, and everyone has everyone's back."
Isabel came at an interesting time for Hatteras Village. Pervasive conflict over development and building regulations left competing sides battered and bruised. Isabel reunited factions. It was the great equalizer: people helped each other; people looked out for one another; people gave and received.
"It was truly the best of times and the worst of times," Foster explains. "The worst of times was the physical damage and the monetary damage: loss of jobs, loss of property above and beyond insurance. On the other hand, we had a communal experience and it literally brought out the best in everyone who was here. You saw good, good, and more good."
Support poured in. Volunteers and supplies arrived in droves. Restaurants sent down elaborate, catered meals. Dirty laundry from the village was loaded onto boats and sent to a neighboring community where it was cared for by church groups and returned the next day. A bicycle shop in Nags Head delivered bikes for villagers to use as transportation.
Villagers ate together communally. They gathered outside emergency showers in the evening for a few minutes of respite. They prioritized their own needs and repairs behind those of the elderly and infirm. They helped each other rebuild their lives physically and emotionally.
Hatteras had become such a tight-knit, supportive community during the two months in which it was isolated from the rest of the world that leaving the island, only temporarily, was unsettling for locals. Foster left three days after the storm to take an aerial tour of the destruction. "I had this tremendous urge to get back here [Hatteras Village] — to leave normalcy and get back to chaos," he remembers. "The notion that I just needed to be here, rather than be some place that was normal, was a clear indicator to me that I was dealing with some emotional forces that were pretty strong."
Indelible Mark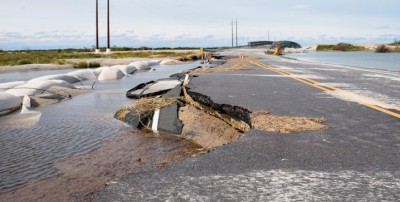 Hurricane Isabel left an indelible impact on the spirit of the Hatteras Village. Every year since, the community has gathered for a Day at the Docks event where locals and visitors celebrate the heritage of the island and honor the lives of those lost at sea at the day's keynote event: the blessing of the commercial and charter boat fleets. It is clear at Day at the Docks that Isabel remains a fresh part of the collective identity of the Village. This year a minister and Coast Guard bagpipe player, who helped rebuild the community after Isabel, blessed the fleet.
"The Outer Banks have never been for the faint of heart or the dry of feet," Carlson writes in Hatteras Blues. "The unencumbered spirit of Hatteras Island and its abundant natural beauty come at the sacrifice of willingly submitting to the weather. In a place where life and livelihoods are shaped by the forces of nature and weather, survival depends on sheer grit, determination, and the support of community.
Carlson continues, "Early on, especially, it seems, the inhabitants of the Outer Banks didn't merely adapt to their environment; they became indistinguishable from it – its moody, impetuous weather, its restless land, its willfulness, its stubborn insistence on beating the odds."
That was certainly the case for my great-grandfather, Baxter, and the Lifesaving crews across the Island, who faced perilous seas with bravery, courage and fearlessness.  And it's true today. It's in the stories and faces of locals like Ernie Foster, Todd Ballance and Jeff Oden. It's written in sand and cast in the sky. It seeps from the waters that sustain the Villages. It must be in the hearts of the people who choose to live on a sandbar on the edge of the world.
Just as the wind brings destruction, it ushers in, on a calm southwest wind, that transparent, blue-green ocean glow and saturates the sky before dusk, mystically binding you to the place.