SILVER SPRINGS, Md. — Federal regulators are taking the unusual step of providing a 30-day public review and comment period before acting on applications related to proposed seismic surveys for oil and natural gas off the Atlantic coast. A decision on whether to issue the permits could come by the end of the year.
The National Oceanic and Atmospheric Administration's Fisheries offices, also known as the National Marine Fisheries Service, or NMFS, announced last week that it had filed notice on four requests for permits to incidentally harass animals protected by the federal Marine Mammal Protection Act. Companies that are  planning seismic surveys of the Atlantic Ocean for oil and natural gas have made the requests.
NMFS, which oversees the conservation and protection of marine mammals under the act, said in the announcement that the initial public review comment period is not typical for the issuance of permits, "but it is required for more complex actions."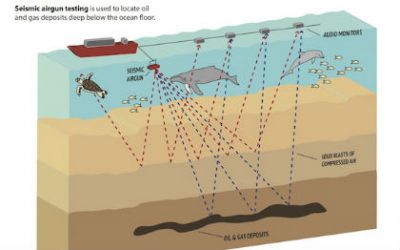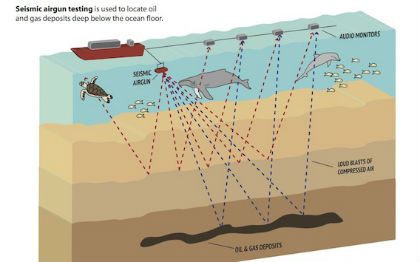 Comments and information must be received no later than Aug. 28 and should be addressed to Jolie Harrison, chief, Permits and Conservation Division, Office of Protected Resources, National Marine Fisheries Service. Physical comments should be sent to 1315 East-West Highway, Silver Spring, MD 20910 and electronic comments should be sent to ITP.Laws@noaa.gov.
The decision to hold a public review and comment period was not required by the Bureau of Ocean Energy Management, the federal agency responsible for leasing U.S. waters for energy production. The unprecedented scope of the proposed operations was one factor in the complexity that triggered the decision.
"We felt for a variety of reasons it would be a good idea to have this period" said Benjamin Laws, a NMFS biologist at the Office of Protected Resources in Silver Spring, Md.
NMFS said it would consider input from the public in making its final determinations to issue or deny the permit that is also based on the expected effects on marine mammal populations. The agency may authorize the incidental taking of "small numbers" of marine mammals if the taking will have no more than a negligible impact on the species or stock.
Typically the decision process to issue or deny permits typically takes six to nine months, but may take longer for projects that are more complex, which Laws said is the case in this situation.
"Our target for that (a decision on the permits) is the end of this calendar year" he said Tuesday. "We knew off the bat it would take quite a bit of work to review those applications and work with the applicant companies."
Laws said the target date was the first timeline that his agency had discussed and represents a "timeline we think is reasonable. We'll do our utmost effort to adhere to it but also do what we need to do and take the time needed."
NMFS said behavioral disturbance of individual marine mammals by seismic surveys is well documented, meaning that protection act authorization is required.
Jennie Lyons, a NMFS spokesperson, said authorization of incidental harassment of small numbers of marine mammals is granted when the disturbance is deemed to be of negligible effect, but when the anticipated effects threaten the overall populations or stocks of listed species there's additional scrutiny. The potential effects increase with the scale of the proposed survey activity.
"This group of actions is not typical as the proposed surveys are very large in scale and complicated," according to the announcement. The proposed surveys are much larger than the typical academic seismic survey – up to 17 times – and involve much larger acoustic sources that produce more noise.
"Marine mammals don't like the noise and they avoid the area," Lyons said. "This group of actions is not typical because of the scale and complexity, which is unprecedented in U.S. waters."
NOAA has received applications from Spectrum Geo Inc. of Houston, Texas; TGS-NOPEC Geophysical Co., which has headquarters in Norway; ION Geo Ventures of Houston; and TDI-Brooks International Inc., based in College Station, Texas.
All requested permits would be for the maximum one year from the date of issuance, with the exception of ION Geo Ventures, which has asked that its permit be valid  from July through December 2016.
Seismic tests use sound waves to penetrate deep into the ocean floor. The reflected waves give scientists a profile of the underlying geology and clues as to best places to looc for oil and natural. Anyone who has ever gotten a diagnostic ultrasound test, is familiar with the concept. Seismic tests are now a standard tool in the search for oil and gas and have greatly reduced the chances of drilling  dry holes.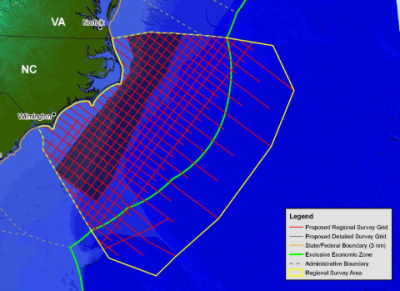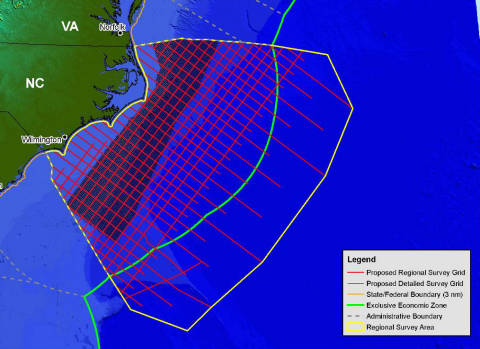 Four applicants propose to conduct 2-D marine seismic surveys using air-gun arrays, and TDI-Brooks also proposes to conduct more sophisticated profiling – not using air gun arrays.
Seismic testing is controversial because the use of sound sources such as those described in the applications may disturb marine mammals by disrupting their patterns of behavior, such as migration according to critics. It may also cause auditory injury. These risks warrant the protection act authorization process, according to NMFS, but steps to lessen the risk may be taken.
"In a lot of these cases there are observers out there and if they see marine mammals they will stop the activity," Lyons said, adding that such a measure is merely example and not a recommendation specific to the applications under review. Laws agreed.
"No package of mitigation is proposed at this time," he said.
The starting point for review includes BOEM's requirements and the bureau's environmental impact statement, along with what the applicant companies have proposed. That's where the consideration of input received from the public comes into play.
"We think the public comment period will be productive," Lyons said. "We're committed to a careful review and that's why we're doing a public comment period. We'll go back and forth with the applicant until such time as we feel the application is complete, then it goes online. If we get to the point of a proposal, then there's a 30-day comment period.
NMFS is particularly interested in information addressing the following topics:
Best available scientific information and appropriate use of such information in assessing potential effects of the specified activities on marine mammals and their habitat.
Application approaches to estimating acoustic exposure and take of marine mammals.
Appropriate mitigation measures and monitoring requirements for these activities.
Comments indicating general support for or opposition to oil and gas exploration and development are not considered relevant to the request for information and will not be considered, according to NMFS.