Reprinted from the Outer Banks Voice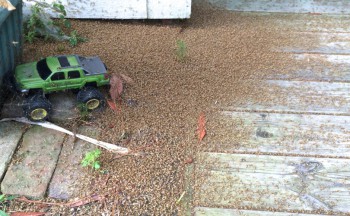 KITTY HAWK — Swarming bugs known as "fuzzy bills" or "blind mosquitoes" have shown up as unwanted guests in some regions of the Outer Banks, and residents and tourists have been closing doors, turning off lights and doing whatever it takes to keep them at bay.
But regardless of the measures, they are making some people downright miserable, and Carl Walker, Dare County's vector control supervisor, is hearing all about it.
"I've received about 25 calls this week alone," Walker said Friday, adding that in his more than 10 years as supervisor he's never seen such an infestation.
Called midges, they are common around coastal areas but don't bite or carry disease.
"I've had people tell me they have had to scoop buckets of these out of pools and others said they are so thick that they couldn't go outside and that they were breathing them in," Walker said.
He said the majority of complaints have been from Southern Shores, Kitty Hawk and Kill Devil Hills, particularly from west side neighborhoods. Walker added that the midges apparently haven't been as much of a nuisance in Nags Head and further south and he wasn't sure why.
Walker also said he's heard the insects are not only bugging people out locally, but across the state as well.
"We've had good years and bad years, but this has been one of the worst," he said. "The good news is they don't bite, so it's really out of our hands. It's not our job to take care of them. I really don't know what the answer is for those who are having trouble with them."
One vacationer reported that the midges attacked their rental home every night beginning around 8 p.m. "We can't even go outside and enjoy the outdoor decking at night and have to vacuum up hundreds of these pests if we open the door just for a brief second to get something from outside," the vacationer wrote in a comment on the Outer Banks Voice website.

There is no shortage of videos on YouTube of midge swarms. This is one of a nice collection taken by an apparent admirer on Beaver Island, the largest island in Lake Michigan.
While some restaurants with outdoor seating have struggled with the recent infestation, Randolph Sprinkle, co-owner of Salt Box Café on Colington Road, said he has been lucky because the café has a screened-in porch.
"Three days ago we had gigantic swarms of them," said Sprinkle, adding that lights seem to attract the bugs the most. "We've been turning out lights whenever we can and using fans because they are weak flyers. I can tell you that they are very annoying to walk through."
Along with his "fuzzy bill tactics," the somewhat cooler and windier weather has seemed to help thin out the swarms, he said.