MOREHEAD CITY — The striking campus of Carteret Community College on the south shore of Bogue Sound in Morehead City was in 2005 kind of like George Clooney with a bad toupee.
The area had just gone through a period of high hurricane activity, and that shoreline, always buffeted by wakes from boats in the Intracoastal Waterway, was lined with cement-filled bags to stop erosion.
Worse still, the hairline – err, shoreline – was still receding. Although buildings weren't imminently threatened by the erosion, it was easy to imagine that some buildings, such as the Crystal Coast Civic Center, might soon be too close to the water for comfort.
That's when college officials made what was then an a fairly unusual decision: With help from the N.C. Coastal Federation, they decided to put in what's now known as a "living shoreline," an erosion-control system comprised of marsh vegetation and other natural materials, such as shells.
Nearly a decade later, the person in charge of that project, biology instructor Meg Rawls, says folks are happy, even pleasantly surprised with the results.
"That marsh grass has filled in nicely, and Mother Nature has even contributed some extra plants, including native shrubs," she said recently. "I even recently found a blackberry vine. We had envisioned that this project would stabilize and naturalize the appearance of our waterfront, but we had not anticipated that it would also attract wildlife, including herons and egrets, ducks and even one documented manatee."
It makes sense, Rawls added, to build living shorelines in places where erosion or stormwater management are chronic problems.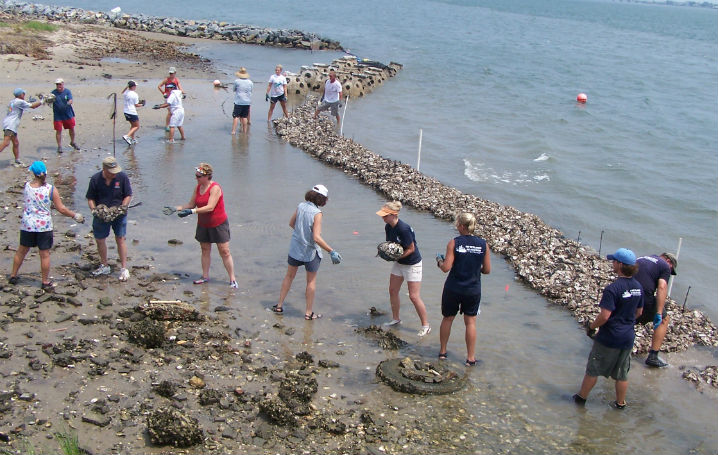 "Why not take a lesson from nature in how to solve some of these issues?" she said. "We would recommend at least investigating this process before constructing hardened shorelines, like sea walls."
That's just what a recent report concludes, and the committee of experts that put it together hopes the document will bolster efforts to break down barriers that have long discouraged the use of living shorelines to protect the nation's estuaries and the properties that line them.
"Living Shorelines: From Barriers to Opportunities," developed under the auspices of Restore America's Estuaries, a national nonprofit umbrella organization of conservation groups, concludes that, "Living shorelines are the best shoreline management alternative for both the environment and property owners when they are used in the right locations, designed correctly, constructed properly and maintained appropriately."
That might not seem like a startling finding from a group that includes the likes of the federation, the Chesapeake Bay Foundation, the Coalition to Restore Coastal Louisiana and the Galveston Bay Foundation.
But Todd Miller, the federation's founder and executive director who chaired the committee that produced the report, said it was by no means a given when the panel started its work. And he insisted its conclusions are neither casually reached nor intended to imply that bulkheads and the other "hard" structures that line estuarine rivers and sounds have no place or role to play.
Rather, he said, the committee conducted an extensive review of existing research before the members were convinced that living shorelines merited such a solid boost not just for the environmental benefits they provide, but also for the property protection they offer.
For the purposes of the report, living shorelines are defined as "any shoreline management system that is designed to protect or restore natural shoreline ecosystems through the use of natural elements and, if appropriate, manmade elements." Nothing can interfere with the natural shoreline ecosystems.
The federation has been pushing the use of living shorelines and helping install them for years, and most have taken the form of oyster or other shells or bags of shells, placed in the water to form reefs. The reefs are then augmented by the planting of sea grasses and other natural and native vegetation. The goals include not only stopping erosion – the plants hold the soil together and the reefs slow the action of water – but also to reduce the flow of pollution and the bacterial-laden stormwater runoff into the estuary. But the systems also serve as habitat for a wide range of marine organisms.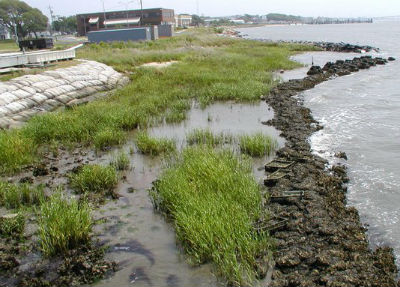 Miller said the report makes a solid case for both conservationists and landowners and lays out a road map to increase use of shoreline protection techniques that are becoming more accepted. However, the report notes, some government officials and property owners are more comfortable with the old methods – chiefly.
"There has been a gradual increase in acceptance and use of living shorelines, but there are still plenty of impediments, especially in terms of ease of permitting," Miller said.
In addition to providing what the committee considers compelling evidence of the positive impacts for water quality, fisheries and property owners, the report also proposes strategies to deal with continued intransigence, especially through education of officials and waterfront property owners and through training of those who issue the permits.
The report sites numerous comparisons of natural and hard structures, and concludes that in many cases, the natural systems are more effective in preventing erosion and catastrophic storm damage while avoiding the significant aquatic and terrestrial damage caused by hardened structures. In fact, the committee's work even found that living shorelines often last longer; they can grow stronger through natural processes – growth and spread of the vegetation and accretion of sediments, while the hard structures, "often deteriorate and may, if not maintained, ultimately fail."
All of this is likely to become even more pronounced and important as time passes.
"As we experience the impacts of climate change, wise shoreline management is critical both to protect property interests and protect estuarine ecosystems," the report's introduction states.
In addition to measurable value, one thing that's often overlooked, the report states, is the secondary and indirect benefits of using natural materials to protect eroding shorelines.
"Aesthetics greatly affect property values and hence the tax base." the report states. "Just as a suburban lot with mature trees is more valuable than one without, so a waterfront lot with natural wetlands and shorelines may be more aesthetically pleasing and hence potentially more valuable."
Living shorelines can also filter out water pollutants, act as habitat for a variety of marine creatures and offset the effects of climate change by trapping carbon in healthy wetlands.
The committee, Miller said, found, somewhat surprisingly, that in some cases the federal government is often more of an impediment to the use of natural shorelines than state governments. In part, according to the report, that's because there's an easy and often quick process available to get a general permit – one that requires no individualized agency review – for a bulkhead or other hard structures.
Other time, obtaining state permits for natural systems can be much more difficult and time-consuming. "State permitting provides another layer of oversight for shoreline stabilization projects," the report states, and in many cases "a project may qualify for a federal permit from the Corps but not satisfy the state permitting requirements."
Most states should streamline the process for permitting living shorelines, the report recommends, and fast-track projects that use conventional and proven living shoreline designs.
More contractors, the report notes, also need to be trained to design and build systems. Web-based permit application tools and permit databases need to be used to enable applicants to use a structured process to identify the best stabilization option for their site and to help regulators evaluate permit applications and periodically check up on permitted sites to ensure proper maintenance, the report recommends.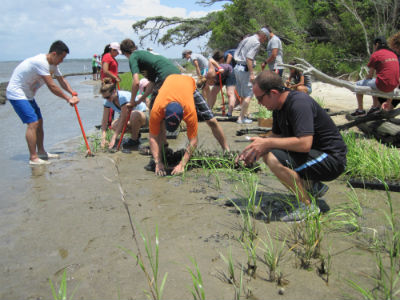 Governments should lead by example, the report urges, installing living shorelines to show how well they work. There already are numerous good examples of that in North Carolina, including the state-owned community college in Morehead City. It's a system that is not only effective but also educational.
A variety of living shoreline projects were installed along 1,200 feet of shoreline at the college to demonstrate environmentally preferable alternatives to the traditional, more defensive shoreline stabilization methods such as bulkheads. Techniques included offshore stone breakwaters, stone and oyster shell bag sills, reef balls, a stormwater wetland and plantings of salt marsh and other wetland plants landward of these structures.
The project was part of a campus-wide stormwater management plan that also included transplanting and enhancement sea grasses. In addition to shoreline stability, these techniques were designed to provide salt marsh, oyster and sea grass habitat and to improve the water quality of Bogue Sound.
"Prior to 2006, there was only a long row of cement bags along that stretch of our campus shoreline," Rawls recalled. "Erosion had been an issue from storms and boat wakes; we're close to the Intracoastal Waterway.  Also, for decades, much of the stormwater from our campus had funneled down a ditch, dumping directly into Bogue Sound."
The project was, as the report recommends, a model of cooperation and collaboration. Partners included other nearby educational institutions, state agencies and private groups.
The federation also has headed an increasingly successful project about 30 miles away at Hammocks Beach State Park in Swansboro. Since 2007, the federation has partnered with the park to reduce erosion of the shoreline at Jones Island, a park property in the mouth of White Oak River, and to create valuable estuarine habitat through marsh grass plantings and building oyster reefs with bags of shells. To date, according to the federation, more than 3,300 volunteers have logged in more than 19,200 hours helping with these restoration efforts. More than 70,000 salt marsh grass plugs have been planted and 11 new reefs, consisting of 16,000 bushels of shells, have been created.
These restoration activities are not only helping stabilize the eroding shoreline of the island, but also provide habitat for wildlife, fish and shellfish. The created marsh and oyster habitat help to filter nutrients and pollutants, improving water quality of the impaired White Oak River. The artificial reefs also provide substrate for oyster larvae in these traditionally productive waters.
Park Ranger Jake Vitak said the difference in the erosion rate is noticeable.
"There's still going to be some, because of the wind, but it's much slower now," he said. "The water is calmed down because of the oyster reefs we put in, and that has allowed that Spartina grass to really take off and fill in."
Vitak said the configuration of the planting definitely makes a difference, lending credence to the report's findings that expertise and planning are important. At first, the plugs were planted singly, almost in rows, like a farm, and they struggled to become established. Once the planters started putting the grass plugs in clumps, Vitak said, it made a huge difference.
"Now it's getting to be what we envisioned from the beginning," he said. "It seems to be self-sustaining."
Equally if not more important, Vitak added, new oysters are finding homes on the Jones Island reefs. There are now a goodly number of legal-sized, three-inch oysters. That's a harvestable oyster, but even better, it's the kind of oyster that does its water quality duty, filtering up to two gallons of water and removing pollutants as it feeds.
But the report recognizes that individual projects, while effective, aren't enough, and states that, "A regional or estuary-based shoreline management plan is, in the committee's opinion, the best overall strategy. (It) provides greater planning flexibility where habitat loss is unavoidable by using living shorelines as a vehicle to deliver mitigation benefits."